Review From The House
READ IT • SEE IT • TASTE IT • LIVE IT
Vancouver Theatre: Darling, A Musical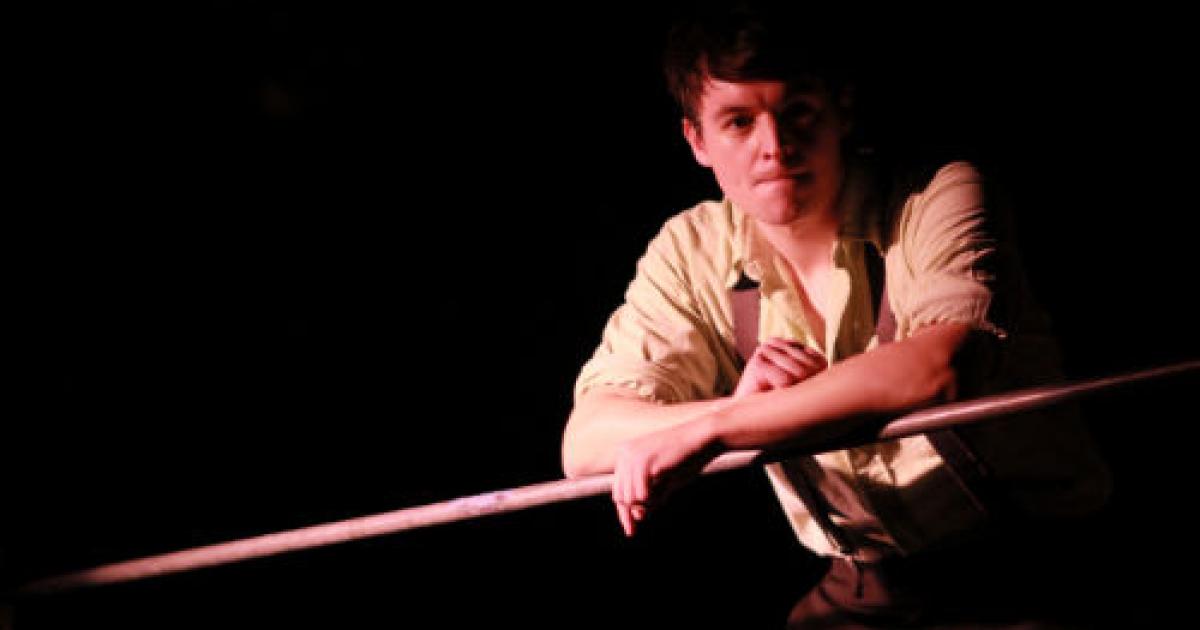 Vancouver Theatre: Darling, A Musical
Sunday, October 12th, 2014
Darling, A Musical
Music and Lyrics  by Ryan Scott Oliver;  Book by Brett Ryback
Directed and choreographed by Dawn Ewen
Musical direction by Steven Greenfield
Springboard Theatre Production
Renegade Production Studios, 125 East 2nd St., Vancouver
October 8 to 18th, 2014
Vancouver, BC: Many of Vancouver's successful independent theatre companies were started by the entrepreneurship of new grads or young actors to provide a vehicle through which they could practice their craft of theatre and gain practical  experience in performance, technical or production aspects. Springboard Theatre was founded a year ago by Capilano University Musical Theatre Program grads, Michelle Bardach, Kayla Heyblom and Katie Purych with the objective of putting on a musical that was youthful and provocative, and had not been done before in Vancouver. The musical they selected was Darling, the Musical written by Ryan Scott Oliver and  Brett Ryback in 2009.
Set in 1929 Boston just before the Great Crash, Darling gives a gritty, down-and-dirty twist to Barrie's tale of Peter Pan, Wendy Darling and the Lost Boys.
Ursula (Julie Casselman) is the spoilt 16 year old daughter of an upper crust family, Victoria (Sharon Crandall) and step-father  Richard Morgan (Robin Sukorokoff). Horrified to learn that Morgan has arranged her engagement to Jameson (Alexander Nicoll), the gay son of soon-to-be Police commissioner, Captain Rose (Francis Boyle),  and as well has given away her inheritance, Ursula runs away and finds herself penniless and homeless on the streets of Boston.  Rescued by Peter (Adam Charles) with whom she promptly falls in love, she finds a shelter at the Warehouse speakeasy, where Stella (Steffanie Davis) runs the bar,  Lily (Jacqueline Breakwell) leads the burlesque dancers and the "feather boys", Jinx (Victor Hunter), Fluke (William Hopkins) and Slightly (Nick Preston) hang out.
This was a large cast. Other ensemble members (Vanessa Coley-Donohue, Paige Fraser, Kayla Heyblom, Katie Purych, and Laura Ross) played burlesque dancers and other roles. Don Falconer played Jack, Ursula's father, Jack Strudwick -  Stella's son Nibs and Jacob Wolstencroft - a Lost Boy. Director/ Choreographer Dawn Ewen created some fun routines especially the campy burlesque numbers. In fact the dance scenes were my favorite parts.
The simple set design of scaffolding  with flowing drapes maximized the performance space  effectively and allowed room for the exuberance of the ensemble to show.
I commend Springboard Theatre on their first production. I think their choice of this piece was brave. it is indeed youthful, provocative and new to Vancouver and the year of work they put into it shows. However... and this is where I confess my personal distaste for non-melodic dissonant music... as an audience member who loves great melodies, I found Oliver's score hard to listen to and it must have been even harder to sing. In several solo  numbers the voices of the cast sounded strained.  Setting the action in a seedy downtown district where prostitution, alcohol, drug use  and homosexual solicitation was attacked by brutal policing gave an interesting twist to the Lost Boys, and to Peter, the boy who never wanted to grow up. I suppose that harmonious music and hummable melodies would not have been appropriate in this context but they would have been very welcome to me. Adam Charles was very good as Peter.  Casselman looked beautiful and vulnerable as Ursula but I thought her role was very demanding in the amount of singing required. Breakwell stood out as Lily, bold and brash.
The show runs till October 18th. You can buy tickets here to enjoy this first production of this new company.