Review From The House
READ IT • SEE IT • TASTE IT • LIVE IT
Vancouver Theatre: The Curious Incident of the Dog in the Night-Time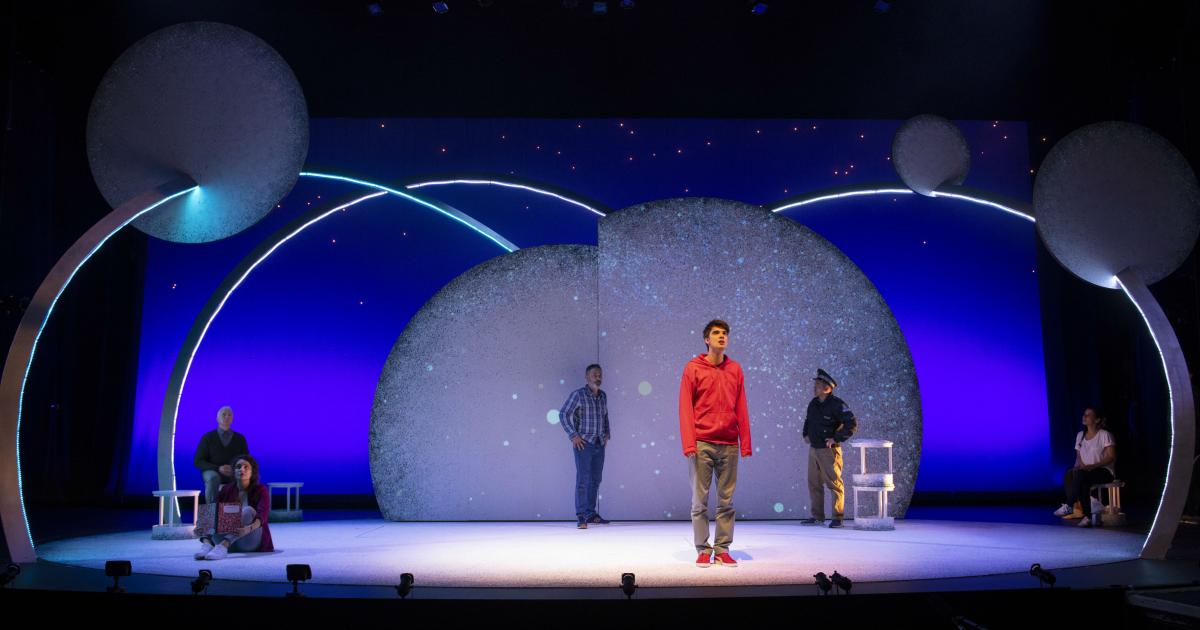 Vancouver Theatre: The Curious Incident of the Dog in the Night-Time
Sunday, September 16th, 2018
The Curious Incident of the Dog in the Night-Time
by Simon Stephens based on the novel by Mark Haddon
directed by Ashlie Corcoran
An Arts Club Theatre Company Production
Stanley Industrial Alliance Stage
Sep 6 - Oct 7, 2018
Vancouver: BC. Two years ago I was in New York for a week with my family to hear my granddaughter sing with a youth choir in a program at Carnegie Hall. While they were occupied with rehearsals, I took the opportunity to see a matinee performance of The Curious Incident of the Dog in the Night-Time. Based on Mark Haddon's extraordinary book, it tells of a singular coming of age event in the life of Christopher Boone,  a young autistic boy.   I remember being blown away by the acting, the extraordinary athleticism of the choreography and by the stunning technicality of that production, telling my kids that this was among the best theatre productions that I had ever seen. But now, two years later what I chiefly remember of the Broadway production is the manifestation of a sensory overloaded mind created by the staccato lighting and videography effects on the black cube set. 
In contrast, what I feel will stay with me of this Arts Club production is the profound emotional impact of the play as I watched the cast, directed by Ashlie Corcoran, interpret this event in Christopher's life, the parents and teacher that love and cherish him, and the strangers to whom he is "different". Perhaps this is because I now have the joy of interacting daily with my toddler grandchild, watching him acquire new skills and learn how to interact with others with that innocence and vulnerability that makes one want to protect every child from any adversity that life may throw at them.
That the approach to this production would be different was suggested from the beginning by the preset. Rather than the enclosed, sharply angular, black walled cube of the New York show,  this set (by Drew Facey, with lighting by Itai Erdal and videography by Joel Grinke) was all curves and glittering circular discs evoking planets, stars and the universe, evoking the world which Christopher inhabits rather than the world within his mind. So where as the enclosed cube of the NY production suggested autism as a condition confining within a boxed world of a sensory overloaded mind, the open curves of the Vancouver production suggested a vision of autism as expansive and able to open up into outer worlds.  This speaks to how far we have come at looking at issues of neurodiversity.
Christopher (Daniel Doheny) is a 15 year old with a mathematical mind light years ahead of the average 18 year old, yet with the innocent literalness of a 5 year old. He doesn't lie and he takes the words of others literally too. Christopher hates to be touched, avoids eye contact and hates yellow or brown things. He lives with his father, Ed (Todd Thomson)  and attends a special school with a supportive  special education teacher Siobhan (Ghazal Azarbad).  When Christopher is unfairly accused of killing his neighbour's dog by stabbing it with a garden fork, it sets off a train of events during which Christopher discovers that he can find his way in a world outside the protected environs of his home and school. Siobhan encourages him to write a journal about his experiences and to turn it into the play we are now watching.
Doheny's sensitive performance brings out the contrast between Christopher's rapid-fire thought processes and the sweet naivety of his literal and always truthful, interactions with others. Because of the slightly less hurried pace of the show, one could really emphasize with the emotions of the single parent father who loved his son, but feared for him and wanted to protect him from a world that would not understand him. There were several moments when I was glad I had tissues with me to dab at my eyes.
While Doheny was obviously the star of this production, the ensemble work was excellently choreographed. It also required a lot of trust between cast members as they carried or acted as bases upon which he could perform acrobatics. Actors stayed onstage throughout bearing witness to Christopher's story, leaping in to play various characters and move scenery as needed, and adding to the many layers of the play-within-a-play dynamic. In particular, his teacher Siobhan often doubled his actions while reading events from his book. In this way she became the outer manifestation for his inner, often tumultuous, thought process. She was also there in his thoughts to help him calm himself during his brave quest and once again the line between Christopher's inner and outer world and the broken fourth wall of the theatre blended. Set pieces were moved with fluidity by the cast and acted as multiple spaces, like the set itself. 
This is a moving story of a boy coming to realize that despite his unique brain, he has the power within himself to achieve what he passionately desires from life. It is a moving production that ends with Christopher's gloriously optimistic leap into the world. I am glad I saw it. You will be too.
New York Theatre: The Curious Incident of the Dog in the Night-Time