Review From The House
READ IT • SEE IT • TASTE IT • LIVE IT
Vancouver Theatre: The Comedy of Errors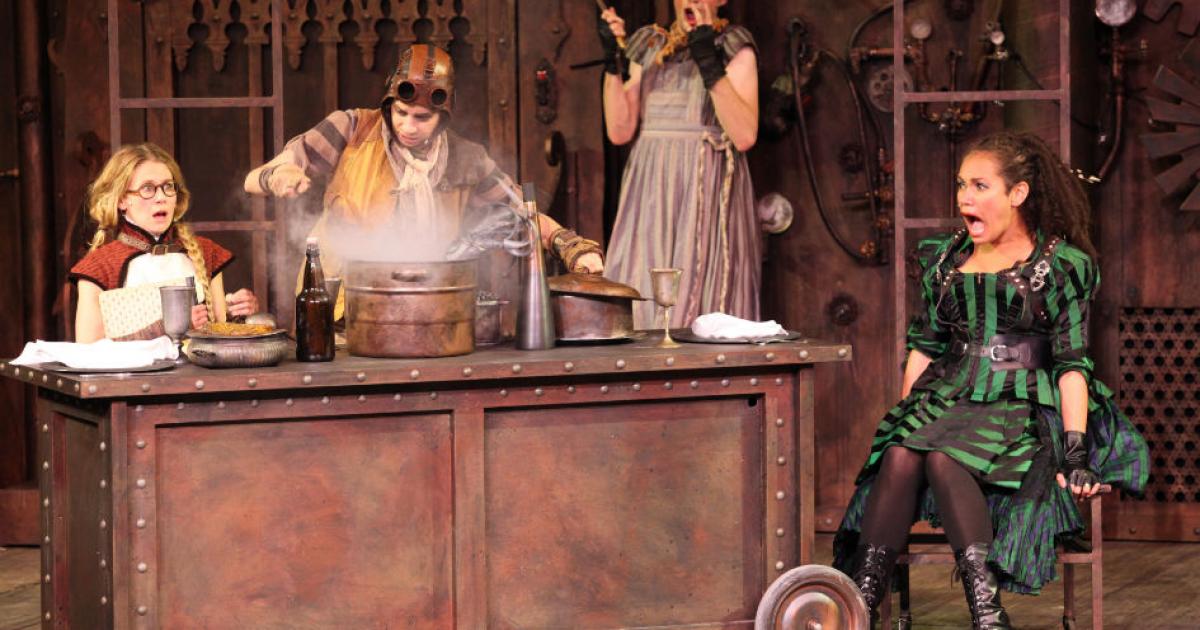 Vancouver Theatre: The Comedy of Errors
Monday, June 15th, 2015
The Comedy of Errors
by William Shakespeare
Directed by Scott Bellis
Bard on the Beach Shakespeare Festival
BMO Mainstage, Vanier Park
June 4 to September 26, 2015
Vancouver, BC:  Before I say just how much I liked this fast paced, high energy, steampunk version of The Comedy of Errors, I should declare that I had the unusual pleasure of vicariously experiencing the evolution of this production as my daughter, Amanda, enjoyed the privilege of being Apprentice Director to the ingeniously creative director, Scott Bellis.
The plot  of The Comedy of Errors with its dual sets of long-time separated identical twins hinges on the failure of the twins and everyone else around to figure out that  there are identically named, identical twins in town, and hence that each twin is constantly being mistaken for the other. In the wildly anachronistic futuristic world of this production the premise that no one would suspect that there were two Antipholus and two Dromios, actually becomes believable.
The high born twins, Antipholus of Syracuse (Ben Elliott) and Antipholus of Ephesus (Jay Hindle) each have a servant, Dromio of Syracuse (Luisa Jojic) and Dromio of Ephesus (Dawn Petten). As Egeon (Scott Bellis), a Syracusean merchant and father of the high born twins expounds at the outset while explaning his presence in Ephesus to The Duke (Jeff Gladstone), a storm at sea separated Egeon and his wife Emilia, when the children were babies. Egeon,  one son and one low born baby  ended up in Syracuse. Egeon did not know what happened to Emilia and the other two babies, but gave his son the name of his lost brother, Antipholus.
He set off from Syracuse in search of the son he had raised who had left with his servant, more than a decade earlier to look for his lost twin. Unbeknown to Egeon and his Antipholus, Emilia was also separated from her twin son Antipholus and his servant Dromio. All three ended up in Ephesus, where Antipholus had wed Adriana (Sereana Malani). Emilia became an abbess in Ephesus but did not know that her twin son and his servant were living there. So with the arrival of Antipholus and Dromio of Syracuse in Ephesus, mayhem ensues.
The ancient city of Ephesus is here transformed into "an eclectic world of cogs and rivets" by Pam Johnson's set, filled with small details and constantly being serviced and maintained by the engineers. Malcolm Dow's soundscape of erie mechanical sounds runs throughout the show but never obscures the dialogue. On previous occasions in the big tent I have sometimes found words hard to hear but in this case despite the rapid pace every actor was crystal clear.  The clock with a single hand that turns backwards is just one of the touches that evokes the whackiness of this world. The kitchen wench Nell (Andrew McNee) talks "plant"  and feeds her fingers to the carnivorous plant while the mad scientist Dr. Pinch (Jeff Gladstone) has a frightening electro-convulsive therapy device to cure the seemingly crazy Antipholus. Speaking of Dr Pinch, he starts and ends the show,  and like the crazy conjuror that he is, it is almost as if he conjured up this whole whacky world.
I've always liked Shakespeare's tragedies more than the comedies but this production of The Comedy of Errors had me laughing out loud... a lot. I loved the choreography by Tara Cheyenne Friedenburg and the interpretation by the cast was great. It's an excellent show, entertaining and fun,  and well worth seeing.