Review From The House
READ IT • SEE IT • TASTE IT • LIVE IT
Vancouver Fringe Festival 2014: Masks of Oscar Wilde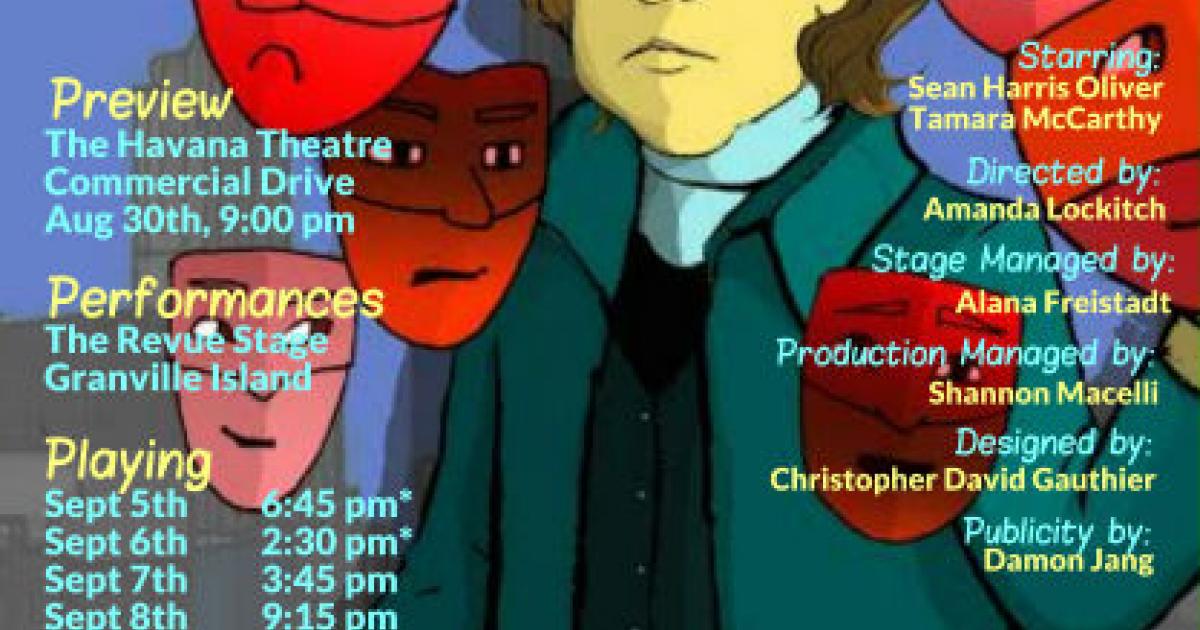 Vancouver Fringe Festival 2014: Masks of Oscar Wilde
Monday, September 8th, 2014
The Masks of Oscar Wilde
by Shaul Ezer with C.E. Gatchalian
Dramaturged and directed by Amanda Lockitch
Matchmaker Productions in association with the frank theatre company
Revue Stage, Granville Island
Remaining shows:
Mon Sept 8  9:15 PM
Fri Sept 12 10:30 PM
Sun Sept 14 6:45 PM
Oscar Wilde, master of the epigram, might well have agreed that like Shakespeare's great fallen hero, Othello, he had "loved not wisely but too well." Wilde's affair with the young Lord Alfred Douglas led to his ultimate destruction  and the negation of all the fame and admiration his talent had achieved.
Married to the well-off Constance, with two sons Cyril and Vyvyan, Wilde established himself in London, where in swift succession, his plays "Lady Windermere's Fan", "A Woman of No Importance" and "An Ideal Husband"  opening in London between 1892 and 1895, established him as a fashionable playwright in London's West End.  With his play "The Importance of Being Earnest" opening triumphantly and enjoying a wild(e)ly successful run, Wilde was on top of the world.
And then the Marquess of Queensberry, father of Lord Alfred Douglas, left his calling card at Oscar Wilde's Club, The Albemarle, labelling Wilde as a (famously misspelled) "somdomite." Against all advice Wilde initiated a lawsuit for libel against the Marquess and 3 trials later, this ended with  Wilde's imprisonment for 2 years with hard labour for the crime of sodomy.
Wilde's story of The Happy Prince frames the account of his fall from toast of the London literary scene to destitute villain, as told by characters A (Sean Harris Oliver ) and B (Tamara McCarthy). It is charmingly illustrated through silhouettes projected on an old fashioned style light box and hand puppet swallows designed by Christopher David Gauthier. The many faces of Oscar Wilde are revealed through the masks of - man of letters, aesthete, Victorian moralist, playwright, fallen sinner or legendary victim and finally martyr - with recitations from Wilde's letters, essays, poetry and plays revealing his literary talents.
In his transformation from awkward, gestural, academic lecturer to a broken Oscar Wilde, Oliver finds the pathos in Wilde's heart breaking story while McCarthy's role of quippy commentator and her audience engagement adds a lightness to the events that unfold on stage. In this show, the ASL interpreter (Piper) has been neatly integrated by the director into the flow of the play, meeting the goal of making this work truly accessible.
I knew Wilde's work for his major plays and his novel "The Picture of Dorian Gray" but I learned about his essays and poetry for the first time from seeing this show, which made me want to know much more about the other works of this sad but talented man, born at the wrong time in history.