Review From The House
READ IT • SEE IT • TASTE IT • LIVE IT
Vancouver Dance: Night Cap: A Tap Dance Concert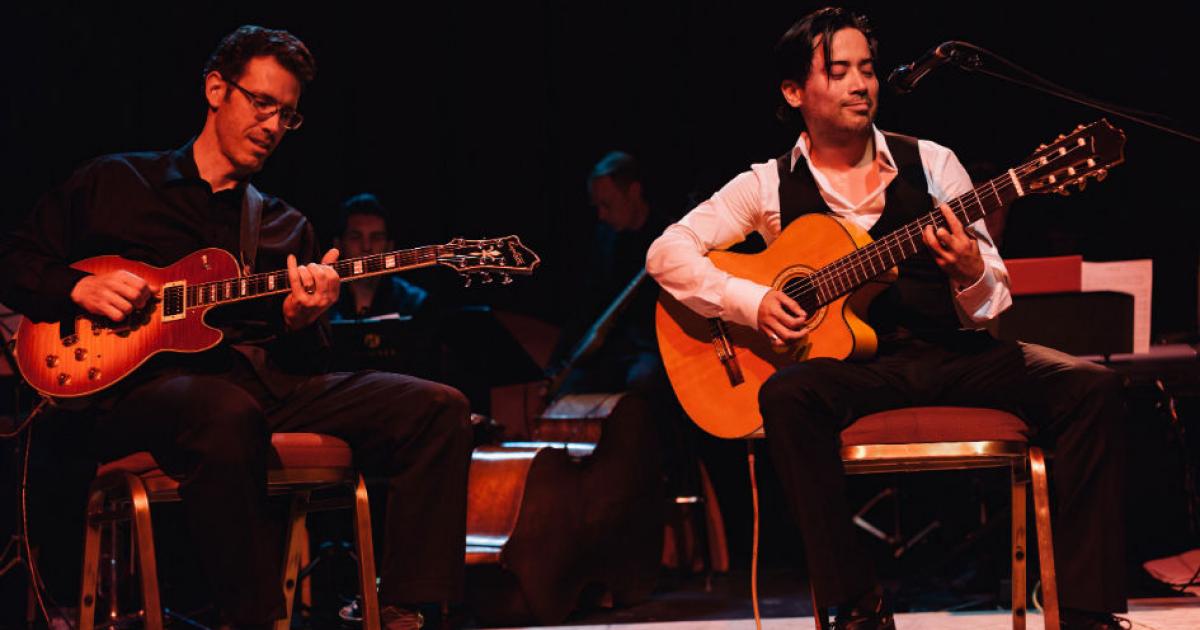 Vancouver Dance: Night Cap: A Tap Dance Concert
Tuesday, June 30th, 2015
NIGHT CAP: A Tap Dance Concert
featuring Tap dance artists, Joel Hanna, Danny Nielsen,  special guest Jason Samuels Smith and vocalist Jaclyn Guillou
at The Fox Cabaret
June 18th, 2015.
Performing to a wildly enthusastic crowd that filled Main Street's Fox Cabaret venue, internationally renowned dancer/choreographer, Vancouver's Joel Hanna, and fellow tap dance artists Danny Nielsen and guest artist Jason Samuels Smith from New York, presented an outstanding evening of dance, music and song. 
Music entertainment for the evening was performed by an ensemble under the musical direction of guitarist Tony di Gregorio and featuring  Dan Reynolds (piano), Michael Rush (bass), Zak Jeffrey Yousseff (trumpet), Sky Lambourne (trombone), Nimal Wijayanayake (percussion) and Eli Bennet (saxophone) with jazz vocalist Jaclyn Guillou.
For me, adding to the sheer joy of seeing these amazing artists perform, was the aspect of learning more about the diversity of Vancouver's  arts and culture scene. My interest and time committment to the local entertainment landscape has almost exclusively focused on theatre and I have had little exposure to the range of talent in the diverse genres of dance and music. So this was a great chance to expand my artistic horizons and get to know something about these other performers.
Joel Hanna is an extraordinarily versatile talent; a standout in physical genres as diverse as Irish, tap and Flamenco dance, he is also a martial artist, percussionist, plays guitar and sings. Add choreographer and teacher to his list of accomplishments, and his extraordinary dance career on international stages - Wow! 
Guest artist Jason Samuels Smith is widely known in the international arena as a dancer and winning award choreographer, founder of the First Los Angeles Tap Festival - and designer of an eponymously named  professional tap shoe for men. Originally from Calgary, rising tap talent Danny Nielsen is now based on Vancouver but enjoying many opportunities to perform and teach outside of Canada. It was fascinating to see in the tap performances of Joel, Danny and Jason just how different their styles are in terms of posture and body positions. As a naive observer of this dance form I see the influence of Joel's Irish dance expertise in the still elegance of his upper body while his feet move at warp speed.
The featured vocalist Jaclyn Guillou has a stunning stage presence as well as a great voice and composes much of the music and lyrics for her recordings. I missed her show at the recent Vancouver Jazz Festival but hope to catch a future performance.
This was my second time seeing Joel and Danny perform at the Fox Cabaret. Both times it was basically standing room only.  It would be great to see a show featuring more of our dance and vocal talents  for a wider audience in one of the larger theatre venues. 
So what  exciting events are upcoming for Joel? He is artistic director and Soloist with the upcoming Vancouver spring show again with Mr. Bian Liu Nian (composer and musical director of the Beijing Olympic ceremonies.) He will also be  premiering new works in Europe and Asia this fall with my collective J-Han Dance and in a collaboration with Chinese contemporary dance legend Mr. Tang Ai Min.