Review From The House
READ IT • SEE IT • TASTE IT • LIVE IT
Thoroughly Modern Millie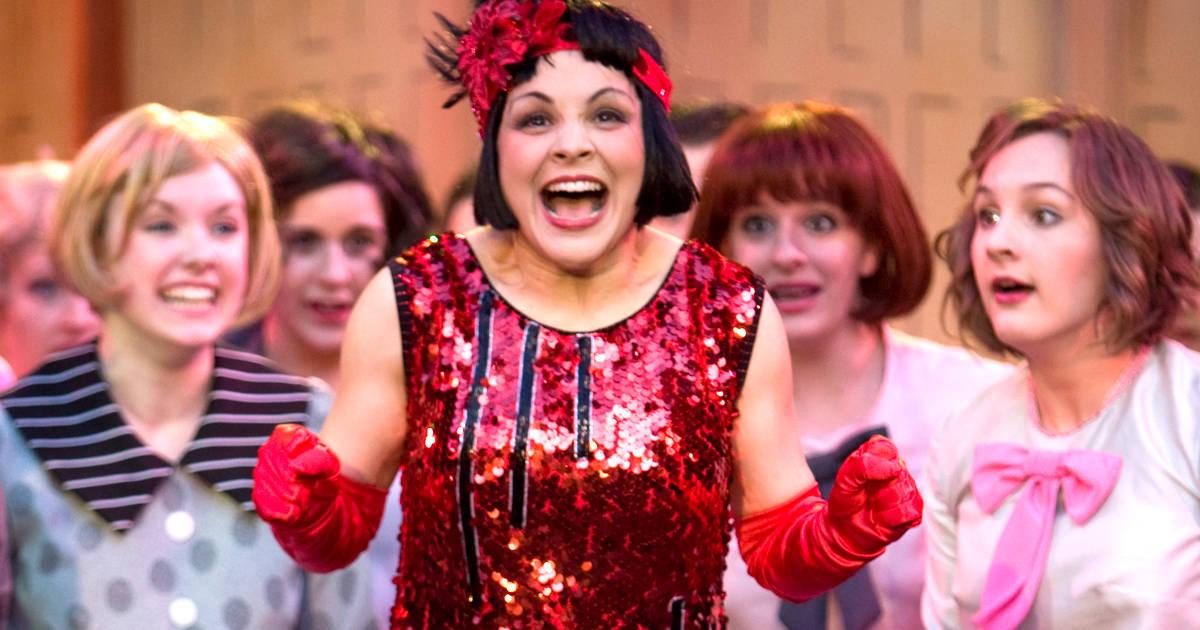 Thoroughly Modern Millie
Sunday, August 9th, 2009
Thoroughly Modern Millie
Book by Richard Morris and Richard Scanlan
New music by Jeanine Tesori and new lyrics by Richard Scanlan
Directed by Shel Piercy
Choreographer Shelley Stewart Hunt
Music director Christopher King
Vancouver BC:   The stage musical of Thoroughly Modern Millie was adapted from the 1967 film musical movie with Julie Andrews in the title role.  In the stage version Millie is from Kansas and has come to New York to find herself a millionaire to marry. New music was added for the stage version and  other changes made but for fresh-into-town Millie, a modern woman in the Prohibition era, it is still money not love that matters.
There are two interwoven story lines, both rather thin in content. Millie Dillmount (Diana Kaarina) , a naive new arrival in the Big Apple, encounters Jimmy Smith (Danny Balkwill), erstwhile paper clip salesman, who sends her to the  Hotel Priscilla,  a boarding house filled with young would-be actresses who can't pay their rent. Presiding over this seedy place is Mrs. Meers (Sarah Rodgers) who unbeknownst to the girls or Jimmy, is a kidnapper for a white slavery ring, and has just "disappeared" one of her residents.  In the meanwhile Millie is determined to win the heart of her new boss, Trevor Graydon (Seth Drabinsky) and marry him, whether she loves him or not. Into the picture comes rich girl Miss Dorothy Brown (Meghan Anderssen) to learn about how the not-so rich live. Graydon falls for her - but so does one of  two brothers from Hong Hong, working as laundry men for Mrs. Meers.   Well,  I did say  the story lines are weak.
However the performances are not. This is an excellent production. The standout performance of  Diana Kaarina as Millie is well supported by the excellent singing and dancing of the ensemble as a whole. I loved Shelley Hunt's choreography. The tap numbers made me wish I hadn't switched to ballet when I was five!
As blonde demurely dressed Dorothy -such a contrast to her role as the rough-talking, Annie Oakley in last year's Annie Get your Gun -  I thought Anderssen  held her own despite Kaarina's commanding presence. And I enjoyed the pedantic fussiness of Drabinsky as Graydon. Nancy Herb was also strong as Muzzy Van Hossmerer, nightclub star.
The production design elements are  commendable. Francesca Albertazzi's set is attractive and  versatile and looks great with Gerald King's lighting. The backdrop of high rises with lit wndows set off by the twinkling lights above the skyline really evokes a large city. I loved the romantic look of  one scene with the city is lit with a deep  blue hue.  I loved the "toe-tapping--energized' in the Hotel.  The costumes by Chris Sinosich are colourful and lovely, but despite all the glitter, Millie always stood out from the other beautifully dressed women.
Although I enjoyed the singing, dancing and Kaarina's very modern Millie, I would not class this musical as one of my favorites. There really are no memorable songs and the book is thoroughly unmodern. The story line of  Mrs. Meers,  failed actress- become pseudo-Chinese boarding house operator -  and her white slavery business is a bit much.   Although I don't think I am oversensitive or  susceptible to excessive political correctness, I  found the  caricatures of  the Meers persona  and her two "Chinese "houseboy/laundry workers" quite uncomfortable to watch.  Although, in the stage version at any rate,  Ching Ho does win the girl and  I guess that gives him some respect.
 That got me thinking about why certain sterotyping makes me feel uncomfortable yet at other times, it does not. I suppose that when one sees a character on stage with a personal flaw, the philandering husband or wife, the greedy or lying individual, it is that individual with a defect - as opposed to a caricature based on the supposed characteristics or habits of a racial,  ethnic or religious group. I suppose  should not let that discomfort detract from what was otherwise an entertaining production. 
As a lady sitting in the next row said loudly -  "it's  almost as good as Broadway"- and it was.