Review From The House
READ IT • SEE IT • TASTE IT • LIVE IT
The Show Must Go On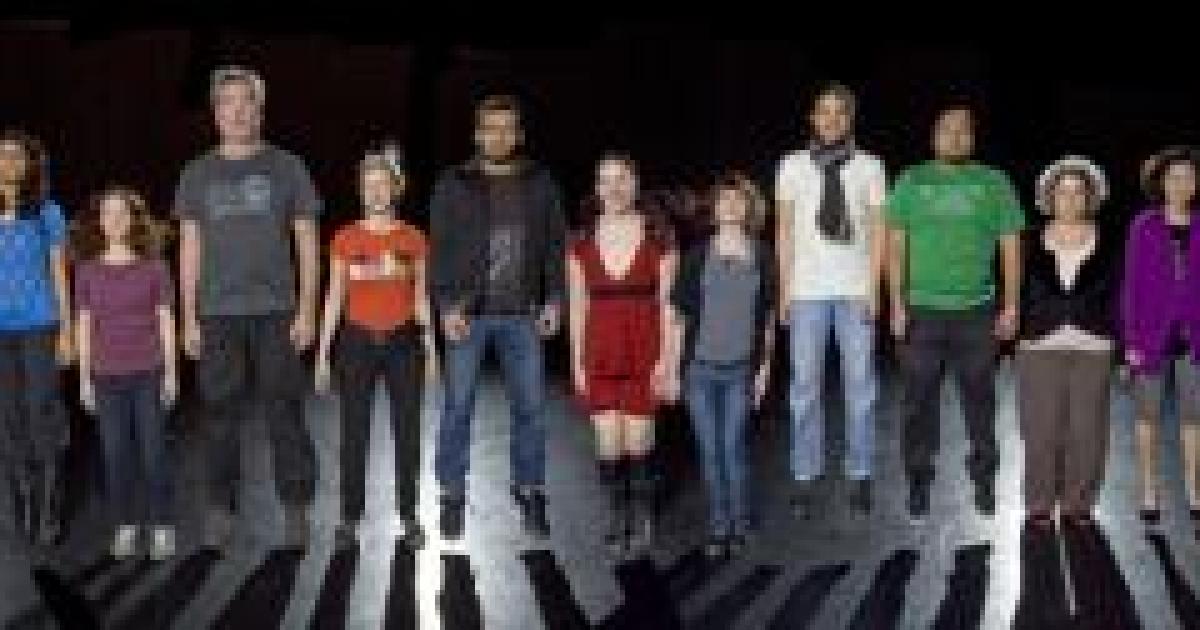 The Show Must Go On
Tuesday, January 26th, 2010
The Show Must Go On
by Jérôme Bel
SFU Woodwards and The Dance Centre
Fei and Milton Wong Experimental Theatre at SFU
Jan 20 to 23rd, 2010
I was especially looking forward to going to see this show  because I anticipated that for several reasons it would be a bit of an adventure . Firstly this would be the first production I would see in the new Fei and Milton Wong Experimental Theatre in the Simon Fraser University complex, newly built on the old Woodwards site. As it turned out it is still so new that I was directed by a security man to an entrance to the theatre complex through a gap in the construction fencing that still surrounds much of the area.
The second reason was that instead of driving my car I planned to take the Canada Line up to Waterfront and walk along West Hastings to the theatre, checking out a Salsa Studio on the way. I can just hear the groans of "what's the big deal, taking transit" but I was going by myself to this show, and for me, walking alone late at night in what is not as yet a very desirable part of the city, constitutes an adventure.
The third and most important reason was that I  had done my homework and read a little about the history of The Show Must Go On, but what I gathered from my reading was that it was a difficult show to describe - and so most reviewers didn't. So all I knew  was that this production, unusually,  had a mixed cast of local people, most of whom are not professional actors or dancers. I recognised a few names from the list of 20 odd cast members but not too many. It seemed to me that the show itself would be a bit of adventure. And so it was.
For reasons I can't explain, since I have avoided front rows ever since i entered university eons ago,   I plonked myself down in a front row seat. By the way the seats are really comfortable and seem to be as intelligently placed like in the new stadium style movie theatres. So even if Goliath is seated in front of you you would still have a good sightline. From my position I got a great view of the D.J. table located just in front of the stage, holding sound and light board and a CD player.
In walked the D.J. carrying a pile of CDS. He popped the first one in, the lights dimmed and a medley of songs from West Side Story began to play. Next came Good Morning Starshine from Hair and gradually the lights were brought up. When the 22 member cast entered they were  dressed in a mix of everyday clothes - just ordinary folks like you and me, out to have fun. Bel's original production cast apparently consisted of friends and family.  The DJ popped in "Let's Dance"and they began to dance a crazy mix of their own free style - they sort of reminded me of robots on an assembly line that was off kilter. But then came the Macarena and they moved through that as though someone had pressed a button and restored the timing of the assembly line.
The DJ played song after familiar song. As someone said " he played the songs of our lives." Some came with a little twist - and no I don't mean the Chubby Checker variety.   For "La vie en Rose" the stage was bathed in pink  light. Part of "The Sound of Silence" was just that - silent.
But the essence of this show is the interaction between cast and the audience, and since the audience is neither programmed nor rehearsed the results are naturally unpredictable. Some people stood up and danced in their seats. Some people filled in silence with their own voices. And when the cast stood at the edge of the stage  "watching you" - after a while it got very uncomfortable.  Just the sort of effect Bel was probably going for - no more fourth wall, no more actor and audience; just a palpable tension between  stage and  house.
I had a great time. I loved the music selections. I thought the cast managed remarkably well. And when I walked back along Cordova to the Waterfront Station the street was buzzing with people partying and the Canada Line got me back home door to door from theatre to condo in about 20 minutes.
My only regret was that I did not get a chance to be up on that stage dancing. While I would be terrified to do what every actor does on stage -  actually have to remember and speak  lines -  and no one will ever hear me sing in public  - I would have no inhibitions about getting up and dancing on stage. That's what those dance cruises have done for me. 
But Boca de Lupo's  Dance Marathon is coming up so stay tuned! I may yet get my chance to dance.