Review From The House
READ IT • SEE IT • TASTE IT • LIVE IT
[Re]View from the House: Twelfth Night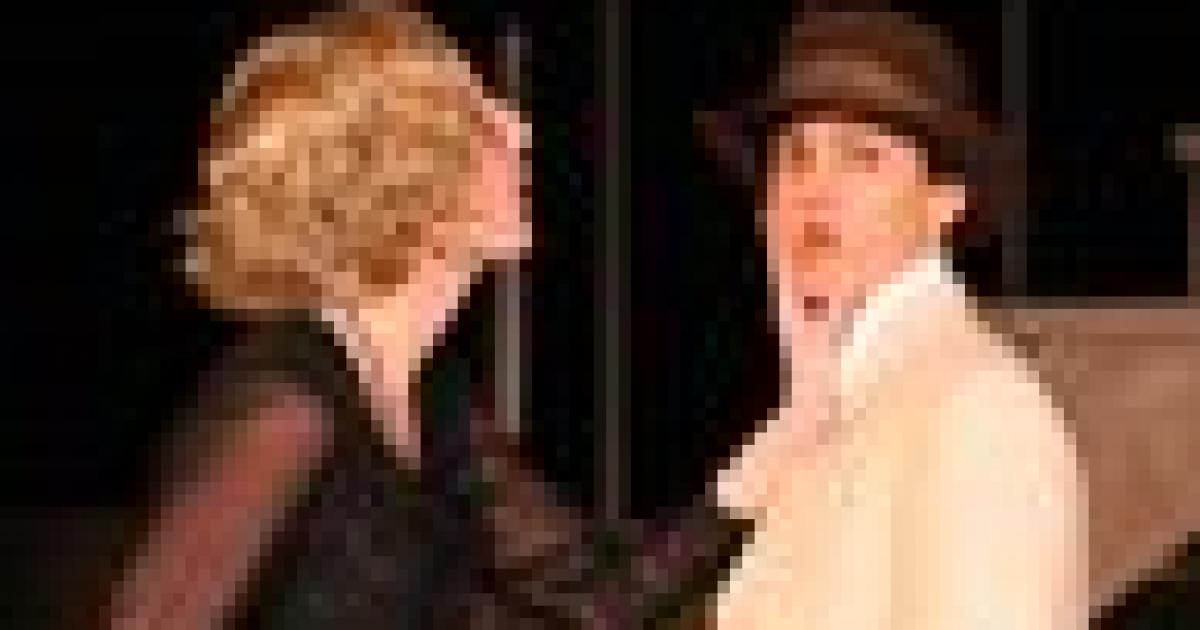 [Re]View from the House: Twelfth Night
Monday, June 9th, 2008
Twelfth Night by William Shakespeare
Directed by David Mackay
Mainstage Tent, Vanier Park
Bard on the Beach
May 29 to September 27, 2008
Vancouver, BC: Last year's Bard production of Taming of the Shrew was one of my all-time Bard on the Beach favorites garnering a rave in my Rants, Raves and Reviews column, but David Mackay's production of Twelfth Night has displaced Shrew from number one on my BOTB hit parade. And this, despite the fact that in more than a decade of seeing performances in Vanier Park, I have never been as miserably cold as on Thursday's opening night.
As I shivered in my warm clothes, with a blanket over my knees, I sent warming mental vibes at the actors- hoping they don't all get sick from exposure on what was apparently the coldest June 5th in decades. But on stage the heat was on! Designer David Roberts 1920's New York setting and the black and white cinematographic production style with Jamie Nesbit's projections, really worked for this comedy of mistaken identities and unrequited love. I loved the music, old and new. The additional songs composed by Murray Price, on the lines of the "blues and spiritual traditions" of the era were sung from the heart by Scott Bellis as Feste. I've seen Bellis shine in many roles but in this performance I was blown away by his outstanding vocal quality.
The primary storyline centres on Viola (Lois Anderson), who is saved from a shipwreck in which she believes her twin brother, Sebastian ( Robert Moloney), has drowned. Finding herself in Illyria, she disguises herself as a young man Cesario and becomes a page to Duke Orsino (Todd Talbot). Orsino loves the recently bereaved Lady Olivia (Melissa Poll), who does not love him but falls for Cesario, who in turn falls for Orsino who of course has no idea Cesario is really a girl. MacKay cleverly stages the exposition of Viola's plight in a flickering black and white movie segment which for an instant looked like an authentic 1920s silent movie until I recognized the faces of real live Bard members. Cool.
The secondary plot features the machinations of Toby Belch (David Marr), Andrew Aguecheek (Ryan Beil), Maria (Tiffany Lyndall-Knight) and Fabian ( Patti Allan) to get rid of Olivia's steward, Malvolio (Andrew Wheeler). In a production with so many outstanding performances, it is almost unfair to single out anyone – that said, Beil's Andrew Aguecheek, egged on by Toby Belch, was so engaging that when Belch turned on him near the end of the play the audience let out a collective sigh of sympathy, a sentiment more often normally directed at the abused Malvolio.
The time and place gave Bard's costume designer Mara Gottler free rein to put together a wonderful array of costumes evoking cinemas stars of the 1920s and 30s. Seeing the always elegant Melissa Poll with blonde curls, I anticipated an energetic Charleston across the set. Lois Anderson's dapper appearance as a young male was quite appealing and made Olivia's transition from disdainful mourner to giddy lover during the Disney-like wild Swan ride quite understandable.
This Twelfth Night production is a great start for the 2008 Bard season. Get your tickets early. I'm sure it will sell out.