Review From The House
READ IT • SEE IT • TASTE IT • LIVE IT
Review From The House: Toronto, Mississippi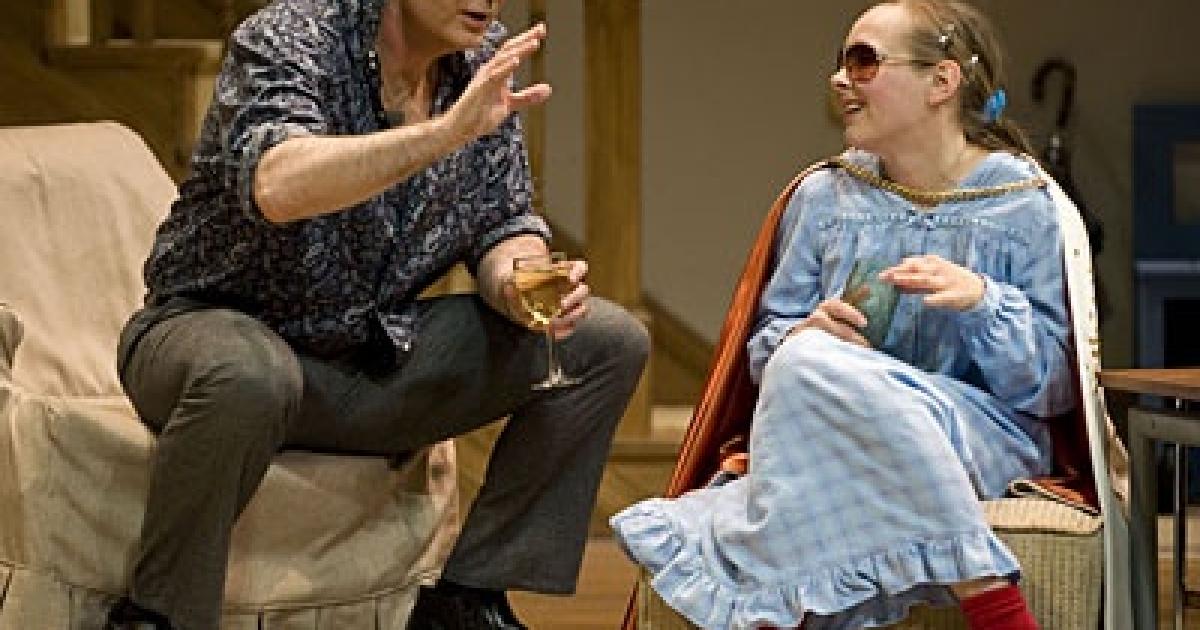 Review From The House: Toronto, Mississippi
Sunday, March 22nd, 2009
Bill MacDonald and Meg Roe in Toronto, Mississippi Toronto, Mississippi by Joan MacLeod
Directed by Dean Paul Gibson
Vancouver Playhouse
Playhouse Theatre Company
Feb 28- Mar 21, 2009
Photo by David Cooper.
Vancouver, BC:  I was really happy to be able to catch the closing night performance of Toronto Mississippi, the day after I returned after three weeks away from Vancouver. The play itself is one that I had often heard discussed but had never read nor seen performed and I expected that Dean Paul Gibson would draw strong performances from the cast of Colleen Wheeler (Maddie),  Meg Roe (Jhana), Bill MacDonald (King) and Alessandro Juliani (Bill). 
Jhana is an eighteen year-old girl whose moderate autism and developmental issues present a major challenge to both herself and her mother with respect to her capacity for independent living - quite a difficult character to portray. I  remember the honesty of Roe's portrayal of Rowena, a physically handicapped young girl, in the Playhouse production of  The Wars  a couple of years ago and I was interested to see how she would handle the role of Jhana. She did it brilliantly, managing to convey an innocent joy in life while battling with frustration of  wanting an independent adult life for which she was clearly not ready. The closing scene when Jhana imagines her father calling her up on stage to peform was quite stunning.
I was also curious to see Macdonald in the role of an Elvis impersonator. The one and only time I have seen a real Elvis impersonator ( or is that an oxymoron) perform was when I was invited one night to dinner and a show at one of the Legion Halls. And I have to confess that the very next day I picked up a set of Elvis CDs to replace the LPs that I had long ago lost. Man that Elvis could rock - (the real one I mean. The CDs  certainly took me back a few years!
But to more serious things. MacLeod's play deals with a vey important problem. How does a parent prepare a child to move out into the world, and have the courage and sensitivity to know when to let that child go? Every parent has to come to terms with their child's attainment of adulthood. How very much harder is it, when your child is chronologically adult but mentally or physically is not capable of facing the world alone?
Jhana's mother Maddie, played with warmth and sensitivity by Colleen Wheeler, has unresolved issues of her own. She is still in love with King, who took off on the road a decade earlier, leaving her to raise Jhana on her own.  Bill, the boarder whose role in Jhana's life was a bit unclear to me, seems to spend most time  with her, coaching her in the  essentials like memorizing her address  for a 911 call.  King's return home complicates the situation. Maddie has to make choices.
I really liked this play a lot. The characters were powerfully drawn. One could understand and appreciate their motivation and their flaws. It dealt with relevant issues in a way that left me thinking about them. And Roe's  Jhana willl stick with me a long time.