Review From The House
READ IT • SEE IT • TASTE IT • LIVE IT
Review From The House: The Real Thing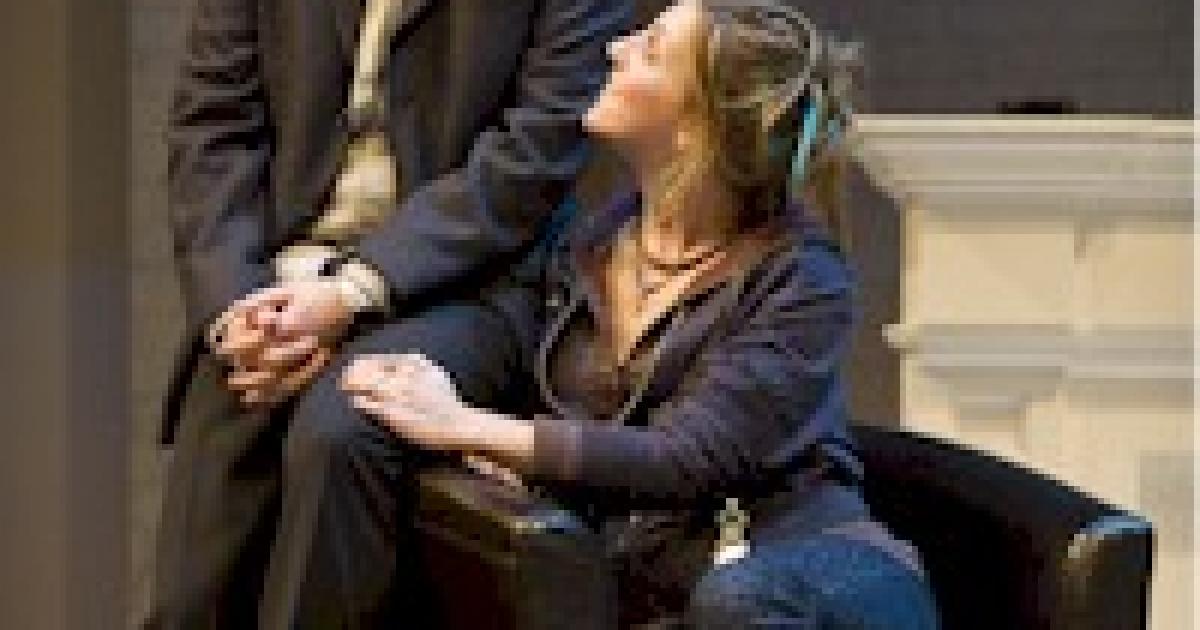 Review From The House: The Real Thing
Saturday, March 28th, 2009
The Real Thing by Tom StoppardDirected by Michael Shamata
Arts Club Granville Island Stage
Arts Club Theatre Company
March 5th to April 4th, 2009
Vancouver, BC:  What is "the real  thing" we ask? How will we know it when we find it?  Hmmm...  That is the question!
Tom Stoppard's play is about  honesty and dishonesty in love and  relationships; using the metatheatrical concept of a play-within-a play with the adulterous interactions of the "actors" mirroring the "real life" characters on stage. The whole premise sounded intriguing and it worked before for him.  I  really liked the only two previous Stoppard plays that I have read and seen, namely  Arcadia  and Rosencrantz and Guildenstern are Dead. So I was expecting that this show would top off a week of excellent theatre. But alas, not.
The fault I believe lies in the play, more than with the actors, who usually do fine work. The protagonist Henry (Vince Gale) is a playwright who has a penchant for marrying actresses who seem to want  to have sexual daliances with anyone else but him. And I can't blame them. Henry is dull and boring  and paranoid about his wives being adulterous.  Can you call him paranoid if his suspicions are correct?  Anyway both his first actresss/wife, Charlotte (Jennifer Clement)  and his second actress/wife Annie (Jennifer Lines) claim to love him but have affairs.  Henry himself was having a relationship with Annie while he was married to Charlotte and Annie was marred to Max (Simon Bradbury . Can we say "double standards" or "people in glass houses"?  Or any other cliche.
All in all not a very nice situation and since we learn little about these people other than the facts of their adultery, it is very difficult to care at all about what happens to them. Certainly by the end of the first act I had little idea of where the play was going  or what was going to happen to Henry and I really did not care much.  Interestingly it was two of the more peripheral characters, Billy (a young actor attracted to  Annie) nicely played by Charles Gallant and Debbie (Henry and Charlotte's daughter ) played by Julie MacIsaac that livened up the stage. MacIsaac sparkled in her cameo role as the spunky daughter who was not going to take direction from parents who couldn't even manage their own lives.
If there had been a trace of the wit and clever dialogue that is found in some of Stoppard's other work I might have enjoyed this more. The music sound track provided some nice interludes.  However just when I was wondering how much longer  this could continue, they played Unchained Melody  - you know the bit
"and time goes by so slowly".  I couldn't help it. I got the giggles.  Too bad that that was the funniest thing in the play.
So - the question about "the real thing" remains unanswered, at least in respect to love.  I think an earlier Arts Club production this season,  The Constant Wife, that also looked at honesty and adultery, may not have given any better answers  but it was enchanting and entertaining, never boring. And in theatre at any rate, that's the real thing.