Review From The House
READ IT • SEE IT • TASTE IT • LIVE IT
Review From The House: Jesus, My Boy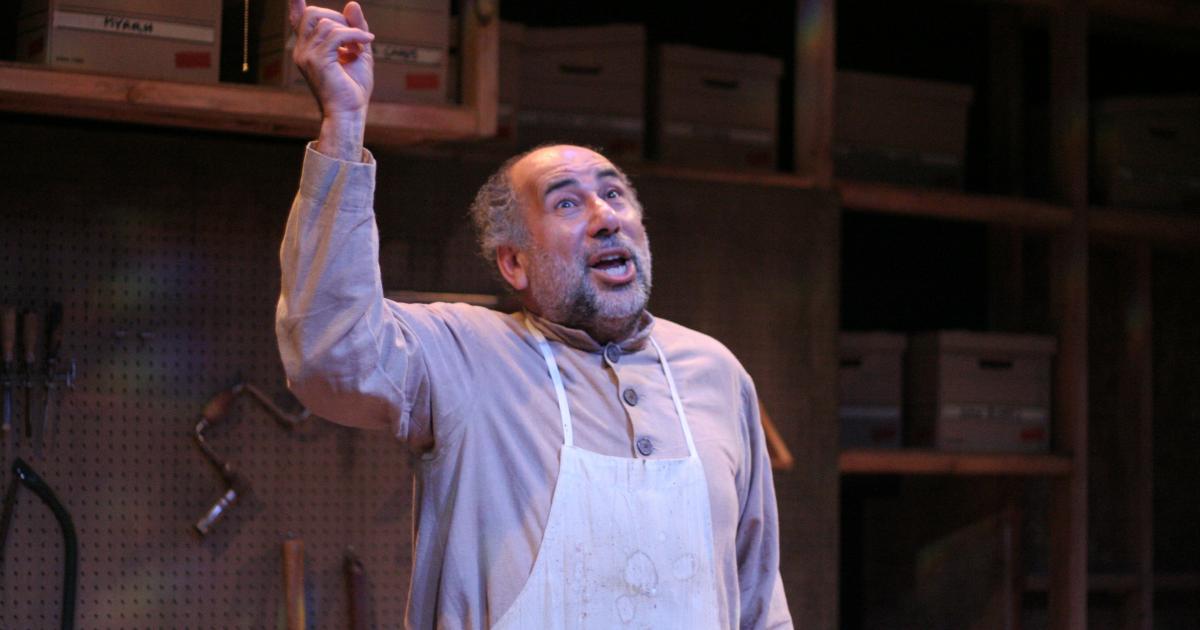 Review From The House: Jesus, My Boy
Saturday, December 6th, 2008
Jesus, My Boy  by John Dowie
Directed by Sarah Rodgers
Pacific Theatre
Nov 28 to Dec 27, 2008
 David Adams as Joseph, Photos  by Gillian Wolpert
Vancouver, BC: If you are looking for a feel-good evening at the theatre, check out  David Adams's gentle  version of Joseph, the world's most famous, yet usually overlooked father.  How would you react when your newly betrothed virgin bride announces that she is pregnant and that you-know-who is the father? This Joseph takes it all in his stride. He delivers the baby in a cave where they have taken shelter, deals smartly with the three "wise men"  who have come to worship the new "king of the Jews", and carts his family off to safety out of  reach of the long arm of the current king,  Herod. He raises this first born son plus a passel of  younger brothers only to see the eighteen year old Jesus leave home for good, and ultimately of course, be crucified. Dowie wisely stops the narrative there so we don't get to hear what Joseph, the pragamatist who does not even acccept the ideas of astrology,  would have made of the events that followed. 
Adams's mellifluous voice is well suited to this role of a warm and caring Jewish father with a self-deprecating sense of humour and he performs it beautifully . Dowie imagines Joseph as a marginally skilled carpenter who has taken over the trade of his talented father.  In the post-play talkback, Adams mentioned that his own father was skilled in wood work, and that many of the tools that hung on the wooden walls of Lauchlin Johnson's set, belonged to Adams's father.
Jeremy Eisenhauer and Sheree Plett provide a musical counterpoint to the narrative. The addition of the musicians for this production was an innovation by Musical Director Ron Reed.  In the notes from the playwright,  Dowie describes himself as a long time stand -up comedian who has written, directed and performed many one-man shows. This piece is written in a conversational (albeit one-way) style. Although I enjoyed the sweet harmonies provided by Eisenhauer and Plett,  I found the music somewhat distracting and disruptive of the narrative flow of the monologue.
Despite that  caveat, overall I enjoyed the show, though not as much as my companion who rated it excellent and a perfect pre-Christmas entertainment. If you are looking for some light seasonal cheer, this show will provide a  very pleasant evening. It runs just under an hour and a half with no intermission. On the other hand if you are looking for a lively, hilarious musical, check out The Drowsy Chaperone at the Playhouse.