Review From The House
READ IT • SEE IT • TASTE IT • LIVE IT
[Re]View From The House: The Hobbit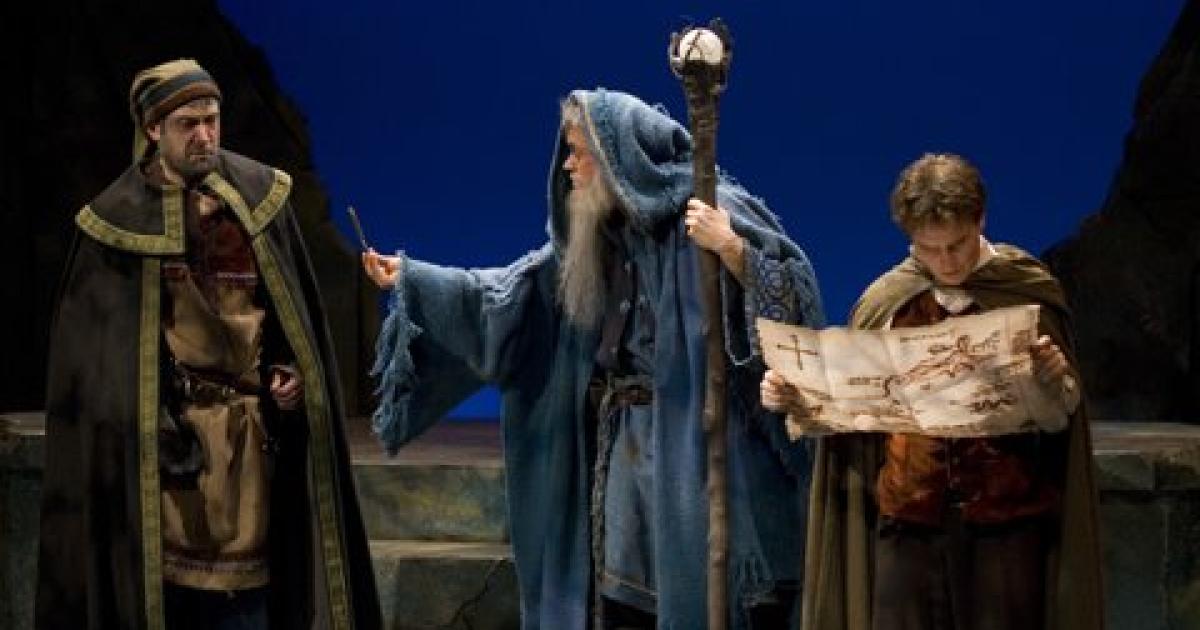 [Re]View From The House: The Hobbit
Wednesday, April 16th, 2008
The Hobbit adapted by Kim Selody
from the book by JRR Tolkien.
Directed by Jack Paterson
Carousel Theatre Company
The Waterfront Theatre
April 11 to May 3rd, 2008
Photo credits: Tim Matheson
Vancouver, BC: I don't know who enjoyed The Hobbit more; I or the very young audience members whose occasionally audible comments revealed how completely they were caught up in the adventures on stage.
Kim Selody's adaptation of Tolkien's novel condenses the Tookish adventure of hobbit, Bilbo Baggins, of Hobbiton into an hour and a half of exceedingly entertaining theatre for all ages. At the urging of the wizard, Gandalf (Craig Erickson), Bilbo (Kristian Ayre) hesitantly accompanies the dwarf Thorin (Stefano Giulianetti) and his men, in a quest to the Lonely Mountain, where Smaug (Erickson), the fiery dragon guards the treasures stolen generation before from the dwarf ancestors. As the band of adventurers, intermittently aided by Gandalf, encounter trolls, elves, goblins and spiders, Bilbo finds the courage to rescue his comrades from several potentially deadly situations. On the way to the lakes near Lonely Mountain, Bilbo is separated from the dwarves and encounters Gollum (Tamara McCarthy), a mysterious creature who plays a riddle game with him, falsely promising to show Bilbo the way out of the cave system if he guesses the answers. In Gollum's lair, Bilbo finds a Ring which has the power to make the wearer invisible. This is the ring which Bilbo's young relative Frodo later carries on his own quest in Lord of the Rings.
Supported by a wonderfully imaginative technical team, Paterson and his actors bring the scary creatures of Tolkien's imagination to life. The story starts with a bang; literally as Itai Erdal (lighting) and Jeff Tymoshuk (sound design) herald the entrance of narrator, Old Took (Tamara McCarthy), with thunder and lightning. Al Frisk's set manages to be both minimalist and functional yet creates stunning images with the different lighting effects. The masks and costumes by Jay Haven are great. Specially love the trolls and the goblins – grotesque and scary!
Josue Laboucane, Ashley Liu, Parnelli Parnes and Luc Roderique played multiple characters, dwarves, elves and goblins with energy and enthusiasm. McCarthy showed great versatility, also playing multiple roles. My thighs ached just from watching Gollum creep around the floor. Ayre brought sweetness to Bilbo, the reluctant hero who finds an unsuspected inner strength.
I loved this show. Kudos to Carousel and Jack Paterson.