Review From The House
READ IT • SEE IT • TASTE IT • LIVE IT
[Re]View From The House: FROST / NIXON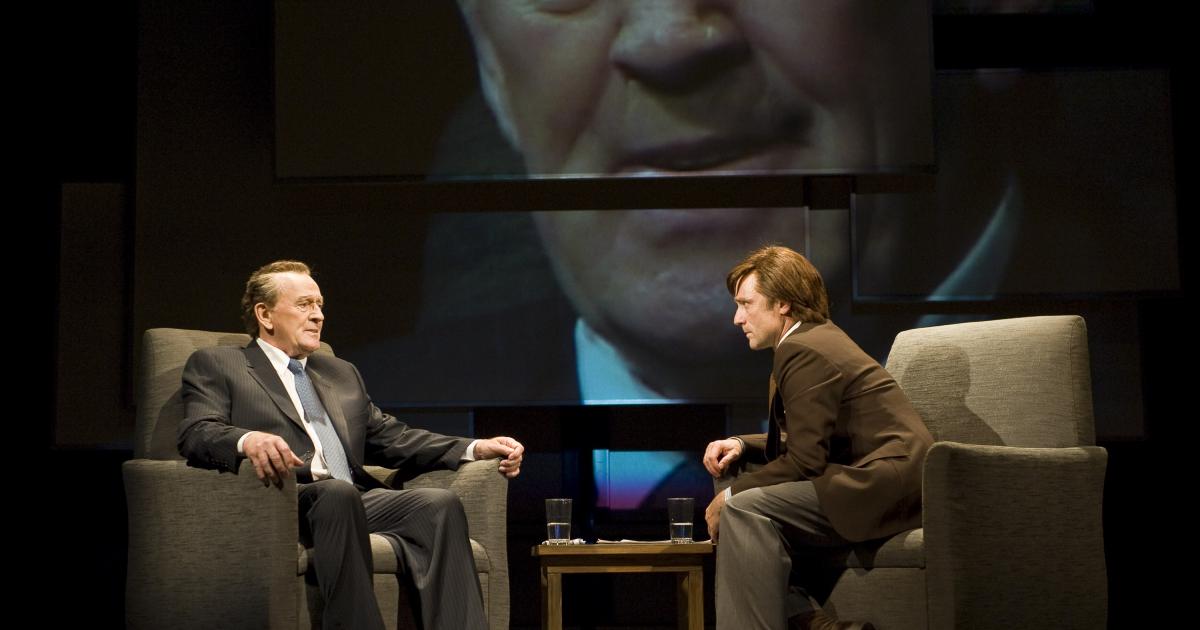 [Re]View From The House: FROST / NIXON
Wednesday, September 24th, 2008
Frost/Nixon by Peter Morgan
Directed by Ted Dykstra
Vancouver Playhouse
Playhouse Theatre Company and The Canadian Stage Company
September 13 to October 4 , 2008 
Vancouver, BC. Set between the time of Richard Nixon's resignation in 1974 and the taping of the interviews, FROST / NIXON chronicles the attempts, ultimately successful,  by British satirist and talk show host, David Frost (David Storch) to engage Nixon (Len Cariou) in a series of interviews for television. Both men have much to gain from these interviews.  Frost, whose career seemed to be waning, was hoping to make a comeback as a broadcaster in US televsion. Frost's production support team of John Birt (Damien Atkins) and Bob Zelnick (Michael Healey) urged on by narrator/historian, Jim Reston (Ari Cohen), want to wring an open admission of wrong-doing from Nixon.  Nixon, supported by Jack Brennan (Tom McBeath) wants an opportunity to justify the achievements of his administration and make his own comeback to Washington politics.
While the Watergate story was unfolding I was preoccupied with moving my very young family some 16,000 km to start a new life in Canada. Three years later when the Frost /Nixon interviews were taped and aired I was juggling endless days and nights on call as a pediatric resident  while trying to be the perfect "supermom" to three active kids. So for me, the words Nixon, Watergate, Vietnam are nouns with minimal rhetorical impact, which made it easier perhaps for me to ponder unemotionally the question that frames the play.Why would a brilliant man with a background of military service and law, who had already served two terms as US Vice-President, a term as President, and was a shoo-in to get re-elected, descend to the level of conniving at the whole "dirty tricks" thing?
Morgan seems initially to imply, as the narrator speaks of hubris, that Nixon follows the ancient Greek tradition of the hero with a tragic flaw. However that descends to banality in the parting scene between Frost and Nixon when the latter reveals that he really just wants to be a "party person"  like the gregarious Frost. Did he really want to steal an election just to prove that America loves him- sort of like "they like me, they really like me". Think I prefer the tragic hero idea.
It was interesting to watch Storch portray the young Frost- all beetle-like haircut and superficiality - and contrast the more statesman-like mien we see in contemporary photos of Frost. My favorite performance was actually McBeath as Nixon's stiff, concerned aide-de-camp. Just standing there watching his boss ramble on you could almost see "my president, right or wrong" written all over him.
On the surface this all seems like rather uneventful material for theatre but it actually worked for me.  Apparently millions of people were glued to their television sets when the interviews were shown. If Nixon did succeed in obfuscating for all but the key five minutes it's amazing that people hung in there. But whether or not you were one of the millions, this episode in history makes for an interesting play. It is perfomed without intermission and the 90 or so minutes passed quickly.