Review From The House
READ IT • SEE IT • TASTE IT • LIVE IT
[Re]View From The House: Cyrano de Bergerac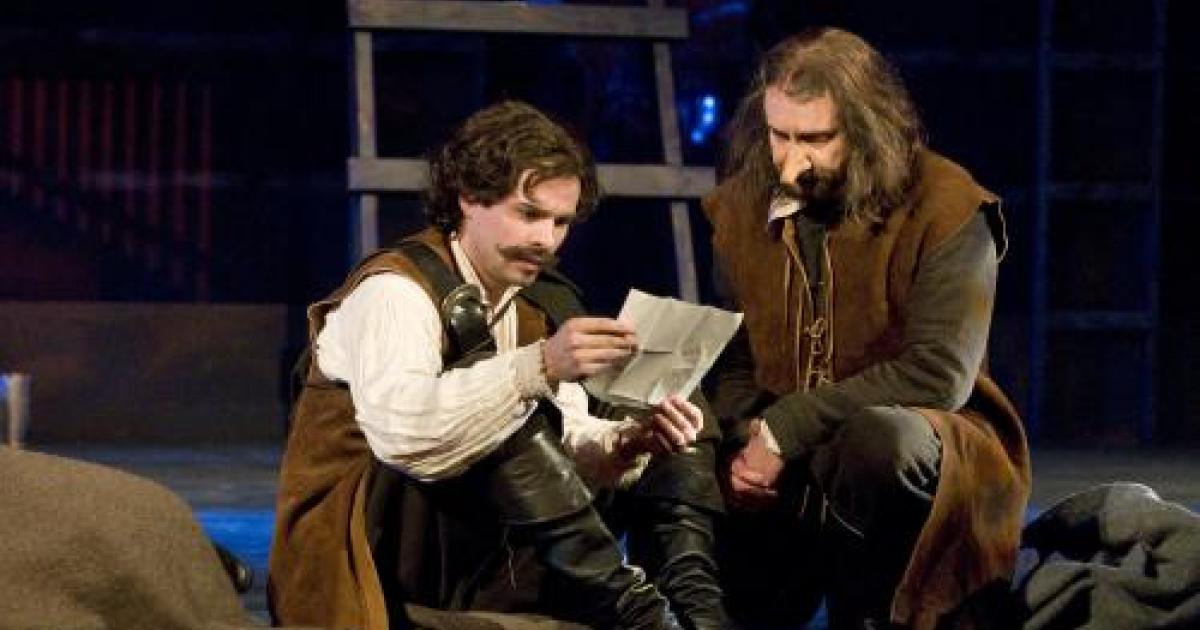 [Re]View From The House: Cyrano de Bergerac
Thursday, October 30th, 2008
Cyrano de Bergerac by Edmond Rostand
Translated, adapted and directed by James Fagan Tait
Stanley Industrial Alliance Stage
Arts Club Theatre Company
Oct 23 to Nov 23, 2008
  David MacKay, Melissa Poll, Kevin MacDonald and the cast of Cyrano de Bergerac - Photos by Emily Cooper
Vancouver, BC:
In high school, for my third language (English and Afrikaans were compulsory courses), given a choice between Latin and French, I picked French. A smart choice. However the French teacher and I got off to a bad start.  I lost interest in her class and did the minimum work needed to scrape a passing grade.  Ultimately that would have been a huge problem, as I needed top grades in all subjects to be admitted to medical school, but  being young and foolish, I sat at the back of the classroom surreptitiously doing crossword puzzles and reading Crime and Punishment, while she tried to drum French grammar into our adolescent skulls.
And then, midway into the term she announced that we were beginning the literature section of the course - poetry and drama.  The  play assigned was Rostand's Cyrano de Bergerac.  The class started reading it aloud, atrocious accents and all, and by the time we reached Cyrano's ballad duel, I was in love with this witty, swashbuckling, yet sad character. No more crossword puzzles and Dostoevsky .  I was determined to be able to appreciate this play even if it meant learning the genders of inanimate objects (I did say young and foolish) and promptly set my mind to really studying French.  Final examinations - excellent grade - accepted into medical school.  So I can truly say that Cyrano changed the course of my life.
And there I was, decades (and that marvellous Steve Martin movie) later, heading to the Stanley to see a new adaptation of Cyrano. Very high expectations -quite a burden to impose on a production, I guess. Because somehow despite Roxanne's (Melissa Poll) glowing beauty and Cyrano's (David Mackay) magnificently long and pointed nose, I wasn't really swept up into the story.
Rostand loosely based his original play on a real 17th century French soldier/playwright but in a way, Rostand's Cyrano is "Everyperson."  It has to be the rare individual who has never harboured self-doubt;   who has never wondered whether he or she is quite good enough - for that promotion,  that performance - or that special person. I know I have. So I really wanted to empathize with Cyrano. And I didn't.
The original play begins with Cyrano disrupting a performance in the theatre, and Director Tait used the aisles to good effect to recreate this setting.  In my otherwise excellent second row seat, It meant either contorting my inflexible back and neck to observe  the opening piece of the performance or ignoring visual stimuli and just listening. So I listened. In adapting the play, Tait used present day language, which, judging by the laughter,  resonated well with much of the audience but for me, sacrificed the poetic emotion of the original.
Although the Gascon Cadets attacked their singing with gusto, there was too much time on opening night  when the energy flagged. Perhaps as the cast get into their stride it will pick up, and Cyrano's tragic fate will evoke tears or at the very least, sympathy.