Review From The House
READ IT • SEE IT • TASTE IT • LIVE IT
[Re]View From the House: The Back Kitchen Release Party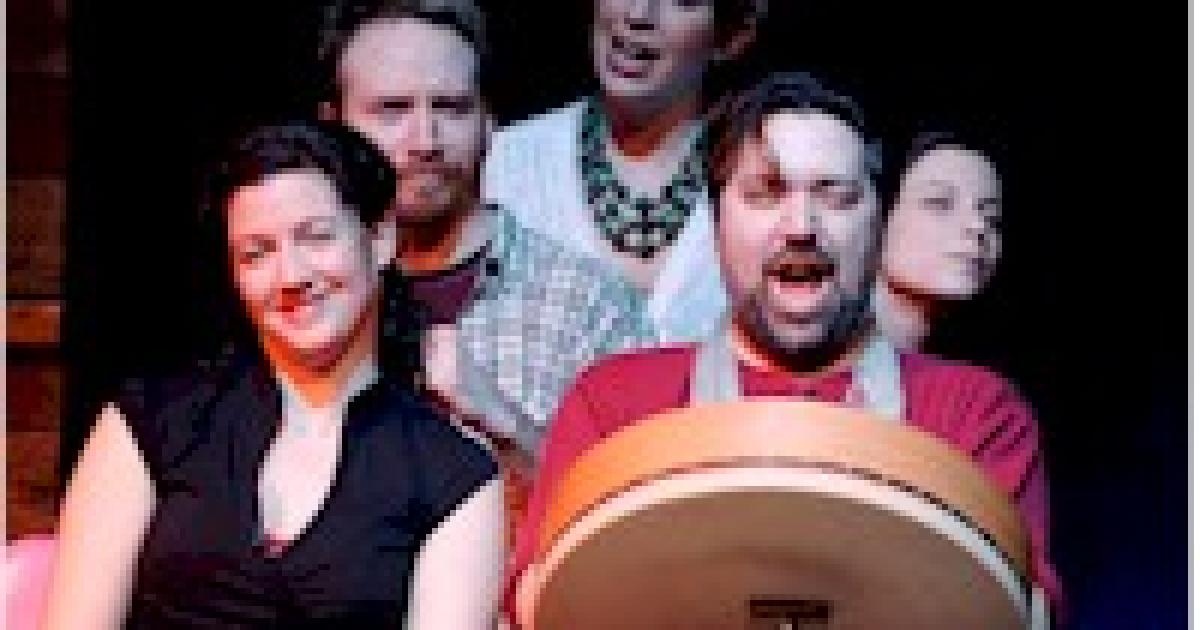 [Re]View From the House: The Back Kitchen Release Party
Sunday, June 29th, 2008
The Back Kitchen Release Party by Trevor Devall
Directed by Don Noble
The Granville Island Stage
Arts Club Company
Jun 19 – Aug 2, 2008
The cast of The Back Kitchen Release Party. Photo by David Cooper
Vancouver, BC: The Back Kitchen Release Party has evolved from a successful Fringe Festival play, workshopped in the ReAct series, into a production on the Arts Club Granville Island Stage. It is tantalizing to see a play that is so nearly there but not quite and trying to figure out why, despite enjoying the spirited and high energy performances of the ensemble, I left feeling that there is still something incomplete about this work.
The story hangs on the "road show" concept. At the urging of their band leader played by writer, Trevor Devall, members of the Newfoundland Back Kitchen band make their way across Canada to Vancouver to attend the memorial of recently deceased band member, Kate. They travel in the less than reliable van belonging to agoraphobic, claustrophobic Seamus (Jonathon Teague) who has never before traveled outside Newfoundland. The traveling road show stops along the way in various towns and cities setting up gigs to fund their journey. In Toronto they pick up ex-band fiddle player, Maggie (Sarah Donald), who left Newfoundland for the big city life and is now a violinist with the Toronto Symphony. At each stop including an involuntary halt when Vannie breaks down in the Rockies, we get some sense of place and an appreciation of the immense east-west distance of the trans-Canada highway.
The music was infectious. Company members, Devall, Donald, Teague, Tracey Power and Sarah May Redmond play, sing and rock their way through a host of toe-tapping songs, Much of the score is original music, composed by music director Alison Jenkins, director, Don Noble, and ensemble members Power, Redmond and Devall. Even though my taste in dance music taste leans more towards saucy and sultry Latin rhythms than Celtic beats I had to clutch the armrests of my seat so as not to leap up and do a "Lord of the Dance" routine in front of the stage.
So why was this not a home-run for me? There was certainly some "over-writing". Its pretty obvious to most of your audience when something metaphor. On the other hand the traveling road show story has a neat, though partly anticipated twist that somehow did not have the intended impact. It was interesting to see a new Canadian work with music that so strongly evoked eastern Canada. I found myself wondering what type of music could possibly evoke British Columbia in the same way. Hmmm…
Overall, light fun summer entertainment. If you respond to music like I do, hold onto your seat or you may want to join the band on stage.