Review From The House
READ IT • SEE IT • TASTE IT • LIVE IT
Review From The House: Antigone Unbound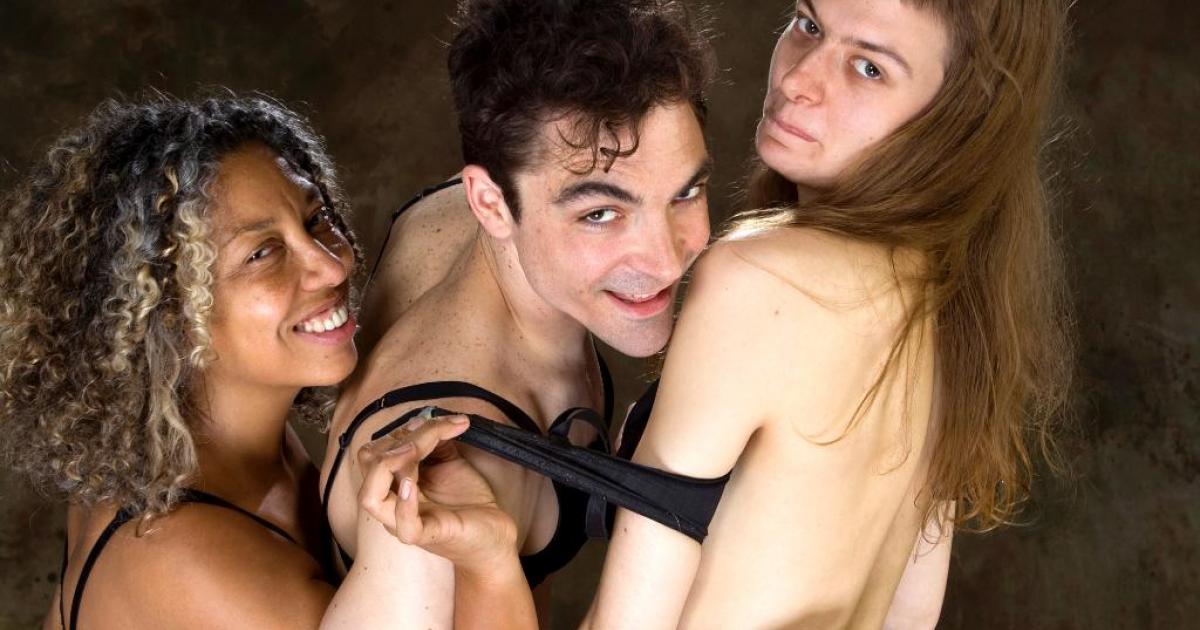 Review From The House: Antigone Unbound
Monday, May 25th, 2009
Antigone Unbound based on Sophocles Antigone
Devised and performed by Lesley Ewen, Billy Marchenski, and Tanya Marquardt
and directed by Stephen Hill
Leaky Heaven Studio above the Russian Hall
Leaky Heaven Circus
May 13 to 24, 2009
Vancouver, BC:  One never knows quite what to expect in a production by this interesting group of artists, and this time was no exception. Climbing up the stairs to the performance space, I enter a small somewhat claustrophobic room. A narrow platform next to the walls runs round the room leaving a central square pit in which swivel office chairs are haphazardly crammed.   We take two seats at the back of the room just in front of the stage manager's table and watch as the place fills up rapidly.  It is warm and stuffy but there is a buzz in the air.  
I am intrigued to see what they will do with Sophocles'  tragic heroine. The back legend goes like this: Antigone, her sister Ismene, and her brothers, Eteocles and Polyneices, are the children of the unknowingly incestous marriage of Oedipus and his mother, Jocasta.  When the truth is disovered  Oedipus blinds himself after Jocasta kills herself.  As heirs to the throne the two brothers agree to alternate as ruler. The older Eteocles however declines to let Polyneices take his turn and Polyneices promptly heads off to Argos, marries the King's daughter and returns with an army to take Thebes by storm. Both brothers die in battle, and Creon, Jocasta's brother, takes over as king of Thebes. He decrees that Eteocles should be buried with full honours, but that the body of Polyneices,  whom he considers a traitor, must be left to rot unburied, thus denying him entrance to the land of the dead.
Sophocle's play begins with Antigone, vowing to defy Creon's edict which sentences the soul of Polyneices to eternal damnation, and unsuccesfully trying to recruit Ismene to help her bury their brother.  Antigone goes ahead anyway, defies Creon, and is taken off to be walled up in a cave and starve to death. Meanwhile Creon's son, Haemon,  who is to marry Antigone, unsuccessfully pleads with Creon to spare her. He finds that Antigone has hanged herself and promptly stabs himself to death. Where upon Creon's wife, Eurydice, learning about the deaths, kills herself too and Creon realizes too late what his obstinate self-righteousness has achieved. A thoroghly bad time is thus had by all!
In  this production,  the title is taken from a quote from American gender theorist , Judith Butler, in Undoing Gender.  It is interesting to see the casting choices. While Antigone is played by Tanya Marquardt,  both Creon and Ismene are "transgendered," played by Lesley Ewen and Billy Marchenski respectively. Marchenski also plays Haemon and the young Polyneices. Although it is interesting to see Marchenski, aided by clever costuming by Marina Szijarto, transform between male and female character, I must confess I don't get the point of this re-interpretation. Be that as it may, Marchenski is compelling to watch as Ismene does simple tasks of everyday life, washing her hair, microwaving, and brandishing an electric beater. Marquardt's Antigone is part sexy female but sometimes  part masculine, gyrating like an hyper-charged runway model.  It was a pleasure to watch the seamless way Marquardt and Marchenski worked physically together.  Ewen's portrayal of Creon was wonderfully creepy , her voice projected through a microphone to great effect.
I liked the way they used the  space surrounding  the studio, with actions on the platform blurring into scenes behind the windows. The video projections by Candalerio Andrade were impressive. Overall this was an innovative approach to staging a classical story but  I think I prefer my Antigone bound.