Review From The House
READ IT • SEE IT • TASTE IT • LIVE IT
[Re]View from the House: Annie Get Your Gun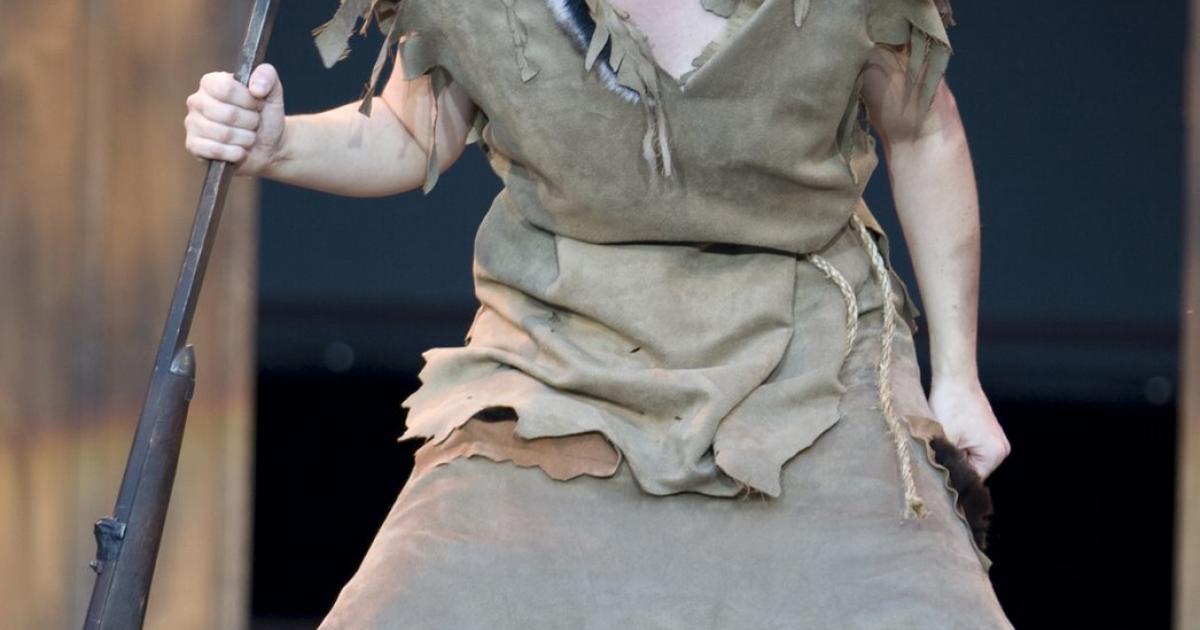 [Re]View from the House: Annie Get Your Gun
Wednesday, August 13th, 2008
Annie Get Your Gun
Music and lyrics by Irving Berlin
Original Book by Herbert and Dorothy Fields revised by Peter Stone
Directed by Shel Piercy
Music Director Wendy Bross Stuart
Theatre Under the Stars
Malkin Bowl , Stanley Park
Till August 15, 2008.
Meghan Anderssen as Annie Oakley
Photo by Tim Matheson
Vancouver, BC: It's already midway through August, the end of summer is in sight and there are only two more performances of Annie Get Your Gun. So if you have not been down to Malkin Bowl to watch Annie Oakley (Meghan Anderssen) hitting her targets shooting backwards, upside down and blindfolded – get your tickets fast - you don't want to miss this delightful production.
Tonight, to celebrate Annie's 148th birthday (yup, she was born on August 13th 1860) TUTS have a special treat for the audience. Leon Bibb, who was in the cast of the original 1946 Broadway production starring Ethel Merman, will be at the performance and giving a pre-show talk about this.
Anderssen sparkles as Annie. She can't read but she is tops at "doing what comes naturally." She may be unschooled in society dress and manners but she is a quick learner who cleans up "mighty purty" when she encounters the World Champion Shooter, Frank Butler, played by the ever-so-smooth, honey-voiced, Warren Kimmel.
Watching the huge cast, with choreography by Shelley Stewart Hunt, dance, tumble and sing their way through Irving Berlin's great melodies, I realized how many of these numbers are etched in my mind. How can one not love the witty lyrics as Annie bemoans the fact that "you can't get a man with a gun?" Or admire the feisty competitiveness of "Anything you can do I can do better" and then melt as Annie and Frank each realize that sometimes it is necessary to lose in order to win. Although the musical book, based on the real life Annie and Frank, centers around the fascinating story of the initial shoot-off and ongoing rivalry it is interesting actually to learn from their biographies, of their life-long lasting success as both spousal and professional partners.
With the artful use of billowing drapes, lighting and background video, Robert Gardiner and Gerald King create settings such as a Big Top, a Pullman car, Cattle Boat and Ballroom. Christina Sinosic's brightly coloured costumes add visually appeal. Paul Baker was responsible for sound design. This year, I found the sound system to be good - I could hear every note.
The signature song for this show, of course, is "There's no business like show business." And much as I enjoy other performing art genres I have to say that there is no show business like the old style musicals. Love 'em.