Review From The House
READ IT • SEE IT • TASTE IT • LIVE IT
Review From The House: 36 Views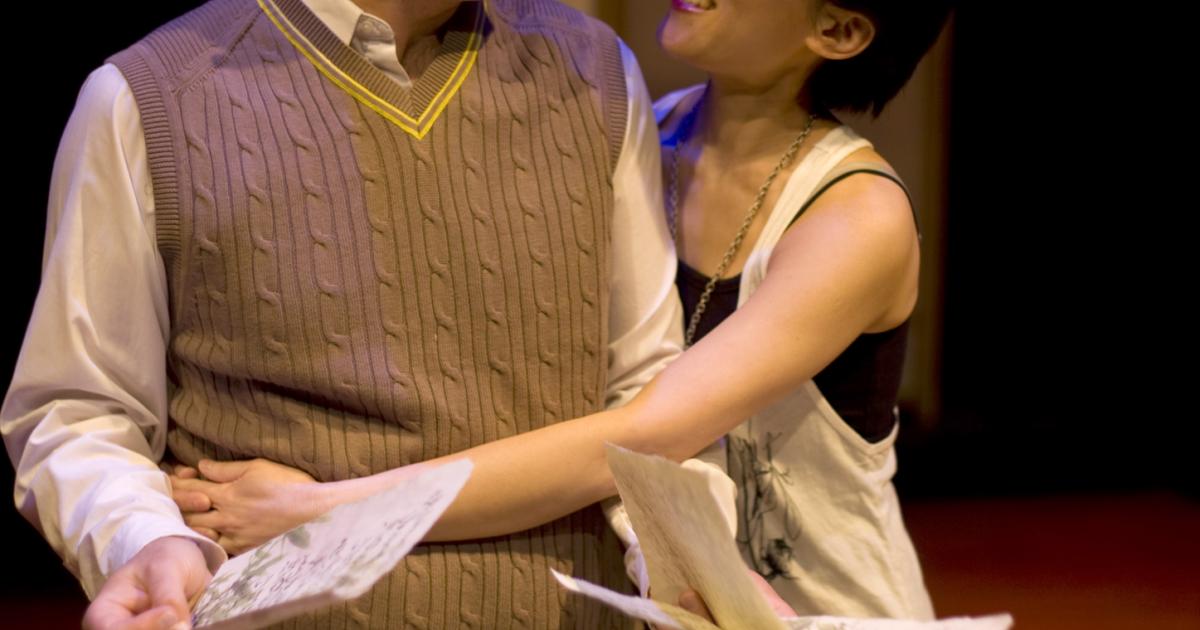 Review From The House: 36 Views
Tuesday, May 19th, 2009
36 Views
By Naomi Iizuka
Directed by Anthony F. Ingram
Tempus Theatre
Jericho Arts Centre May 1-23, 2009
Vancouver, BC: Years ago, in Kyoto, I fell in love with a set of 4 paintings depicting the four seasons. With a few fine brush strokes, the artist was able to evoke a uniquely Japanese image of spring, summer, autumn and winter.  I loved  the beauty of the precise minimalistic images with not a single superfluous stroke. That's how I felt watching Naomi lizuka's perfect  gem of  a play, 36 Views. It closes on Saturday and I urge you not to miss it.
Director Anthony Ingram and his team of design wizards, sets - Todd Parker, lighting -Darren Boquist, projection - Corwin Ferguson and sound - Ronin Wong, do full justice to Iizuka's script giving the actors an enchanted environment in which to play. Enclosing the playing space with  black drapes and hanging panels, they move us effortlessly between ancient Japan and contemporary art gallery.  Amd the cast take full advantage of the tools they are given, with uniformly excellent performances.
Michael Kopsa plays Darius Wheeler,  a somewhat unscrupulous art dealer who is utterly charming.    I think he could have talked me into buying an art object, even though I am not a collector!  Darius is smitten by a much younger woman, art historian, Setsuko Hearn (Lissa Neptuno). Through the "aid" of Wheeler's assistant, John Bell (Bert Steinmanis) and art restorer, Claire Tsong (Valerie Sing Turner) , Darius and Setsuko learn about a medieval Japanese pillow book and with the enthusiastic encouragement of Owen Matthiassen (Keith Martin Gordey), Setsuko's colleague in Oriental Studies, they must determine whether it is authentic. Into this mix comes buyer/ writer Elizabeth Newman-Orr (Annabel Kershaw) to investigate Wheeler's methods of practice. But nothing is quite what it seems. Steinmanis and Sing Turner in 36 Views are shown in the photograph  above. 
Costume designer Nina Pelog does a beautiful job of dressing the women in both contemporary and traditional Japanese garb.  A scene where Neptuno is unrolled from layer after layer of clothing to evolve before our eyes from a Japanese lady in kimono to a modern young miss, is quite memorable. The story unfolds with twists and turns with passages from the pillow book spoken aloud by the 10th century writer in ancient costume, as Neptuno is shown in this photograph
Also memorable are Ferguson's projections of wood blocks and paintings on the black panels and scrims while Wong's soundscape shows how less can be more - for example a single sound emphasizing a beat in the script  - the whole took me back to a summer night spent in a ryokan (traditional Japanese Inn)  where we slept on a tatami mat in a room bounded by sliding screens through which the scented  night air permeated. That was a truly magical evening that will stay in my memory forever- as will this.
It is so good to see all elements of a production come together so well. Great job all of you at Tempus Theatre.