Review From The House
READ IT • SEE IT • TASTE IT • LIVE IT
Rants, Raves and Reviews: "Seussical: The Musical" You too could hear a Who!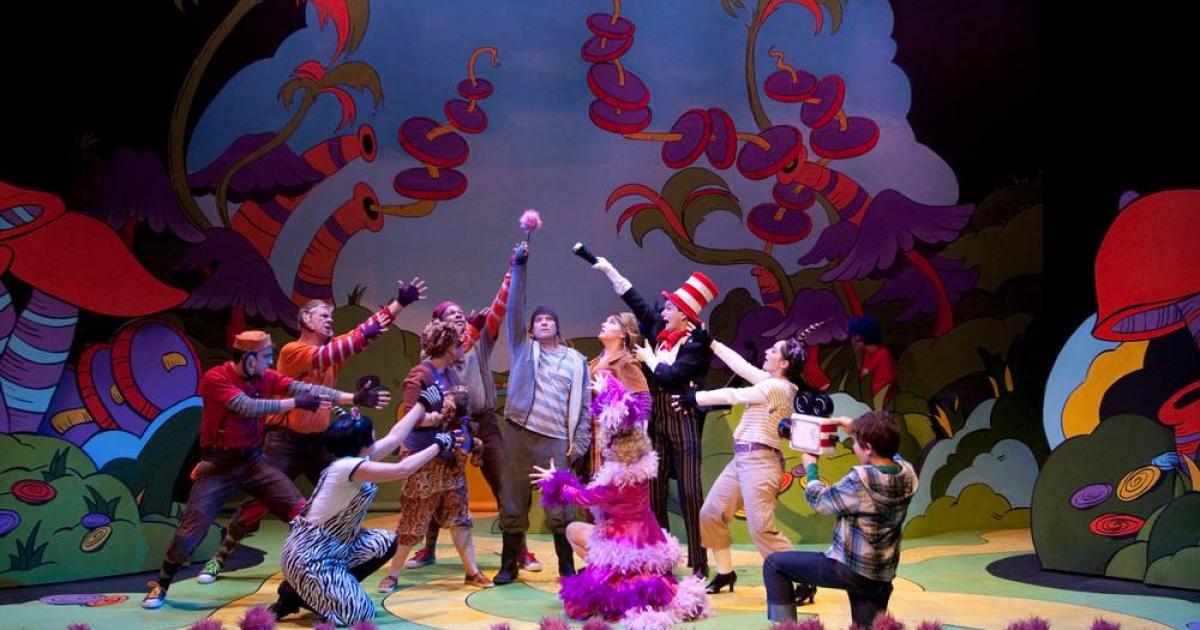 Rants, Raves and Reviews: "Seussical: The Musical" You too could hear a Who!
Sunday, December 30th, 2007
"Seussical: The Musical" by Lynn Ahrens (Book and Lyrics) and Stephen Flaherty
(Music) Directed by Carole Higgins; Music Director Steven Greenfield
The Waterfront Theatre, Granville Island Carousel Theatre
November 30 to January 5.
Vancouver, BC: Saturday, December 1st, was not shaping up to be one of my favorite days. Despite driving in Vancouver for many more years than I drove in Cape Town I still don�t feel comfortable taking my precious little Audi out in snow. I had a ticket to Seussical on Granville Island for the evening so my chionophobic anxiety was high. Drive and risk my car sliding all over the icy roads, or walk to the Aquabus at Hornby, and risk me slipping on icy pavements: good bye dancing!
Time for comfort food - so I thought I would heat up the contents of one of the gourmet, low fat, no-preservative, vegetable soups that I stock in my pantry, so I will have something to eat when:the big one hits. (I dutifully read the emergency preparedness articles about self-reliance in emergencies and long ago took as my own the Boy Scout motto: Be Prepared.) I set the microwave to auto reheat: pressed 2 for soup: and the phone rang. A few minutes later I returned to the kitchen to find that my pristine microwave oven was now a brightly coloured Pollock-like riot of orange (carrots) and green (herbs) and brown (spices? Who knows?).
"Alas" I said,:I am so sad, I am so sad I can't be glad. I wish I had not turned my soup into a mess of sloppy goop. I do not want to go outside, I'd rather stay in bed and hide until this weather goes away and it becomes a sunny day. But then I thought:despite the snow I really think I have to go.
So I bundled up warmly and headed off to the Waterfront Theatre, and was I glad I did. The sight of Alison Green's brightly coloured set, with lighting by Itai Erdal, made me feel like a happy 5 year old. And when the Cat in the Hat (Matt Palmer) appeared to guide us through the adventures of Jojo, the young Who (an amazingly poised Lucas Testini), Horton, the loyal elephant (Alan Zinyk), Gertrude McFuzz, the bird who loved him (Alison MacDonald) and the rest of the gang from the jungle of Nool well, what could I do but think how lucky I was to be there.
(Alan Zinyk as Horton, Alison MacDonald as Gertrude McFuzz; Photo by Milan Radovanovic) Carole Higgins directs a face paced romp through this Theatre for Young Audience version of Seussical, based on stories from 14 different books by Dr. Seuss. Steven Greenfield and Julie McIsaac play as the cast sing and dance their way through around 22 songs, energetically choreographed by Melissa Young. The costumes by Barbara Clayden were charming and Hedi Wilkinson's puppets seemed almost alive.
Several of the cast gave excellent performances in multiple roles. Greg Armstrong Morris, Jeremy Lowe and Ryan Reid as Wickershams # 1,2 and 3 were so agile and monkey-like I half expected them to swing from the lights ; Rebecca Talbot was gorgeous as Mayzie la Bird and her:Amazing Mayzie reminded me of Val in:A Chorus Line: remember the song:Dance 10, looks - Sarah Gay was a terrific Sour Kangaroo and with her mates, Zebra Girl (Melissa Oei) and Impala Girl (Jennifer Neumann), they danced up a storm.
But my favorite was Alison MacDonald's Gertrude McFuzz, with her one feather tail who thought that Horton would notice her if only she had as fancy a tail as Mazie. I wanted to introduce her to Josie Hogan so she could learn that it's not helpful to base your self-worth on appearance alone- but fortunately, smart Gertrude figured that out for herself.
It's a fun show, just right for dispelling the cold and the snow: or the thought of exploded carrot soup. Take your kids or your grand-kids to see the show and if you don�t have any in town, invite some one else's or go anyway. You too could hear a Who.