Review From The House
READ IT • SEE IT • TASTE IT • LIVE IT
Rants, Raves and Reviews: John and Beatrice - maybe, perhaps?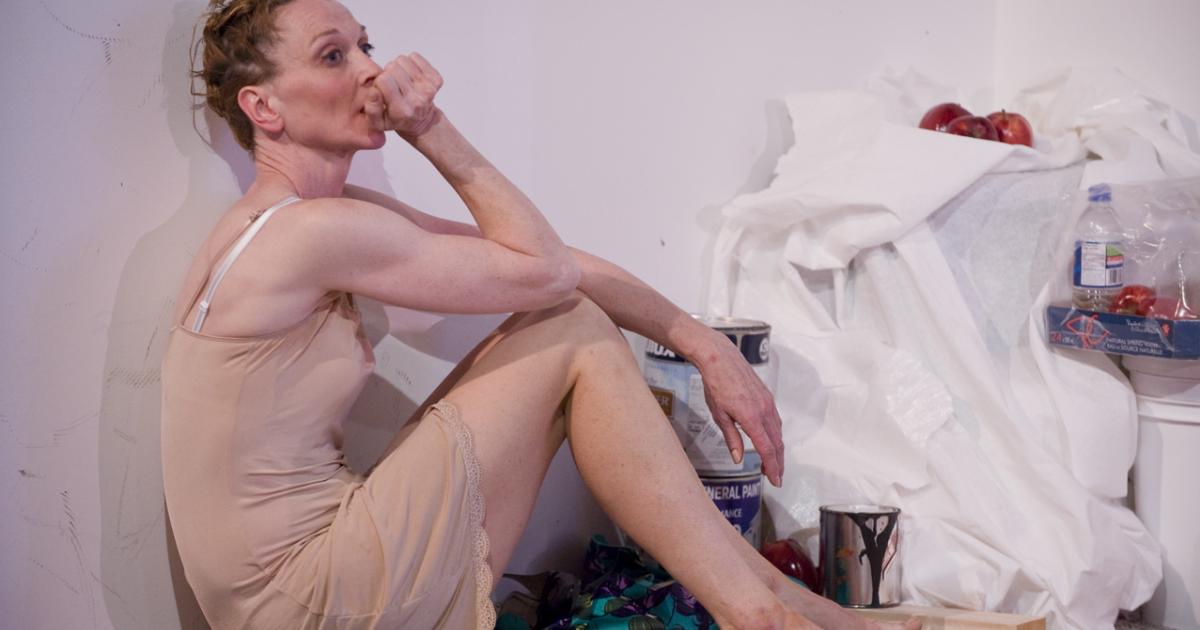 Rants, Raves and Reviews: John and Beatrice - maybe, perhaps?
Sunday, November 18th, 2007
Joan and Beatrice by Carol Fréchette. Translated by John Murrell.
Directed by Del Surjik
PAL Theatre, Cardero Street.
Pi Theatre
Nov 14 to Dec 1, 2007.
Vancouver, BC: Not so very long ago, playing strategy games on my computer was my favoured form of procrastination, and SimTower kept me distracted for hours at a time. The game objective was to build a towering skyscraper, with hotel rooms, condominiums, offices and restaurants, increase the resident population and keep the Sim people happy. Still today I keep calm in interminable lineups by remembering the Sims turning pink with frustration and then red with rage, as they waited for elevators to carry them down to their offices or up to their homes. As the hours progressed through days and nights, lights in the building units would switch on and off when the Sims woke or went to bed.  I was reminded of this, watching Tim Matheson's video projection of lights flicking on and off in the high rise buildings behind the new PAL Theatre. Pi Theatre's Western Canadian Premiere of "John and Beatrice," directed by Del Surjik, is the production chosen to launch this welcome addition to theatre space in Vancouver's downtown core.
Beatrice (Karen Rae) is a young woman who has never loved, living alone on the 33rd floor of an abandoned building with no working elevator.  Describing herself as a "well-to-do young heiress" seeking to find a man who will "interest, move and seduce her" she plasters the city with posters offering a substantial reward to the right man. Enter John (Vincent Gale), a trifle breathless after dragging himself up 33 flights of stairs. No romantic, he is a bounty hunter, with a briefcase full of surprises, here solely to earn the substantial reward, which he wants to be paid in a stack of 20 dollar bills.
Just as John gets close to the reward by succeeding in Beatrice's three challenges, he finds himself trapped with her as she tries to seduce him and make him love her.  This situation evolves into a fascinating conflation of present and future as Beatrice plays out the deteriorating stages of a long relationship. We get plenty of the "you are from Mars, I am from Venus" scenarios which are apparently common in contemporary liaisons. I guess I was just lucky with my marriage. We were both from Earth! As the two protagonists try to edge closer to "the truth" we never actually know what is real or not, right up to the surprise end, which somehat reminded me of Ionesco's The Lesson.
Karen Mirfield's costuming managed to make Rae look seductive, girly and mod at the same time; a feat matched beautifully by Rae's performance. Gale, seriously focused as the single minded bounty hunter, showed that he could match Beatrice lie for lie. I especially enjoyed the tale told through Cathy Stubington's puppets.
The intimacy of the theatre space enhanced by the simplicity of Yvan Morissette's set design, created an up close and personal experience of the strange interactions between the two people. The lighting by Adrian Muir, sound by Patrick Pennefather and the projections worked perfectly to contrast the unreality of Beatrice's sudden narcoleptic attacks with John's lets-get-down-to-down-to business approach as both play games of truth and lies.
Census data from Statistics Canada recently showed that in 2006 51.5 per cent of people over age 15 were unmarried, the first time that married people were actually in the minority. That's a lot of people potentially looking for partners. One hopes the ads posted in personal columns and internet dating sites contain more truth than Beatrice's poster. And that most relationships don't deteriorate as rapidly as those in Beatrice's world.
It's an interesting play, it's free and the theatre, just off West Georgia on Cardero, is easy to reach.