Review From The House
READ IT • SEE IT • TASTE IT • LIVE IT
New York Theatre: The Assembled Parties and Kinky Boots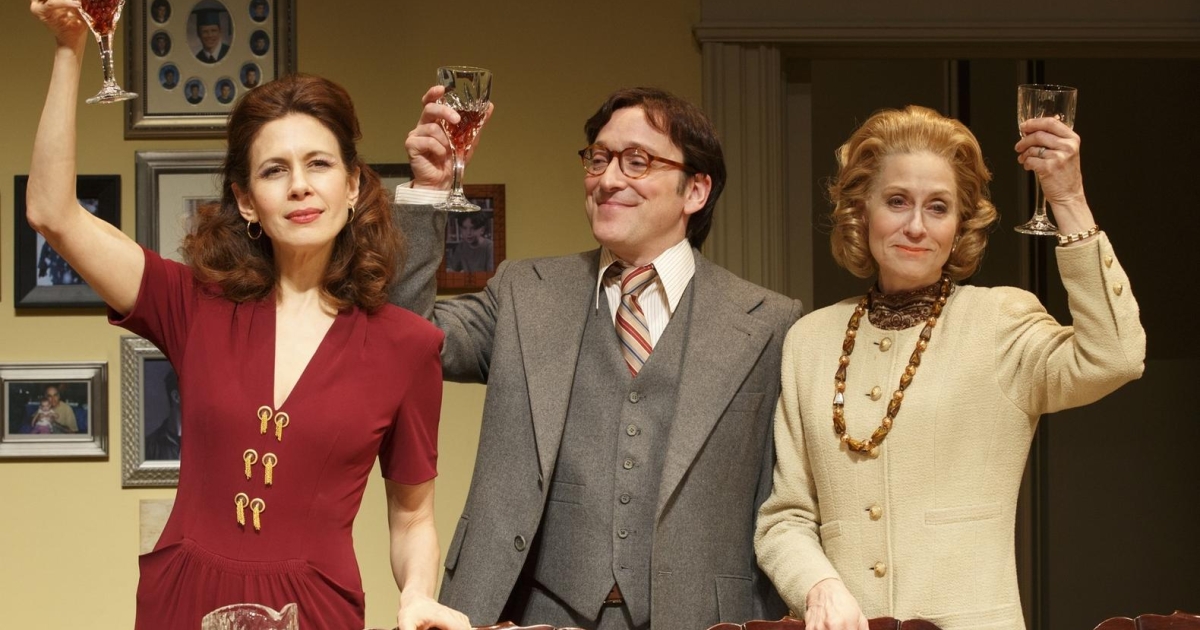 New York Theatre: The Assembled Parties and Kinky Boots
Sunday, June 2nd, 2013
Disembarking in New York after 12 weeks of travel in South America and South Africa, I had two days to catch some theatre before traveling home. Unlike my usual systematic approach approach, this time I had not booked any tickets. So on Saturday morning I ventured into the theater district with a list of possibilities and the objective of seeing one drama and one new musical. I was lucky enough to get good last minute seats for both Kinky Boots and The Assembled Parties.
Kinky Boots
Book by Harvey Fierstein
Music and lyrics by Cyndi Lauper
Based on the Miramax motion picture Kinky Boots written by Geoff Deane and Tim Firth
Directed and Choreographed by Jerry Mitchell
Music supervision, arrangements and orchestration by Stephen Oremus
At the Al Hirschfeld Theatre
Opened March 2013
I enjoyed this show a lot.  The 2005 British film, Kinky Boots, was based on a real-life situation of a family-owned men's shoe factory in Northampton, UK, which was going broke as the market for its traditional high quality men's shoes dried up.  Charlie Price, who as son of the present owner of the business has grown up in the world of shoes, unexpectedly finds that he is in charge of  the factory, and that it will have to shut down for lack of funds. An encounter with Lola, a flamboyant drag queen singer, leads to the idea  of a new niche in shoe making and the factory tests the  market for strong and stylish  "kinky boots." Fierstein based the book for the musical on the film, and the enduringly creative Cyndi Lauper composed and wrote the lyrics for the songs.
In stunning costumes designed by Gregg Barnes, and  with commanding stage presence as the drag queen Lola, Billy Porter steals the show, although the boots themselves competed strongly for title of "most flamboyant and eye-catching." Lauper's music was lively and fun and on occasion poignant (Hold me in your Heart and I'm Not My Father's Son).  The choreography and dancing was great. Loved the scene in the factory with dancing on the assembly line. And who could not find the Angels, Lola's fellow drag queens, awesomely eye-catching.
Since I'd seen just about all the other musicals on  at the time, some more than once, it was refreshing to find something new, and as I hadn't seen the film, I did not know what to expect. We both really enjoyed the show, and I was lucky I could get two good seats at the last minute as the place was full. But with a musical my expectations are different from what I look for in a play. If the music and choreography are good and the song and dance performance excellent, it doesn't matter much to me if the storyline is  a bit thin.  I will still be entertained.  When it comes to drama though I want more than just great acting. I want the script to provoke thoughtfulness and engender debate or discussion, and really make me care about the characters and what happens to them.
That didn't really happen with my second theatrical choice.
The Assembled Parties
by Stephen Greenberg
Directed by Lynne Meadow
Manhattan Theatre Club
Samuel J. Friedman Theatre
Opened March 2013
This play was my choice for a drama as I had previously enjoyed others of Greenberg's plays - "Take me Out" and "Three Days of Rain." It  is a "family" drama about a secular Jewish family in Manhattan, that takes place in a huge luxury apartment on the Upper West side. In the first act the time is Christmas 1980 and  the family is getting together for dinner. Julie (Jessica Hecht) and Ben (Jonathan Walker) have two sons, Scotty (Jake Silbermann) and Tim played as young Timmy by Alex Dreier and as Tim by Jake Silbermann. Scotty has brought his college friend Jeff (Jeremy Shamos) to visit. Rounding out the group is Ben's sister Faye (Judith Light), her husband Mort (Mark Blum) and their very awkward daughter Shelley ( Lauren Blumenfeld). As Santo Loquasto's rotating set reveals 5 different settings in the apartment, it becomes apparent that there are many murky undercurrents in this gathering.
Twenty years later, in 2000, the family meets again at Christmas at Julie's apartment. However, now Ben, Mort, and Scotty are dead, and Shelley is estranged. Julie is very ill, and is joined by Faye, who seems to have strengthened as Julie declined, and Jeff, who has apparently kept in touch all these twenty years. Tim who had to leave college and work at a restaurant, has his own secrets.
While I appreciated the performances, particularly Judith Light who effortlessly transforms her character, I found neither the script nor most of the characters at all compelling. When you don't really care what happens to the people on stage that's sad. So I guess my bottom line for this play was that I was disappointed.