Review From The House
READ IT • SEE IT • TASTE IT • LIVE IT
Mrs. Dexter & Her Daily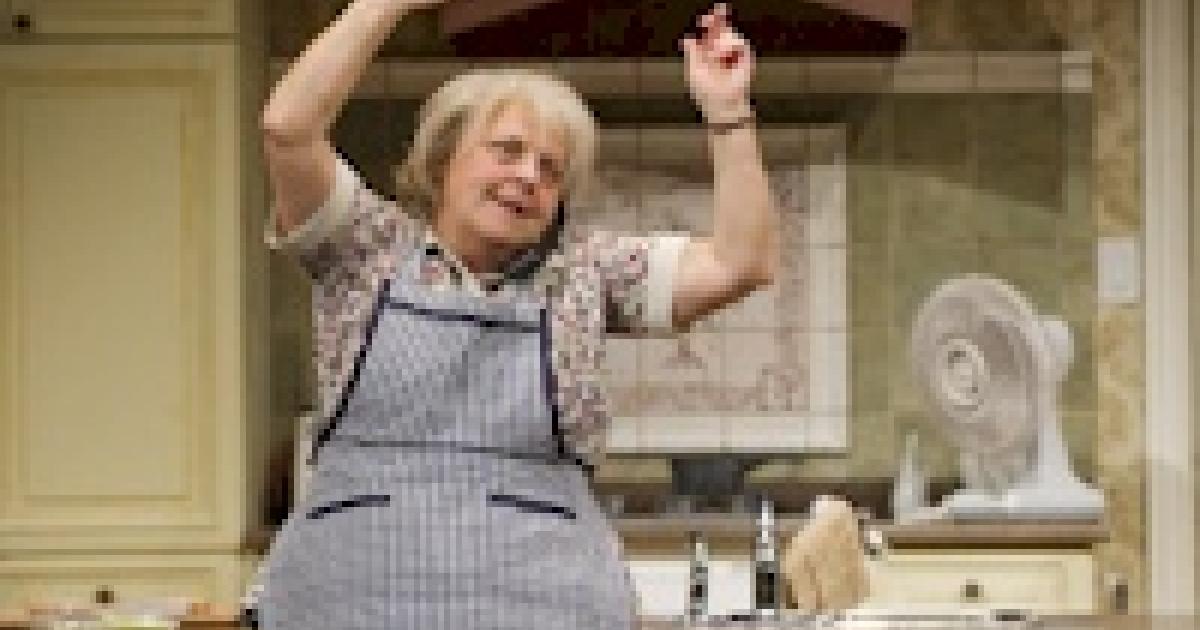 Mrs. Dexter & Her Daily
Thursday, January 14th, 2010
Mrs. Dexter & Her Daily
By Joanna McClelland Glass
Directed by Marti Maraden
Co-production of the Arts Club Theatre Companys
and Canada's National Arts Centre
Stanley Industrial Alliance Stage
Jan 7 to Feb 17th,  2010
Vancouver, BC:   I loved this show. From the minute the "sunlight" of a new day began to brighten Pam Johnson's meticulously detailed set, the spacious kitchen and dining area of an obviously well-to-do family's home, I was drawn into the unfolding routine of daily life in the Dexter home. The design team, Johnson, Marsha Sibthorpe (lighting) and Philip Clarkson (Costumes) gave director Marti Maraden an attractively authentic environment which the characters created by Fiona Reid as Edith Dexter and Nicola Cavendish as Peggy Randall, the "daily", really seemed to inhabit.
The script has an interesting and unusual structure, essentially consisting of two monologues about the intersecting lives of the two characters, who never actually appear together on stage. The first act belongs to 65 year old Peggy Randall, a indomitably optimistic charlady, who has worked for the wealthy Dexter family for about 10 years. We learn the sad details of her early life, see her soldiering on with her work despite aching joints and dental problems, and dealing bravely with her fears of ending her days alone and poor in social housing. Peggy has been a fighter all her life. She tackles adversity headlong and makes lemonade out of the lemons that life throws at her. She is smart and she can do anything from fixing broken electric fans to hanging curtains. But she can't fix her employer's shattered life and her attempts to communicate with the as-yet-unseen Mrs. Dexter,leave us admiring Peggy's spirit while feeling most unfavorably disposed towards the seemingly spoiled, and self-pitying Mrs. D.
After intermission, it is the warm sunlight of early afternoon that streams through the window. Peggy Randall has left for the day and Edith Dexter, still in her night clothes, feels free to come into her kitchen and start in on the booze. Gradually we realize that she is not just a spoiled "rich bitch" but an intelligent and literate woman, who has just not been able to rebound from the trauma of her husband of forty years leaving her for the "rodent". The "rodent" turns out to be Edith's recently widowed neighbour and once-best friend, whom she had unwittingly invited to accompany her and her husband, Ross, on the trip to Europe, where Ross and the "rodent" got together - literally.     
 Although, as I heard someone comment, "nothing really happens" and I usually favour work with a strong narrative line, I was completely captured by each woman's story. Glass paints two compelling portraits of these women from vastly different social strata, who over a decade have developed a bond of affection and trust. How often does one get to see a play that deals solely and with such sensitivity about older women?
But there were a couple of things that bothered me. Both characters felt so "old" for being around 65 years. I guess that the hardships of Peggy's life would age her more rapidly than most but Edith's concerns about being near the end of her life were a bit much. Doesn't she know that these days 65 is the new 45?   
   
Reid's portrayal of the devastation that Edith felt certainly elicited my sympathy but on the other hand how many women manage to reach that "senior age" without experiencing some form of loss, whether through divorce or death? And most of us don't retreat into the mind numbing solace of alcohol. After a while I wanted to yell at her to stop wallowing in self-pity and get active and "get a life".  If she let go of her philandering husband and "the rodent", who will make each other miserable in Florida anyway, she should have a solid ten to fifteen years to explore life, travel the world, learn a new language or, take up ballroom dancing and go on a dance cruise.  Whoops, I guess I really did get caught up in her story.
Some minor quibbles - I thought both acts were a touch too long. The theatre also seemed over-heated and several people were complaining that the warmth was making them drowsy.  I know it's difficult to please everyone but I definitely prefer a cooler temperature to focus the mind.
       
This Vancouver production is the world premiere production of Joanna McLelland Glass's play and  will move to the National Arts Centre in Ottawa next  month.
Don't miss the  opportunity to see this new play by one of Canada's gifted playwrights and featuring two accomplished actors at the top of their game.