Review From The House
READ IT • SEE IT • TASTE IT • LIVE IT
The Master Builder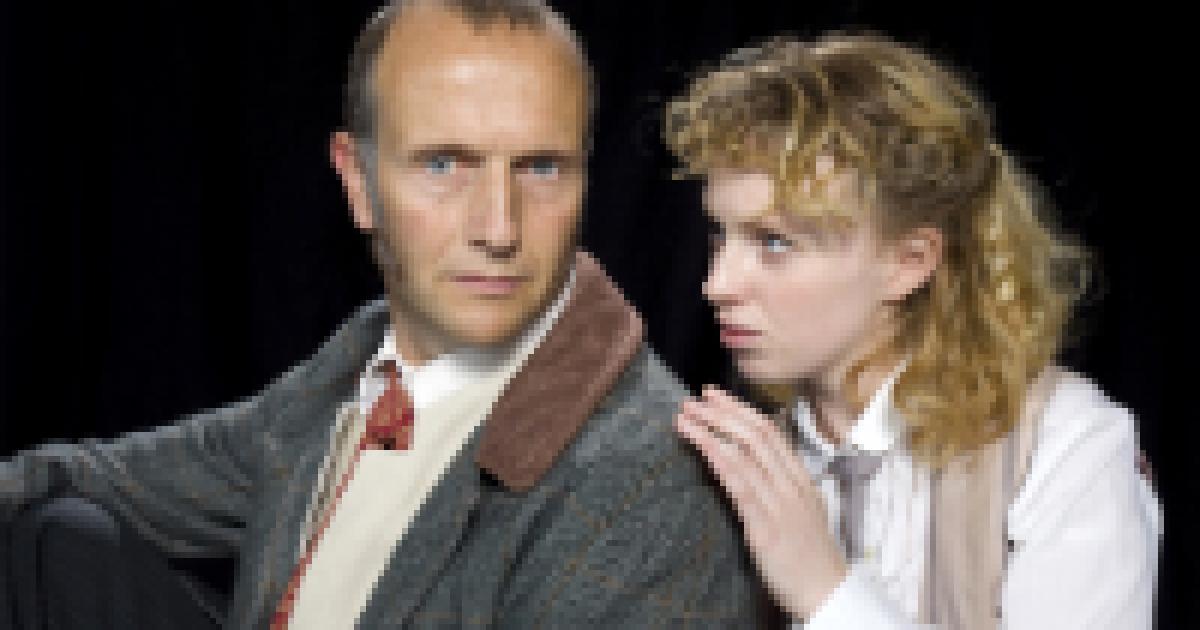 The Master Builder
Sunday, November 1st, 2009
The Master Builder by Henrik Ibsen
Adapted and translated by Errol Durbach
Directed by Gerald Vanderwoude
Theatre at UBC/Yorick Theatre co-production
Telus Studio Theatre,  UBC
Oct 29 to Nov 7, 2009
Vancouver, BC:  Don't miss this production of  Ibsen's The Master Builder. Re-shaped with a surgical precision by Errol Durbach's concise adaptation and Gerald Vanderwoude's taut direction, it is a sharply focused portrait of a man at the pinnacle of his profession, brought down by his desire for a nubile young thing. The play may have been written in 1892, but the story is played out frequently in the media today as politicians,  business executives, perfomers and preachers publically beat their chests crying "mea culpa" as their wives file for divorce and half their assets. I tried to count on one hand such situations in the recent past but soon ran out of fingers!
Halvard Solness (Chris Humphreys) is the Master Builder. A self-taught man with no formal training in architecture, he epitomises success in his town, allowing little opportunity for the young would-be artisans like his draughtsman, Ragnar Brovik (Nicholas Fontaine), to earn commissions to build projects of their own. Ragnar's father, Knut Brovik (Matt Young), the aged architect who once employed Solness, and Kaja Fosli, Brovik's niece (Odessa Cadieux-Rey),  both work in his office; they wait for him to put his stamp of approval on Ragnar's designs so that he can branch out on his own.He is utterly self-centered, manipulating everyone from his wife Aline (Trish Pattenden) to Kaja and the Broviks, to achieve his own ends. But his success is built on the destruction of other people's happiness. His wife has never recovered from the loss of the family home in a fire , even with the support of  Dr. Herdal (Maurice Verkaar).
And then out of the past appears Hilde Wangel (Fiona Mongillo), who has come to claim her "castle in the air."  
 Solness, who outwardly appears so prosperous and confident, has doubts.  He believes that he is one of a few chosen people, who can want something so insistently  that they will it into happening - through the agency of  devilish trolls. He harbours a secret  fear - that retribution for his good fortune must come, and it does - but  he just does not recognize its agent  when he sees her.
This is perhaps the most mystical and symbolic of Ibsen's later plays and I find it fascinating that Ibsen, the father of realism in the theatre, needs to invoke a belief in supernatural forces,  to account for Solness's self-doubts. But for a man in his mid-sixties, nearing the end of a prolific but often critically challenged career, it would not be odd for Ibsen to transpose his own inner concerns with memory and the reality of past and present, into his protagonist.
A few years ago when I was privileged to study Ibsen's later plays in a directed studies course with Professor Durbach, I admired the bravery of Nora (A Doll's House) and the strength of Tomas Stockmann (An Enemy of the People) but then got progressively more depressed as Ibsen's characters shot themselves, jumped off bridges,  fell from a tower or died in the snow. By the time I read and studied the three acts of The Master Builder I was thoroughly annoyed with Ibsen's view , as I perceived it to be, of the world as a malevolent universe and allowed the mysticism of this play to distract me from  really understanding what he was saying.  I have a very clear snapshot in my mind of Dr. Durbach listening with a partly amused, partly bemused expression to my rant about the grey depressive world view that Ibsen's plays project.
This production is all about minimalism. In this new translation/ adaptation, Durbach, with an economy of words, has pared the character of Solness down to his skeleton, allowing Humphreys to layer on the flesh and substance, so one can really understand what the man is all about. In a masterfully restrained performance, Humphreys brought out the essence of  Solness's passion, doubts and "madness". For men it is all about   "money, power and sex"   as my theatre companion commented later.  I guess for women it is all about being loved and the sense of security it should bring !  As  Hilde Wangel, Mongillo was as fiery and seductive as she was young and naive.  And Pattenden brought an air of dignity and quiet desperation to Aline.
Ibsen's detailed realistic descriptions of the workroom and office set have been pared down in Ana Vaca's set design to a few strategically placed chairs, and a model house on a table. Lighting (Craig Alfredson) delineates walls, towers and the scaffolding which Solness ascends, as well as showing the fire that consumed Aline's home.  Cristina Istrate's sound design works well - the sounds of  the fall still make me shudder. Alison Green's period costumes are simple yet elegant. 
Watching this show somehow put much of what I had learned earlier about Henrik Ibsen into a clearer perspective. It may have been set in nineteenth century Norway but this production is as relevant to a contemporary audience today as it would have been at the time. Kudos to Durbach, Vanderwoude and their team.  I hope this production draws the audience they deserve.
For tickets call Theatre at UBC at Ph: 604-822-2678.