Review From The House
READ IT • SEE IT • TASTE IT • LIVE IT
Ivanov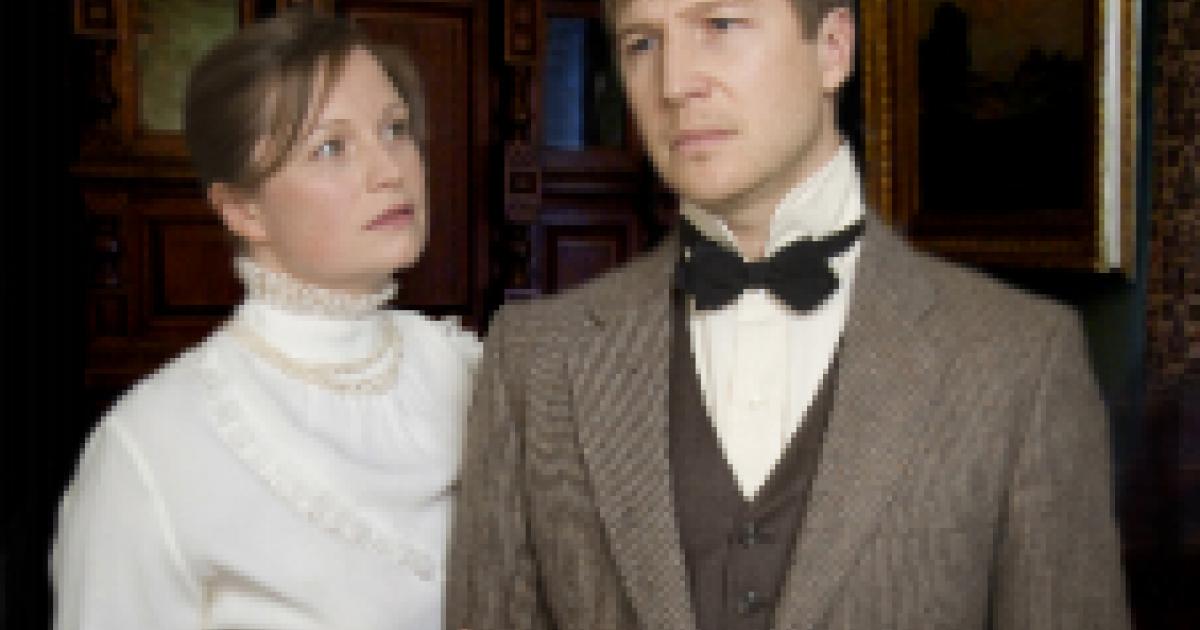 Ivanov
Monday, February 1st, 2010
Ivanov by Anton Chekhov
A new version by Tom Stoppard
Directed by Victor Vasuta
United Players of Vancouver
Jericho Arts Centre
Jan 22 to Feb 14, 2010
Vancouver, BC: I really enjoyed United Player's production of Anton Chekhov's Ivanov, although I did find myself wanting to hand Nickolay Ivanov a strong dose of some psychotropic  medication and a referral to a psychotherapist. But that's the infuriatingly hapless self-absorbed character that Chekhov created.
In the title role, Noel Johansen showed us a  man who has lost his way in every aspect of his world - his marriage, his work and his finances. Married to the ailing Anna (Tamara McCarthy), whose wealthy parents disowned her when she converted from Judaism to marry him, Ivanov has "fallen out of  love"  with Anna. He leaves her at home each evening while he goes to  visit the  Lebedevs,  the affable Pavel (Dave Campbell) and his  wife Zinaida (Christine Ianetta). Zinaida is a wealthy moneylender to whom Ivanov is severely in debt. And then there is Sasha.
Sasha is the Lebedevs spirited young daughter (Olesia Shewchuck) who s infatuated with Ivanov and convinces him to marry her.  Ivanov's neglect and betrayal of his dying wife is harped on by the smug young doctor, Lvov (Paul Ferancik) whose persistent referral to the "honesty" of his own nature makes one wonder how honest he really is.   Rounding out this gloomy picture of late 19th century Russian society is  a cast of characters through which Chekhov pokes fun at doctors, lawyers, Counts, rich widows  and bridge fanatics, the humour adding a necessary counterbalance to Ivanov's unremitting misery.
The costumes (Oleksandra Lykova) are representative of time period setting of the play, but John Taylor's neutral coloured abstract set is designed to create  a sense that this play could be happening anywhere. A frieze of grey-white branches forming an U shaped enclosure above the playing space effectively symbolises Ivanov's entrapment in a world of despair. In general I thought the set worked well but the moving of the larger set pieces for the change toward the end of the play created an unncessary distraction that disrupted the tension of the unfolding drama.
Director Vasuta chose to frame the play by opening with the last scene of ivanov's descent into self-destruction and then takes us back in time to reveal how he came to do it.  In this way, as with the encircling branches of the set, we really get the sense of a man trapped in a world he is not equipped to live in.
Ivanov was Chekhov's first full length play, written when he was only 27 and already practising as a doctor as well as a prolifiic writer of serious fiction. Although Stoppard's version of this play is new, first produced in 2008, it is true to the original. Really  this story could only have been set in the time it was written. Just think about it. Today,Ivanov would be undergoing in depth psychotherapy, and on antidepressant medication; Anna's tuberculosis would have been successfully treated - provided she did not have a resistant strain; and salted herring and pickled cucumbers would not have been the alcohol accompaniment of choice for fear of  salt-induced hypertension and heart failure.
This is an entertaining production, nicely done and well worth seeing. It runs Thursday to Sunday at 8 pm.