Review From The House
READ IT • SEE IT • TASTE IT • LIVE IT
Half Life - living in twilight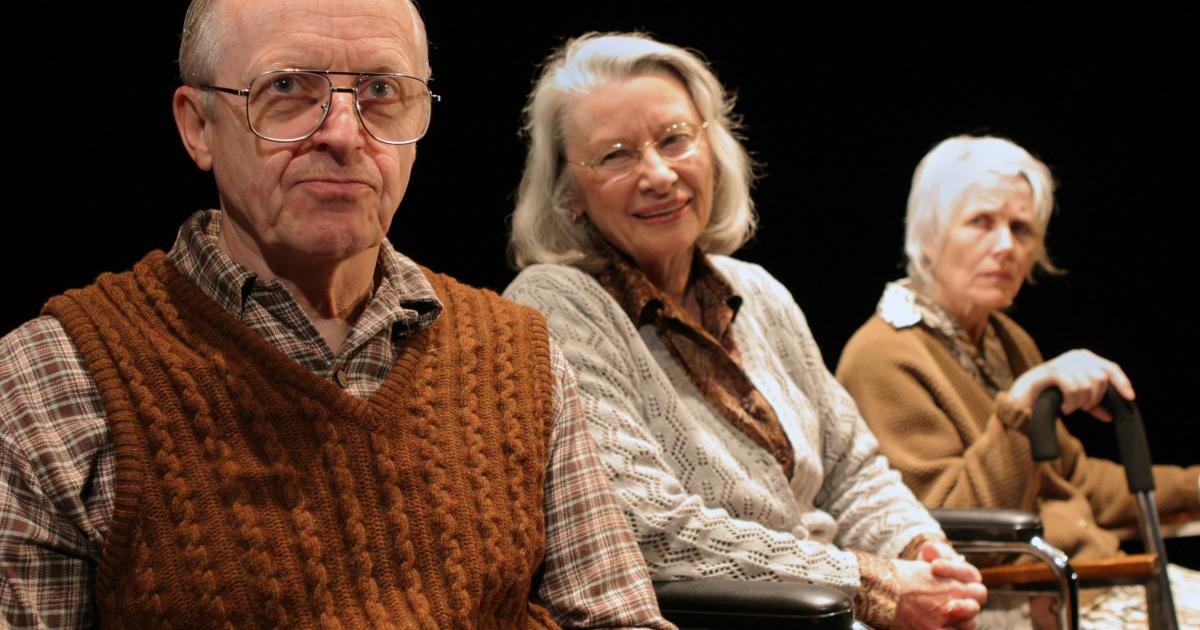 Half Life - living in twilight
Thursday, February 1st, 2007
Half Life by John Mighton
Directed by Daniel Brooks
Canstage at BLUMA, Toronto
Jan 8 to Feb 3, 2007
Necessary Angel Theatre Company
TORONTO, ON: Behind the curtain, Clara's voice fades away as the lights dim to black. For a seemingly endless moment there is silence before the applause begins. That silence reveals the emotional impact that this poignant yet provocative work has had on the audience.
John Mighton's play premiered in 2005 and won the Governor General Award for Drama and the Dora Award for Outstanding New Play. I can see why. Leaving aside the excellence of the production quality, the script itself raises complex and thoughtful issues that can only become increasingly important as our population ages.
Running ninety minutes without intermission, the play is set in a seniors' home. On a bare stage, Director Daniel Brooks, set and costume designer, Dany Lyne, and lighting designer, Andrea Lundy, evoke waiting room, a bedroom, dining or recreation halls and a chapel in an intricately choreographed movement of furniture and props by the cast members.
Half Life deals with the relationship that develops between Clara, a sweet natured, moderately demented elderly woman and new resident, Patrick, who is brought to the home by his daughter, Anna. Patrick was a brilliant code-breaker during the war, and although he retains his intellectual sharpness he has become a bitter alcoholic.
The characters are beautifully crafted and the current ensemble is the cast who actually originated the roles. Clara (Carolyn Hetherington) is sweet and loved for her appreciative acquiescence but is that just because the reality of her situation is beyond her comprehension? In contrast, Agnes (Barbara Gordon), another resident of the home, is sharp and bitter, tormented by her past and very aware of her present state. Patrick (Eric Peterson) is still smart enough to break security codes for the locked doors, yet deals gently and affectionately with Clara. The two adult children, Clara's son, Donald (Diego Matamoros) and Patrick's daughter, Anna (Laura De Carteret), both divorced, are themselves living, in a sense, a half-life and are initially drawn to each other by their shared experiences at the home. Tammy, the nurse (Maggie Huculak) is caring and efficient but"¦? Randy Hughson as the irritatingly verbose yet endearing Reverend, rounds out this great cast.
So where does the responsibility of an adult who has the legal responsibility for decision making for an aged parent begin and end? Who should decide what constitutes "happiness" for an adult who is no longer fully mentally competent? When we lose our memories and no longer have the ability to reason what remains of our humanity? And will science one day be able to capture the essence of humanness so completely that no one could distinguish machine from human?
Half Life is coming to Vancouver at the Arts Club Stanley Industrial Alliance Stage in March. I had not planned to see it, knowing that I was going to a performance here in Toronto, but I think I will use one of my precious SixTix to see it again.