Review From The House
READ IT • SEE IT • TASTE IT • LIVE IT
Dirty Rotten Scoundrels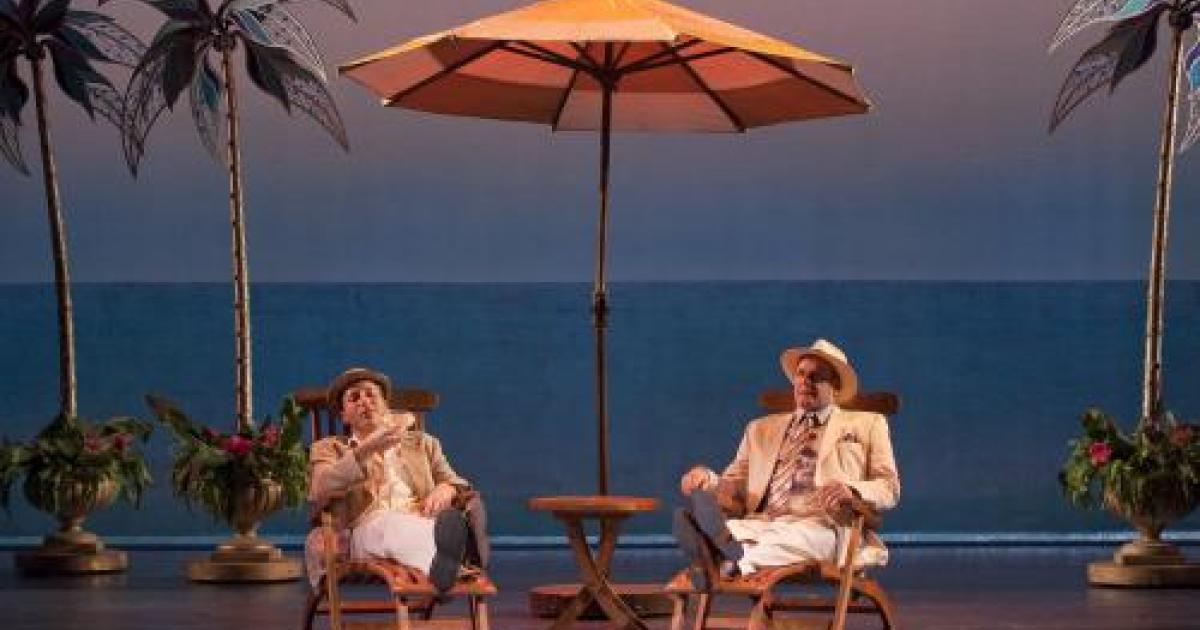 Dirty Rotten Scoundrels
Sunday, November 29th, 2009
Dirty Rotten Scoundrels
Book by Jeffrey Lane  Music and Lyrics by David Yazbek
Based on the film Dirty Rotten Scoundrels by Dale Launer, Stanley Shapiro and Paul Henning
Orchestrations by Harold Wheeler;  Vocal music arrangements by Ted Sperling/David Yazbek; Dance music arrangements by Zane Mark
Directed and co-choreographed by Max Reimer
Co-choreographer Nathalie Marrable
Music Director Steve Thomas 
Vancouver, BC. If you have not already got your tickets to see this show pick up the phone or hit the keyboard soon because this is going to be another sellout holiday hit for the Vancouver Playhouse.
Although I usually watch cynically as Vancouver audiences give standing ovations  I have to confess that this time I was on my feet with the rest of them.  
As these photos by David Cooper show, the production was visually  appealing. The songs were entertaining, the lyrics witty, the choreography terrific- and can you call any one performance a standout when all the performances including the ensemble dancing were standouts? Well, yes I guess you can.
 
Andrew Wheeler plays Lawrence Jameson, a  suave, sophisticated, elegant con-man who leads a good life as a "prince" on the French Riviera, by charming rich women out of their money and possessions. Smooth as Michael Caine was in the 1988 film version,  I remember thinking at the time that he would never have been able to con me. But I have to admit that  if I encountered Wheeler's smooth "prince" persona - and if he could dance - I mean real  ballroom not the stage variety - he could probably con me into supporting a war effort in his non-existent kingdom as easily as he did the other women- as long as he would waltz with me!
  Lawrence's ally in his nefarious activies is Andre, the chief of police, played with gusto and a wonderfully bad French accent by David Marr, who really excels in this type of comic role.
The two hear that another crook, The Jackal has moved into the area, and is also targetting wealthy victims.  Their comfortably crooked life in Beaumont sur Mer is threatened with the arrival of a far-from-sophisticated, small time American con-man, Freddy Benson (Josh Epstein) whom they assume is The Jackal. From his cocky swagger and braggadocio, through his hilarious portrayal of poor Ruprecht, to his psychosomatic paralysis and recovery, Epstein does not miss a beat.
Muriel (Gabrielle Jones) is delightful as one of Lawrence's victims, specially when she realizes he is a fraud and promptly consoles herself by having a fling with Andre. Jolene (Kiara Leigh), rich girl  from Oklahoma, is like a cave-woman, ready to drag Lawrence to the altar back home until she encounters he retarded sex-mad Ruprecht.  All the ensemble women (Kazumi Evans, Katie Murphy, Jaclyn Rae amd Debbie Timuss) are lovely and elegant. 
And then Christine Colgate (Elena Juatco), the shy, naive "soap princess"  arrives on the scene, and Lawrence and Freddy decide to compete to con her out of 50,000 dollars.  This involves some marvellous physical comedy on the part of Epstein, and a German or Swiss accent  from Wheeler that is as atrocious as Marr's French one.  Deliciously wicked.   Who will win this battle of wits?   
The ensemble dancing was excellent, precisely timed and coordinated. I loved the choreography and some of the pieces, particularly  the yodelling bit during one of the scene changes was terrific.  The dancing of Danny Balkwill, Tyson Coady, Brennan Cuff and Colin Sheen, the male ensemble singer/dancers was also perfectly coordinated and high energy. The musicians led by Steve Thomas on keyboard  kept the showing moving well. 
This is a highly entertaining production and an excellent show for the holiday season. For tickets, call the Playhouse Box Office at 604 873 3311 or book on line at vancouverplayhouse.com