Review From The House
READ IT • SEE IT • TASTE IT • LIVE IT
Black Comedy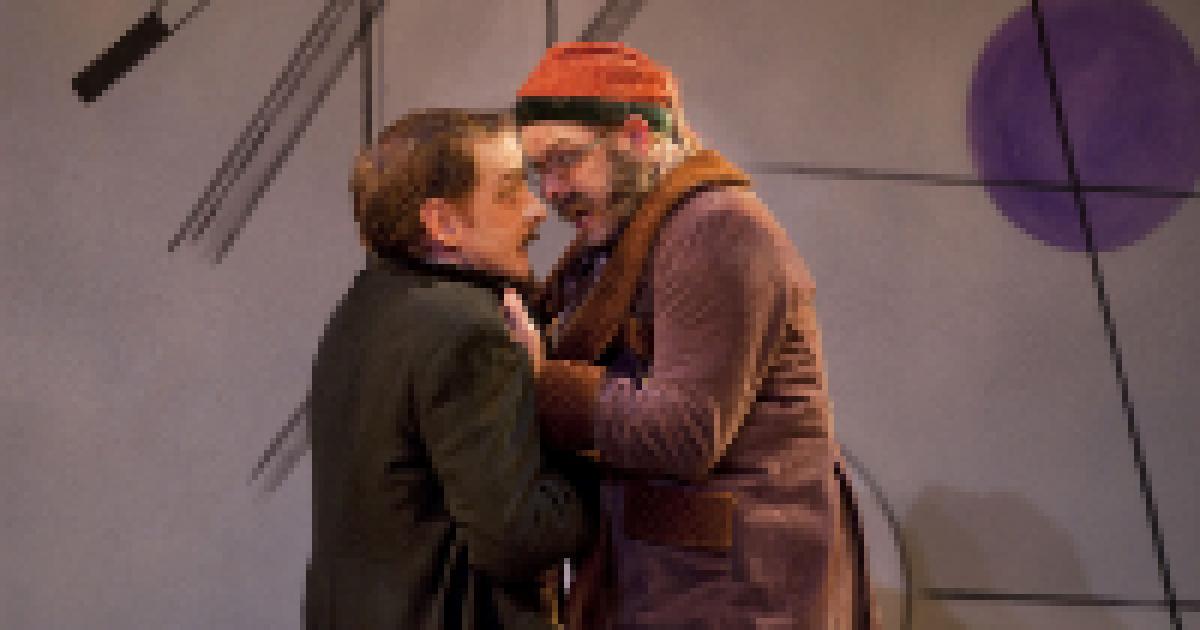 Black Comedy
Monday, September 21st, 2009
Black Comedy by Peter Shaffer
and The Marriage Proposal by Anton Chekhov
Directed by Dean Paul Gibson
Arts Club Theatre Company
Stanley Industrial Alliance Stage
Sept 10 to Oct  11, 2009
Vancouver, BC:  The Arts Club opened its 46th season with a riotously funny evening of  two plays by writers who would not at first come to my mind as writers of comedy. Peter Shaffer after all, is probably best known for Equus - a  intensely disturbing  psychological drama.   And I have never really found the Chekhov plays that I have seen or read to be exactly a bundle of laughs.
But as the curtain raiser to Shaffer's Black Comedy, Artistic Director Bill Millerd and Director Dean Paul Gibson chose Chekov's The Marriage Proposal.  And what an inspired choice.
Brilliantly performed by Sasa Brown as Natalia Stepanova, Simon Bradbury as Stepan Stepanovitch Chubkov and Jeff Meadows as Ivan Vassilevitch Lomov, it was clever and very funny.
Ivan, a lanky hypochondriac with palpitations and a dragging leg, comes to propose marriage to Stepan's 25 year old "on-the-shelf" daughter,  Natalia, but before he actually gets a chance to propose, they get into an argument about who owns a piece of land and he leaves inma huff. Natalia realizes that her "last chance for marriage" has just walked out the door and sends her father to get him back.
He returns but her argumentative nature gets the better of her and they get into another argument, this time drawing in her father. Both Bradbury and Meadows are hilarious but Sasa Brown's portrayal of a glowering, desperate, determined Natalia steals the show in this short farce.  I loved it.
The main event of the evening is Black Comedy.   Brindsley Miller ( Charlie Gallant),  a sculptor, and his posh Knightsbridge fiancee,  Carol  (Julie McIsaac), have invited her uptight, pompous father Colonel Melkett (Simon Bradbury) over for a party.  Brindsley is also expecting wealthy art buyer,  Georg Bamberger (Simon Webb) who will hopefully buy one of Brindsley's huge sculpture pieces for  a lot of money. As a starving artist, Brindsley's furniture and general decor leaves a lot to be desired so he and Carol have "borrowed"  furniture from the apartment of his temporarily absent neighbour, Harold Gorringe (Jeff Meadows).  
Just as they are expecting the guests, there is an electrical failure and the apartment is plunged into darkness.  The conceit of this play, indicated by the title, is that nothing is what it seems. The play begins with the stage dark and we can only hear Brindsley and Carol as they scurry about the apartment getting ready for the party. This goes on for quite a few minutes - and I heard a man in the seat in front of me mumble,  "Is this whole thing going to go on in the dark?" But mercifully when the fuse blows and the lights "go out," the stage lights come up and we can see the characters stumbling around as if in the dark.
Things just go downhill from there for Brindsley and Carol. Gorringe returns unexpectedly and Brindsley must try to replace the furniture in his flat, while fending off  Gorringe, whom Brindsley had not realized was gay.   Miss Furnival (Nicola Lipman), a morally uptight neighbour seeks shelter with them, and promptly gets into the booze. Schuppanzigh( Sean Devine), a German electrician come to fix the fuse, is mistaken for Bamberger. And worst of all, Clea (Sasa Brown), who Brindsley really loves even though she walked out on him, arrives to claim him back.  
Gallant plays a nicely hapless Brindsley and McIsaac gets the spoilt daddy's-girl attitude right. Lipman's wickedly comedic, soused Miss Furnival and Meadows' meticulous  "not quite out of the closet" Gorringe were spot on.
The essence of British farce is  fast paced comedy and occasionally I felt the pace begin to sag. But overall it is an entertaining production. And with the comedic gem of The Marriage Proposal  preceeding  Black Comedy, one can't ask for a more entertaining way to kick off the new season.