Review From The House
READ IT • SEE IT • TASTE IT • LIVE IT
Beyond Eden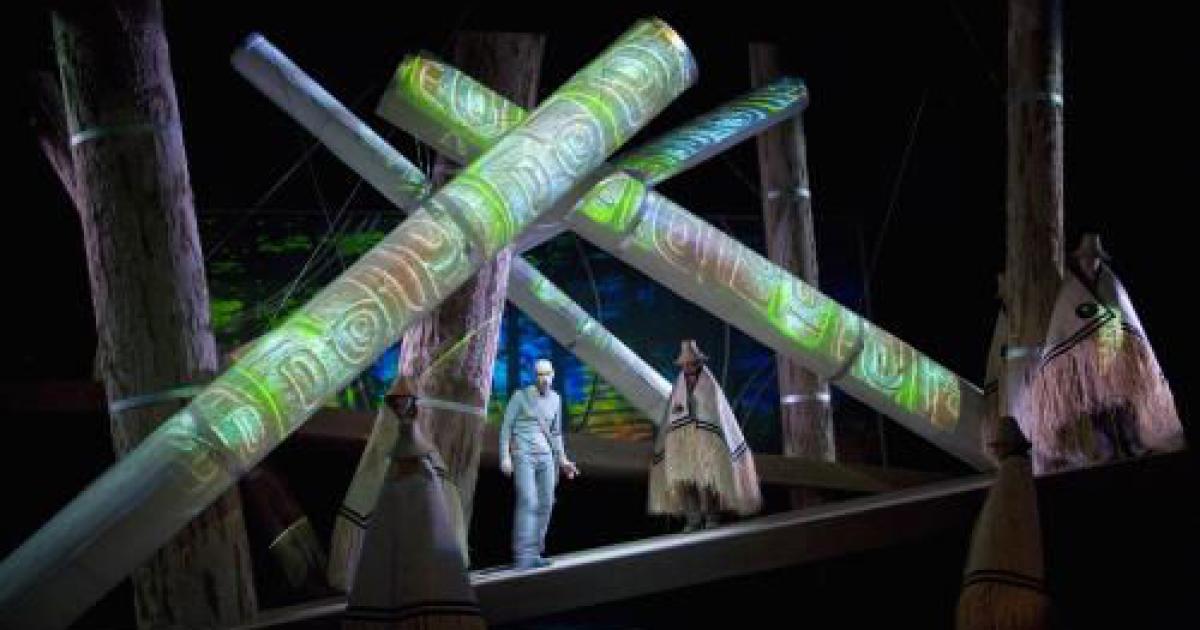 Beyond Eden
Sunday, January 24th, 2010
Beyond Eden by Bruce Ruddell
Music by Bruce Ruddell and Bill Henderson
Directed by Dennis Garnhum
Music Direction by Bill Henderson
Choreographer Jacques Lemay
Fight Director JeanPierre Fournier
Co-produced by Vancouver Playhouse and Theatre Calgary
Jan 16 to Feb 6 th, 2010
Vancouver, BC:  Just imagine. You dream  an "impossible dream" for 25 years and finally one exhilarating night, your dream explodes into  reality in a visually and musically stunning production. Beyond Eden had  its world premiere last week on the Vancouver Playhouse stage as part of the Vancouver 2010 Cultural Olympiad and it is  a "tour de force".  Bruce Ruddell  and his creative collaborators, cast and crew can truly be proud of how his dream has been actualized.
Beyond Eden is  loosely based on a true story of the 1957 expedition to Haida Gwaii, the Queen Charlotte Islands in the North Pacific Ocean, led by archeologist/ anthropologist Wilson Duff, and Bill Reid, who would later become leading Haida artist. It  tells the story of Lewis Wilson (John Mann) and his half-Haida colleague Max Thomson (Cameron MacDuffee) who have come to the abandoned village of Ninstints on a mission to rescue ancient decaying totem poles. Wilson is joined by his wife Sal (Jennifer Lines), son Jack (Andrew Kushnir) and Haida brothers Victor (Tracey Olson) and Joe (Telly James) Duncan. His crew, Clive (Curt Mckinstry) and Gregory (Christopher Hunt) are eager to get  the job done but Lewis, though passionately believing in his mission as a means of preserving history and cultural traditions of the Haida, has a lingering doubt that cutting down the totem poles is the right thing to do.
The words of The Watchman (Tom Jackson) and the singing and dancing of the Chorus (Julian Black Antelope, Meegwun Fairbrother, Corey Payette, Raven Ann Potschka and Erika Raelene Stocker) only serve to enhance his ambivalence, pushing him to the point of halting the project.
Director Dennis Garnhum and the  design team have created a dream production.  Bretta Herecke (set and costumes), lighting designers Alan Brodie and Kevin Lamotte, Haida visual artist Gwaii Edenshaw, and  sound designers Chris Jacko and Michael Rinaldi  produced an amazing set that  manifests as a ship first berthed,then sailing through calm waters and the storm-tossed waters of Hecate Strait, and then is transformed into the Haida village of Ninstints with its decaying totem poles. But the video projections by Jamie Nesbitt that "carved out and painted" the totem poles were truly awe-inspiring. I think I forgot to breathe as I watched the designs appear. Bravo to the entire team. The picture above, exquisite though it is,  can not do full justice to the set - you just have to see it for yourself.
The performances matched up to the magnificence of the set. I loved the music. There were several really emotionally moving songs and overall, a satisfying mix of rock and ballad, that had me sometimes struggling to stop my toes  tapping, and sometimes blinking away tears. The band (Bill Sample, Adrian Dolan, Laurence Mollerup, Randall Stoll and Dave Corman) were wonderful. 
I knew that John Mann would deliver an amazing singing performance but he also was able convincingly to convey the mental pain and inner conflict of a driven man beset by doubt. Kushnir delivered an appealing  performance as Lewis's teenage son, and his "Howa baby" was just fantastic. i wished I could yell "encore". Lines was lovely as the devoted wife who had to share her husband with his obsession.  Actually there were so many truly committed performances I would have to acknowledge the whole cast so I will do just that. Bravo to all of you too.
Although I had heard some of the story and the music at a fund raising breakfast a few years ago, I came to this opening night with a mild bit of skepticism. Quite often I find that  new works suffer from trying too hard to be avante -garde or else there is inconsistency in the quality of the music. But as you have probably gathered by now I was completely captivated by every aspect of Beyond Eden. It is truly a production to be proud of and represents the kind of theatrical performance that a  Canadian Cultural Olympiad should feature. Don't miss it.
Of interest is Marie Clements' new play dealing with parallel themes and the debate about preservation of aboringinal culture and cultural appropriations, running concurrently at Presentation House Theatre. The Edward Curtis Project offers a contrasting approach to examination fo these issues. I found it fascinating to see them back to back and I recommend doing so.