Review From The House
READ IT • SEE IT • TASTE IT • LIVE IT
Ascension - no pathway to heaven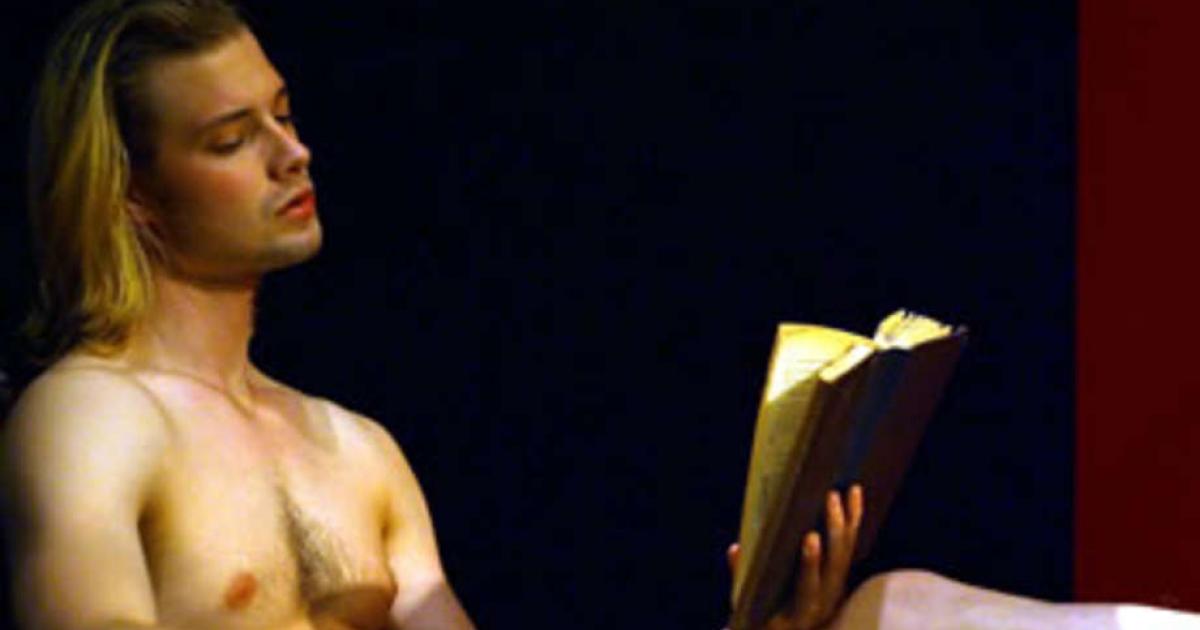 Ascension - no pathway to heaven
Sunday, November 5th, 2006
Ascension by Edmund De Santis
Directed by Marc Geller
November 2006
Lion Theatre
New York
New York, NY: I always find the audience demographics an interesting pointer to the nature of a play. A few weeks ago I was at the opening night of "Take Me Out" at the Waterfront Theatre in Vancouver. The male to female ratio was probably around 8 to 1, certainly not the usual preponderance of women and older couples. This afternoon in the 88 seat black box Lion Theatre, one of six theatres in an interesting complex on 42nd Street, men outnumbered women in the audience at about the same rate.
Ascension is set in the office of Father Calvin Porter in a rectory of an Ohio town. The scarlet rear wall is dominated by a unusual crucifixion painting, rightly if inappropriately described as "this Christ has a nice body". Father Porter (Stephen Hope) is a "good man" who has done so well since becoming the priest at St. Michaels that he is about to be made a bishop. Or so we learn from Agnes Sabatino (Lucy McMichael). Agnes has been away from the church for several years, but is now back and has volunteered to help with food for the church festival. Agnes drops a bombshell on Father Porter by accusing him of molesting her son, Lorenzo, some years earlier. In the next scene Lorenzo (Brandon Ruckhdashel) appears in Porter's office, almost feminine in his beauty, a look emphasized by his long blonde hair. The "did he or didn't he" doubts begin.
The acting was excellent. Hope was the perfect black-clad", tormented by suppressed homosexuality, priest, lean and ascetic. McMichael was weirdly eerie, with dark glasses, grey raincoat and a robotic tone to her speech. Ruckdashel conveyed an almost cruel knowledge of the power that his youthful health and sexual appeal gave him over the priest; whether lounging feline on a chair or taunting Porter with his sexy naked body to betray his vows.
Overall this play is well written and performed; good entertainment value. The plot keeps one wondering and in a twisted way the ending reminded me of Ionesco's The Lesson. I might have been even more impressed if I had not seen John Patrick Shanley's play "Doubt" about a year ago. That dealt with similar issues but was one of the most powerful and memorable plays I have seen in a long time.
The theatre complex was neat. Redeveloped about 5 years ago, Theatre Row on 42nd Street consists of 6 playing spaces ranging in capacity from 199 seats (The Acorn) to 55 seats ( the Studio Theatre). With a common lobby and other resources, this complex is great for small theatre companies looking for production space.
Dinner was supposed to be casual -  in one of the restaurants in the new (for me) "hood" on the edge of Lower East side, that I am staying in for this visit. However we were to meet a friend in mid-town and it was so cold we decided to drop into Vongs nearby. Interesting fusion flavours, Thai mixed with French. We decided to do a horizontal food test - more Foie Gras and duck for one, a chicken soup and salmon dish, followed by a chocolate cake shared by the three of us; all accompanied by a Gewarztraminer from California. Hmm... tomorrow will definitely be a bread and water day- or maybe, not bread - just water.