Review From The House
READ IT • SEE IT • TASTE IT • LIVE IT
Anywhere But Here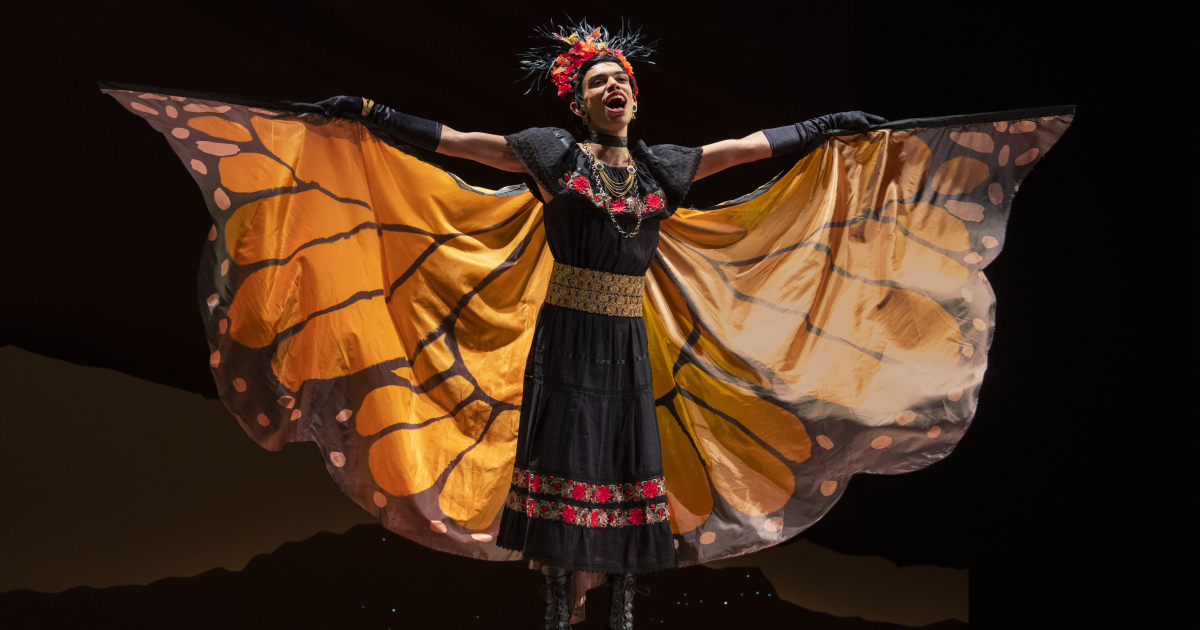 Anywhere But Here
Friday, February 7th, 2020
Anywhere But Here by Carmen Aguirre
Raps created with Shad Kabango
Directed by Juliette Carrillo
Composer/Music Director Joelysa Pankanea
Electric Company Theatre 
Vancouver Playhouse
4-15 February 2020
Vancouver, BC: As I listened to Debra Sparrow, Musqueam weaver and preserver of first Nations' history, welcome us with eloquence and humor to the territory of the Coast Salish peoples, I couldn't help reflecting on the fact that most of those in the theatre had probably came from anywhere but here. For some, home is where they came from. Others don't look back and for them home is where they are in the present.  Some are refugees from their old life, others are migrating to a new life. 
My grandparents fled from the pogroms of Eastern Europe, as refugees to South Africa.  Two generations later, we in turn immigrated with our young family to Canada. Ebbing and flowing with the tides of wars and economic depressions, waves of people are constantly migrating around the globe.  Few of us can claim millenniums of existence in one place as do the BC First Nations. 
Anywhere But Here takes place simultaneously in 1979, 1973, 1996 and 2020 on the I5 freeway in Washington State and on the desert border between Mexico and the US. Manuel (Nadeem Phillip) is determined to end his exile in Canada and take his daughters, 12 year old Lupe (A.J. Simmons) and 11 yr old Carolita (Alexandra Lainfiesta) back to Chile. They set off in a convertible to drive from Canada to Chile.
Whether he really wants to go to Chile or is just fed up with his wife Laura (Christine Quintana) who has left him to live in a commune is up for debate. Ensemble members Augusto Bitter, Alen Dominguez, Shawn Lali,  Michelle Rios and Manuela Sosa play many roles and the ensemble choreography was seamless and precisely performed. Standout individual performances  were Lainfiesta's perky and precocious Carolita, and Bitter as Aunt Lili in her magnificent monarch butterfly costume.
For me the work of the production team stole the show. The play of Itai Erdal's lightning on the mountain, sky and desert vistas of  Christopher Acebo's set was magical, as were Carmen Alatorre's costumes. Even despite my butterfly phobia I loved the monarch wings. Not normally a rap fan but it worked in this context as did  the different music genres.
What worked least for me was the script. Despite the best efforts of the actors, the bickering of dad and his girls became repetitive. The long summing up speech of the Virgin Carmen at the end, though beautifully articulated, lost me after the first few sentences.  The multitude of characters simultaneously present yet from different eras was also confusing. I didn't get any sense of the hardship of refugee versus immigrant life other than the aside that Manuel, a physicist in Chile, was working as a janitor in the labs at the university. Ultimately I wasn't sure what the play was primarily about.