Review From The House
READ IT • SEE IT • TASTE IT • LIVE IT
Altar Boyz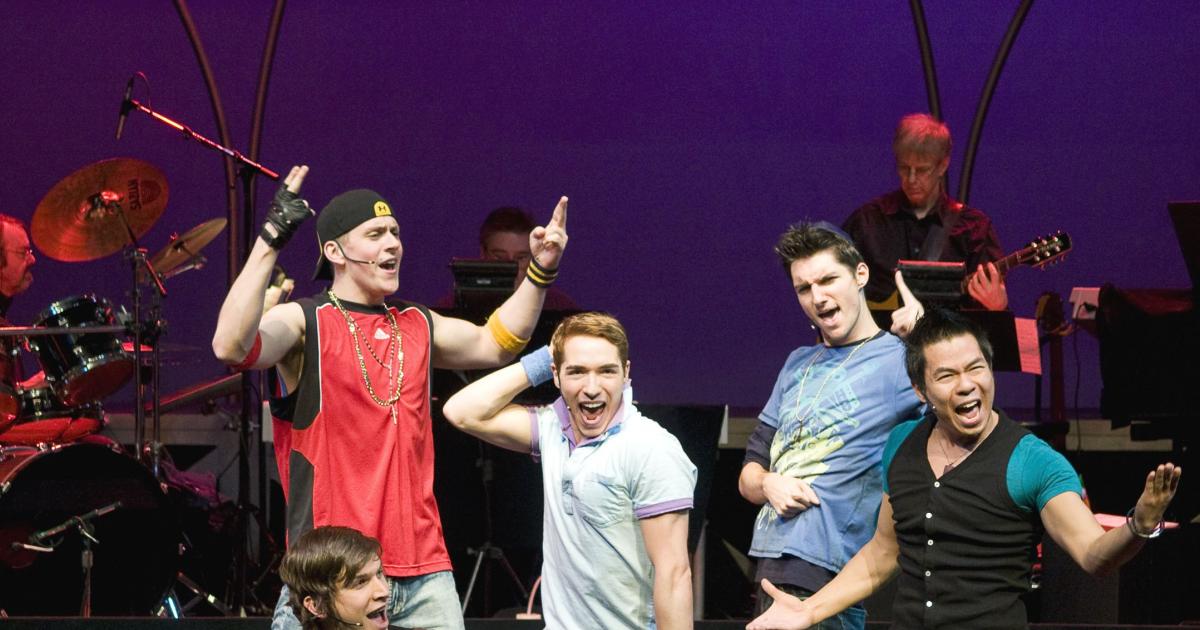 Altar Boyz
Friday, June 26th, 2009
Altar Boyz directed by Bill Millerd
Book by Kevin Del Aguila
Music and lyrics by Gary Adler and Michael Patrick Walker
Conceived by Marc Kessler and Ken Davenport
Musical Director Sasha Niechoda
Choreographer Sara-Jeanne Hosie
Granville Island Stage
Arts Club Company
 June 18 to August 1st, 2009
Vancouver, BC: Matthew  (Jeremy Crittenden),  Mark  (David Hurwitz),  Luke (Jak Barradell),  Juan (Vincent Tong) and Abraham (Geoff Stevens) are the Altar Boyz, members of a boy band who are playing the final concert of their "Raise the Praise"  tour - at the Granville Island Stage - and, according to their impressive digital electronic device, the  Soul-Sensor DX-12,   they have several hundred heavily burdened souls in the audience to save, by the end of the concert. That's the premise of the show.  A thin story-line to be sure, but that is all that is needed to thread twelve high-energy  song and dance routines into a swinging, toe-tapping non-stop 90 minutes of  pure entertainment.
Each altar boy has his own story; Matthew, is the leader who keeps the guys on track but will he keep the band together ?  Luke is back from rehab for his "exhaustion", and Mark is  gay and Catholic  - both are outrageously funny; Juan, the abandoned orphan finds his home with the Boyz , and Abraham- the Jewish Altar Boy, who writes the clever lyrics-  helps them all see what is really important. With the Soul-Sensor showing only 4 guilty consciences left in the theatre, we learn that all is not as it seems among this band of brothers. Will the band survive? Of course it will all end happily ever after. The soul sensor hits zero- halleluja!  and the audience gives the Boyz a standing ovation. Really!
Keyboard players Sash Niechoda and Jim Hodgkinson, with Buff Allen on drums and David Sinclair on guitar kept the boys hopping, bopping and tumbling  - literally. I loved Sara-Jeanne Hosie's chroeography.  Although each of the performers brought his own unique dance style to the numbers, as an ensemble performance they moved so well together I had to keep a firm hand on my knees to stop myself dancing with them in my seat. I  loved the variety of the rhythms, specially the Latin number (having myself just spent the past few months trying to perfect my samba, rumba, cha cha cha and jive. I also enjoyed several of the songs with clever lyrics that had you hanging breathlessly waiting for the  obvious word- that then was not!
With Les Miserables held over at The Stanley and Altar Boyz rocking the Granville Island stage, it seems  the Arts Club has cornered the market on crowd-pleasing musical theatre for the early summer season. Make sure you don't miss either show.