Review From The House
READ IT • SEE IT • TASTE IT • LIVE IT
Tasting Culmina Family Estate Wines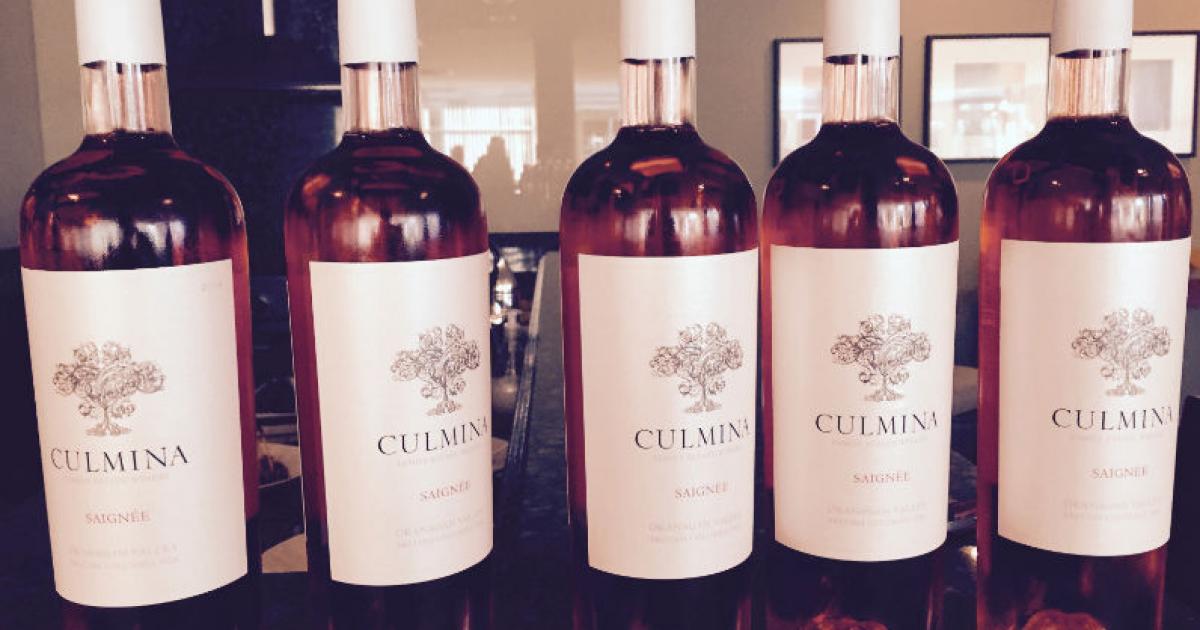 Tasting Culmina Family Estate Wines
Saturday, May 30th, 2015
The Culmina Family Estate Winery in Oliver in the beautiful South Okanagan Valley was founded by Don and Elaine Triggs with their daughter Sara, in 2007. A year earlier,  the well-known Jackson-Triggs Winery founded by Allan Jackson and Don Triggs had been sold to Vincor International. As Don quipped "he was not a golfer and retirement didn't suit him" and he wanted to get back to the wine making that he was so passionate about.
The Triggs' objective for their new family winery was to marry rigorous scientific study and oenological research with the art of winemaking to produce great wines sustainably. Now, eight years later,  60 enthusiastic wine lovers converged  on the impressively laid out Grand Room to taste four wines from their Family Estate Winery.
Before we actually got down to tasting any of the wines, Don gave  us an entertaining and informative brief history of the founding of the winery. We heard about the immense amount of planning  and science that went into selection of the land and the division of their 56 acres into 1.2 acre microblocks based on a profound analytical understanding of the terroir.
We heard about their use of RANCH, a wireless monitoring and control system for vineyards, orchards and farm fields, that the viniculturist or oenologist can even access and alter from a hand-held device while out in the vineyard. I found Don's presentation to be totally absorbing with much more information than I can include in this tasting overview.
I loved the names chosen for the four wines that we were given for tasting.
First up was the 2014 vintage of UNICUS. Unicus is derived from the Latin word meaning "only" or "unprecedented." As you will read, unique is most appropriate for this wine.
Next we tasted the 2014 vintage DECORA, derived from the Latin for "fine or pretty or adorned". 
Third up was the 2014 vintage SAIGNÉE, a rosé derived from a portion of the juice from the HYPOTHESIS must and the fourth wine, the 2012 vintage HYPOTHESIS, was a red blend.
UNICUS which is 100% of Grüner Veltliner, a varietal most commonly grown in Austria, Slovakia and the Czech republic.  This wine represents the only release of a Grüner Veltliner wine in the Okanagan Valley, hence the name. Both the Gruner Veltliner and the Riesling used in DECORA were grown in Margaret's Bench, one of the highest vineyards in the Okanagan, named for Don's mother, Margaret. 
The tasting notes for UNICUS describe aromas or mineral, citrus and peach, with grapefruit flavour and a white pepper finish. I liked it a lot.
DECORA is an Alsace style 100% Riesling, cold fermented at 16 to 18 °C. The tasting notes describe aromas of chalk and grapefruit with spice, stone fruit and white flower  flavours.
SAIGNÉE is French for bleeding - the wine name definitely sounds better in French.   Made by bleeding off juice from the must of the Bordeaux varietals in the HYPOTHESIS blend, it is a pale delicate coloured rosé.  But the colour misleads as it is fresh and full of flavour and aroma. I am on a rosé wine spree at the moment and it was a toss up for me whether I liked the white UNICUS or the rosé SAIGNEE best.
Interestingly instead of cork or a screwtop, the SAIGNÉE bottle was closed with a stopper made by Swarovski. Wonder if that's the new trend.
The last wine we tasted was  HYPOTHESIS, a blend of Merlot, Cabernet Sauvignon and Cabernet Franc. One of Don Triggs' goals was to create an iconic wine based on Bardeaux reds. This wine was aged in 100% French oak barrels, 70% new, 30% 1-yr old. The tasting notes describe aromas of spice, floral and dark red fruit, with flavours of toasted oak and red plum flavour with fine tannins.
The wines were matched  with a different cheese or charcuterie, all of which were very tasty.  With UNICUS Elaine paired a Dutch goat cheese gouda from Hans Hals. The DECORA was paired with Geai Bleu - an unpasteurized cheese from Jersey cow milk, made in New Brunswick at La Bergerie aux 4 vents. With SAIGNEE she paired a Bordeaux style pork salami from a local supplier.  To accompany HYPOTHESIS a 12 month aged Piave Vecchio from pasteurized milk made only in the Piave River Valley of Belluno in Italy was the choice. The cheese and charcuterie was purchased from Les Amis du Fomage at their 2nd and Burrard store.
My two favorites of the evening were UNICUS and SAIGNEE both of which will make a great addition to my collection of whites and rosés.
The Culmina Family Estate Winery is located at 4790 Wild Rose Street, Oliver, BC.
Ph: 250 498 0789
Contact info@culmina.ca or check their website to arrange a wine tour or inquire about wine.