Review From The House
READ IT • SEE IT • TASTE IT • LIVE IT
A Taste of Riesling - In a SALT Cellar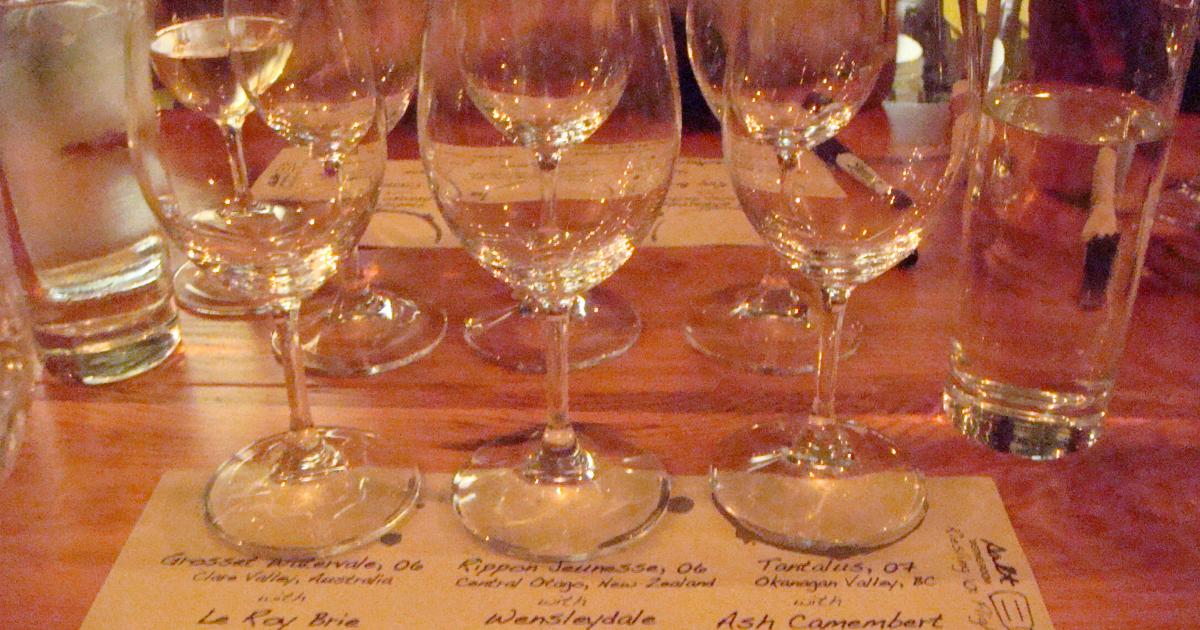 A Taste of Riesling - In a SALT Cellar
Tuesday, December 9th, 2008
I have been a fan of German Rieslings for years. Raised eyebrows, quizzical or even somewhat patronising looks and comments about sophisticated palates and  full bodied red wines would  wash over me. I just smiled to myself as I picked up my Rhine or Mosel  Riesling at the BC Liquor Store for a very reasonable price, and prayed to Dionysus and Bacchus (depending on whether I felt more Greek or Roman that day) that these wines would not become too "fashionable."
"Let them drink Chardonnay", I thought. And they did. And I bought my favorite Rieslings for a mere pittance.
Of course prices of the German Rieslings increased over time as with  other wines but the idea that a preference for white wine indicates a lesser palate or  ignorance of the "French paradox",  still lingers in some  circles. Yes I know  about resveratrol and its possible health benefits but I figure I can get that anyway enough just by eating red grapes, skin and all.  And fulfil  a fruit requirement of the Canada Food Guide at the same time!  So I continue to indulge in my preference for white wines and choose a Riesling or Gewürtztraminer over  the ubiquitous Chardonnay every time.
So after that confession, you can understand why I was absolutely entranced to hear 2008  Sommelier of the Year, Neil Ingram, waxing eloquent about  Riesling wines.   With a couple of friends, I took in the Riesling 101 wine tasting  and charcuterie experience at the SALT Tasting Room off Blood Alley in Gastown. SALT was the first restaurant I reviewed for this web-site (see Salt Tasting room: A Savoury Sensation) and I loved both the concept and the food. So when I read that they were featuring a Riesling wine tasting with Neil, I rounded up some fellow wine/foodies and signed up.
Held  in SALT's Cellar  below the restaurant, the tasting drew an enthusiastic crowd of about 50 people with varying levels of knowledge about wine, from those of us who merely like to drink it,  to other sommeliers. As people wandered in to take their seats on either side of a long  table running the length of the cellar, they were presented with a glass of the Wolf Blass 2005 Gold Label Riesling from the Clare/ Eden Valley in Australia, which we later learned was a great region for the Riesling grape.
After an introduction to the history and character of the Riesling Grape that abounded with superlatives ranging from prosaic (technically amazing- thrives on cold,  virtually frost proof) to poetic (the Platonic ideal of wine), we turned to the first three wines from the new world, from Australia (2006 Grosset Watervale from the Clare Valley), New Zealand (Rippon Jeunesse 2006 from Central Otago) and Canada ( 2007 Tantalus from the Okanagan Valley).  With the wines, they served a plate with three cheeses,  Le Roy Brie, Wensleydale and Ash Camembert) and two meats Schinkenspeck (a German style prosciutto) and Fennel Salami, as well as a basket of sliced baguette.
The second flight of wines was old-world, 2 from Germany (2007 Balthasar Ress Kabinett Hattenheimer, Rheingau  and 2007 Selbach-Oster Spatlese Zettinger Schlossberg from the Mosel) and one from Alsace, France (Domaine Ostertag 2005  from Heissenberg).  To accompany the wine  we had two cheeses , Cashel Blue and Keen's Cheddar, and three meats, Duck Salami, Smoked Pork Tenderloin and Beef  Tongue. 
By this time I was in cheese and charcuterie heaven  and was feeling very very pleased that we had chosen to take  taxis to and from the restaurant.
I learned that the foks at SAlt have been holding these wine and food tastings monthly for about a year, sometimes featuring  a varietal, a particular vineyard or wine maker, or even a sherry and a saki evening. They have been so well received that they are considering holding them more frequently. I guess I need to keep my eyes open for the next newsletter - they may even do an evening on Gewürztraminers and I would sure hate to miss that.