Review From The House
READ IT • SEE IT • TASTE IT • LIVE IT
Supping in Vancouver: Twisted Fork Bistro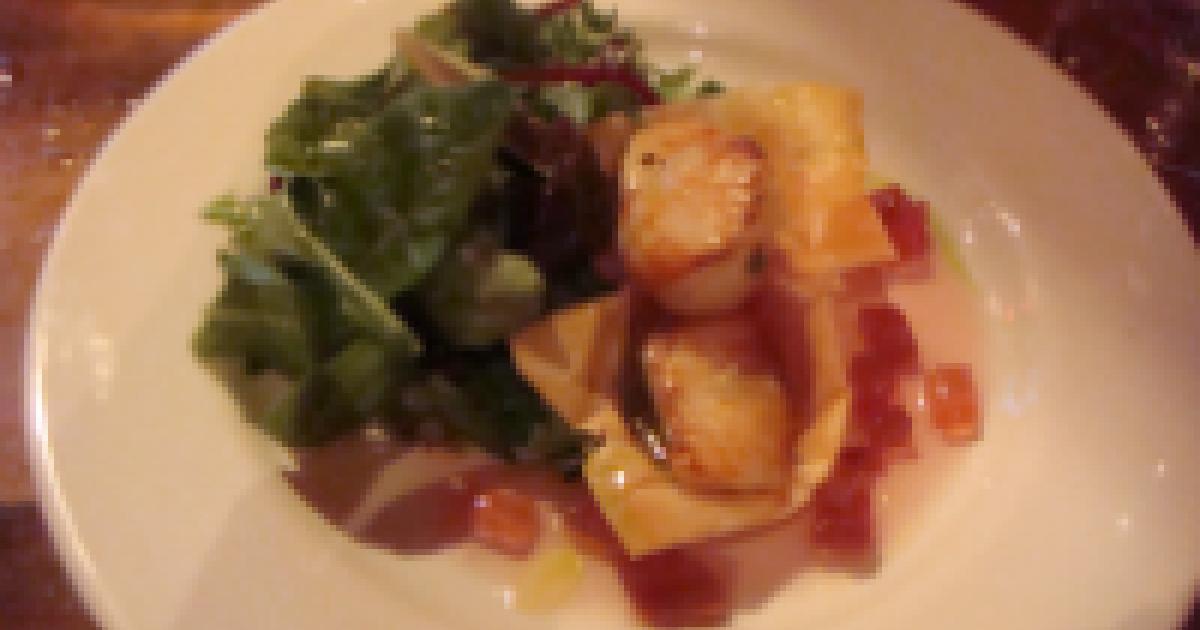 Supping in Vancouver: Twisted Fork Bistro
Thursday, August 20th, 2009
Twisted Fork Bistro
1197 Granville Street,
Vancouver
Ph: 604-568-0749
One of the best kept secrets in Vancouver is a little gem of a restaurant that is located on the south side of Granville Street between Helmcken and Davie Street. It has a warm and welcoming ambience, great service and excellent food at reasonable prices. I have eaten here on two occasions now and both experiences have been great.
We came across Twisted Fork while walking along Granville after seeing a movie, and wanting a light supper, we decided to try it out. We were greeted by partner/bartender/maitre d' Mike Leslie, a delightfully affable host, who invited us to sit wherever we felt comfortable. Although it was later in the evening there were not many empty tables but we  found a  comfortable booth and settled in.
We were soon each sipping on a  glass of white wine. I tried the Mission Hill Rigmarole 07 and my companion had the Hatfield's Fuse 08, a medium bodied fruity wine from Blasted Church Winery in Okanagan Falls, BC.A basket of house made sour dough bread, with whipped butter was also brought to our table.
We decided to share an appetizer, a salad and a main course or as the menu names it, a small fork, a green fork and a big fork. I asked Mike about the derivation of the twisted Fork name. He told us that  partner and Chef, Corey Sullivan cooks "classic French with a twist".  Cute. 
We started with the gruyere and caramelized onion tart, with pear chutney. Delicious. Then we shared a salad - warm goat cheese in phyllo pastry atop greens, with hazelnuts and a roasted red pepper and cranbury vinaigrette. For our main course we shared a cured BC duck breast with ratatouille, potato puree and cherry chutney. The duck was perfectly cooked, soft and slightly pink in the centre , and the tart cherry chutney complemented it beautifully.
Our server, Ashley was delightful, and attentive without hovering, and despite the fact that he was busy, Mike found time to talk to us about the restaurant, opened by himself, sister Andrea and Corey in October 2008. He also mentioned the Sunday Night Family Dinners -  green fork, big fork and sweet fork for $25.00. Sounds like a great deal.
We strolled out into the unusually warm Vancouver night, agreeing that we had found a neighbourhood restaurant that we would be eager to return to.
And last night, that is exactly what we did. We finished our shopping around 7 pm, and burdened with packages, decided to stroll back home down Granville and stop in at Twisted Fork to try some of the other "forks" that we did not get to last time. Mike made us instantly welcome again, and Ashley was again buzzing around, keeping the tables supplied with food and drinks. It felt a little like dropping in to a friend's place for dinner. Nice.
I decided to try the Hatfield's Fuse 08 this time, while my companion ordered a Vanilla martini.
To get a broader idea of the food, we ordered four of the " small fork" plates. 
Up first was  the scallops marinated in rosemary and lime served in crispy phyllo cups, and served with a pickled water melon gastrique. I was not sure what a gastrique was - my cooking vocabulary obviously requires some pepping up. On inquiry, Mike told us that a gastrique is between a vinegar and a reduction. Hmmm. So the definition is a thick syrupy sauce made by reducing caramelized sugar and vinegar. Ok that's added to my culinary terms list along with my Spanish and Italian translations.
Next we got the braised organic beef short ribs- served off the bone with home canned Okanagan pear and green beans. The beef was beautifully tender. We debated the ingredients in the streak of red sauce  - I thought tomato, my companion thought red pepper. Turned out it contained both.
Heavily focused on meats, we next tried the confit duck with bacon braised cabbage and squash pear jam. The duck was as tender as the short ribs, and the pear jam added a touch of sweetness.
Our favorite was the rosemary tenderloin skewers. "Don't eat the rosemary skewer", Ashley warned us. The skewer stalks are hard. But the tenderloin was as tender as it could possibly be. It was served with frites that turned out to be crisp tiny julienned fries, and greens with asiago slices.
We had not intended to have dessert but I could not resist the description of the Caramel Napolean, so we shared it too. The almond tuilles were very crisp. Broken into pieces, they were the perfect foil for the caramel mousse, house made maple ice cream, and raspberry coulis.  Uhuhuh - jigglejigglejiggle.  It was really good, as was the overall dining experience.
I left , reaffirming my inital impression that I would be very comfortable coming back to this place - a neighbourhood gem and French cuisine with a twist!  Perfect.