Review From The House
READ IT • SEE IT • TASTE IT • LIVE IT
Supping in Vancouver: Restaurant at Pacific Institute of Culinary Arts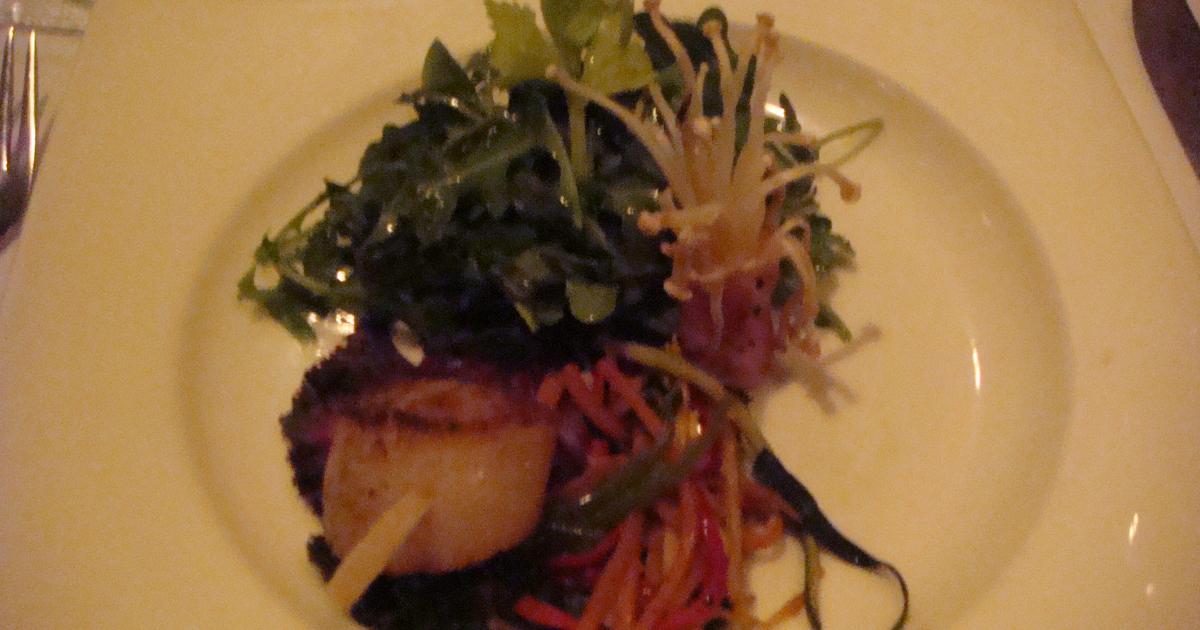 Supping in Vancouver: Restaurant at Pacific Institute of Culinary Arts
Friday, February 20th, 2009
Pacific Institute of Culinary Arts
1505 West 2nd Avenue
Vancouver, BC
Tel: 604-734-4488
It is probably more than 10 years since I had dinner at this location and it has been on my list of places to check out for ages.  So finally, before heading off to a play at the PTC stage I reserved a table. Although my dining companion described the decor as  somewhat minimalistic, I liked  the spaciousness, the simplicity and the ambience.  The tables are a reasonable size and spaced comfortably apart so that  one can converse easily. The student chefs, who work as servers one night  each week, are polite but not intrusive. 
The restaurant  offers a Prix Fixe menu for $36.00 with a choice of appetizer, main course and dessert. Somehow I had missed the fact that in February they were having a 2 for 1 special so that in the end our meal, 2 glasses of wine and 2 coffees cost under $40.00 each including service charge. Having said that it seems a little bit chintzy to comment on the fact that my scallop and salad appetizer came with a single small (nicely cooked) scallop. I would have expected a couple more. His minestrone was served in an attractive soup bowl but could have done with a touch more flavour.
While we sipped on our  Wild Goose Gewürtztraminer (me) and Tinhorn Creek Cabernet Franc (him), we discussed our pet restaurant peeves. One was the trend of serving attractive pats of butter on ice, so that when one attempts to spread butter on the bread it ends up as solid clumps. The other was the way that some restaurants that serve up a wonderful meal can't seem to produce a good cup of coffee, especially decaffeinated. Just then our server arrived with a bread basket- and the butter pats were soft and spreadable. Full marks for that one.
My mahi mahi  and his pork entree both proved to be perfectly cooked, moist and tender. I liked the flavour of mine though the pork was said to be a little bland. We both could not resist the meringue dessert.
Our decaffeinated coffee turned out to be great - rich and strong so they scored well on both the pet peeves; and one can't quibble with the 2 for 1 value during the rest of this month.