Review From The House
READ IT • SEE IT • TASTE IT • LIVE IT
Supping in Vancouver: The Greek by Anatoli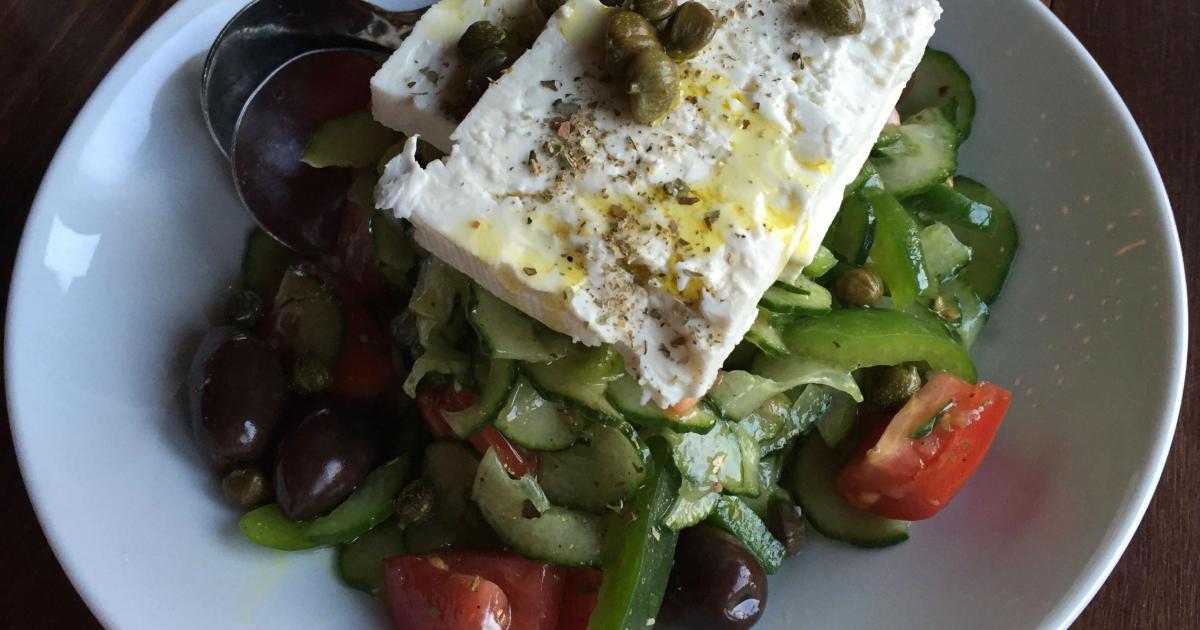 Supping in Vancouver: The Greek by Anatoli
Sunday, August 13th, 2017
The Greek by Anatoli
1043 Mainland Str., Yaletown
Phone (604) 979-0700
Among the many Mediterranean dips like humus and tsaztiki, my two favorites are taramasalata and babaganoush. I've experimented with making my own taramasalata but it just does not compare with the one from The Greek by Anatoli. Picking up a takeout container of taramasalata has become my current guilty pleasure.
Having enjoyed both a quiet lunch and several patio dinners at this Yaletown restaurant, I thought it time to show some of my favorite menu items. All are great for sharing.
The grilled octopus has a tangy olive oil and lemon caper dressing. The crispy calamari are as always served with tzatziki. The keftedes, substantial pan fried meatballs in a tomato sauce, are a special favorite of one of my dining companions.
I love that the lamb does not have to come with the stodgy carb-filled plates  piled with rice and potatoes that one associates with the oldstyle Greek cuisine that was served in Greek restaurants here for so long.
The pidakia, or flame grilled lamb chops shown here go delightfully with the Greek salad.
And speaking of Greek salad, the cucumber is thinly sliced rather than in chunks and makes for a lighter more refreshing salad. It is served with slices of Greek goat feta.
Probably the overall top favorite of the main dishes is the kreatopita  described as " 'skopelos' meat  pie filled with mince meat, saganaki cheese, topped with sesame seeds, and baked to perfection". Skopelos is the island in Greece from which the original founder of Anatoli's Souvlaki, the father of the current owners, came.
The pastry is crisp yet delicate and positively melts in my mouth. Love it.
There are many other items on the menu that I keep wanting to try but don't get to because I can't resist the kreatopita and calamari.  Next return visit I'll exert some discipline and branch out.