Review From The House
READ IT • SEE IT • TASTE IT • LIVE IT
Supping In Vancouver: Black+ Blue Restaurant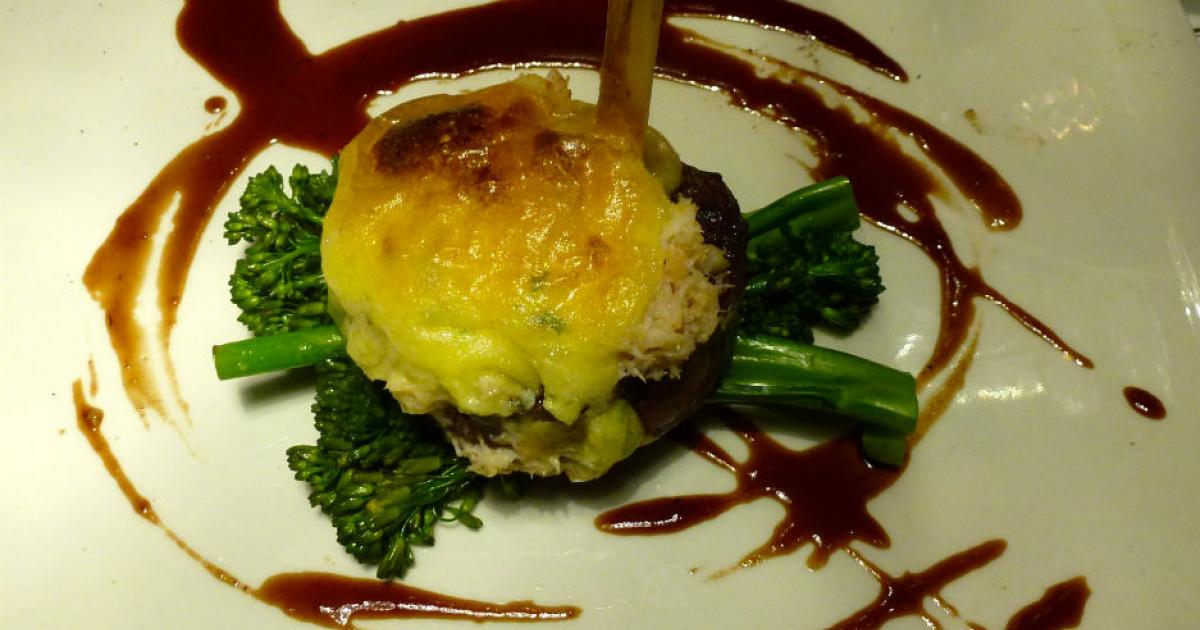 Supping In Vancouver: Black+ Blue Restaurant
Monday, January 12th, 2015
Supping In Vancouver: Black+ Blue Restaurant
1032 Alberni St.,
Vancouver, V6Z 2V6
Ph: (604) 634-0777 or Reserve online
Among our family dine-outs over the holidays, a dinner at Black+ Blue Restaurant was an unexpected stand-out. Normally appreciating the high quality of the Glowbal Group's local restaurants, we were surprised by a sequence of negative reviews of Black+ Blue Restaurant on a popular bar-and-restaurant guide and decided to check it out for ourselves.
In summary, we enjoyed excellent service,  excellent food, and a comfortable warm ambience. The sound and the table spacing was such that we could talk comfortably among ourselves. The background music was fine other than the occasional song that made me want to break into a Jive or  East Coast Swing. (And that's good!). Although we were there for an early sitting at 6 PM, and the restaurant was crowded, we were  never rushed and had a relaxed and leisurely dinner. So much for the negative reviews.
To start, our table shared a seafood platter with fresh oysters, jumbo prawns, king crab, Atlantic lobster tails and ahi tuna screamer served with horseradish, cocktail sauce, yuzu aioli and a spicy chili-based mignonette. The tuna screamer is prepared with Serrano chillies, daikon, tobiko and ponzu but surprisingly I did not find it too spicy-hot for my taste.
The burrata salad  shared by two people, was served with seasonal fruits, in this case tender sweet poached pears, and with nuts with a reduction from Burrowing Owl Coruja (a port-style wine made from Syrah grapes). A Caesar salad was also shared by two people.  We liked that the kitchen split the portions for us, which some restaurants will not do. Notch up another point of  service for Black+Blue.
My choice for an entree was Steak Oscar (traditionally steak topped with crab, asparagus and Bearnaise sauce). Just recently I had eaten one of the best Steak Oscars ever at Oscar's Steakhouse in Las Vegas, so I just had to compare.
This version with a beef tenderloin topped with dungeness crab and Bearnaise sauce was served on a bed of broccolini. The steak, ordered medium rare was served perfectly and the topping was good.  But I still have to give top billing for this dish to Oscar's in Las Vegas.
Two diners shared a meat platter and one person chose the surf and turf. With it we got a side order of wild mushrooms with garlic and herbs for the table as well as the Black+Blue fries with rosemary salt and spicy tomato aioli. Loved the mushrooms, a variety of wild mushrooms nicely flavoured. The fries could have been a bit crisper.
Since this was holiday time we splurged on three desserts for the table to share. All were delicious and by having only a couple of spoons of each, our consciences were not too badly stressed.
Our dessert choices included Bananas Foster prepared table side  with Jim Bean Bourbon and whipping cream, Espresso crème brûlée with Madeleine and tiramisu macaroons and Chocolate Manjari Cake salted caramel and vanilla gelato. (Manjari chocolate by the way is a product of the Valrhona company and is made from single origin Madagascar cocoa beans).
Black+Blue got a definite thumbs up from me and my co-diners and I look forward to a return visit.
Links: Valrhona Manjari chocolate
I was not familiar with Burrowing Owl Winery's Coruja- here is a link that describes it.