Review From The House
READ IT • SEE IT • TASTE IT • LIVE IT
Supping Away: New York. Ça Va Brasserie by Todd English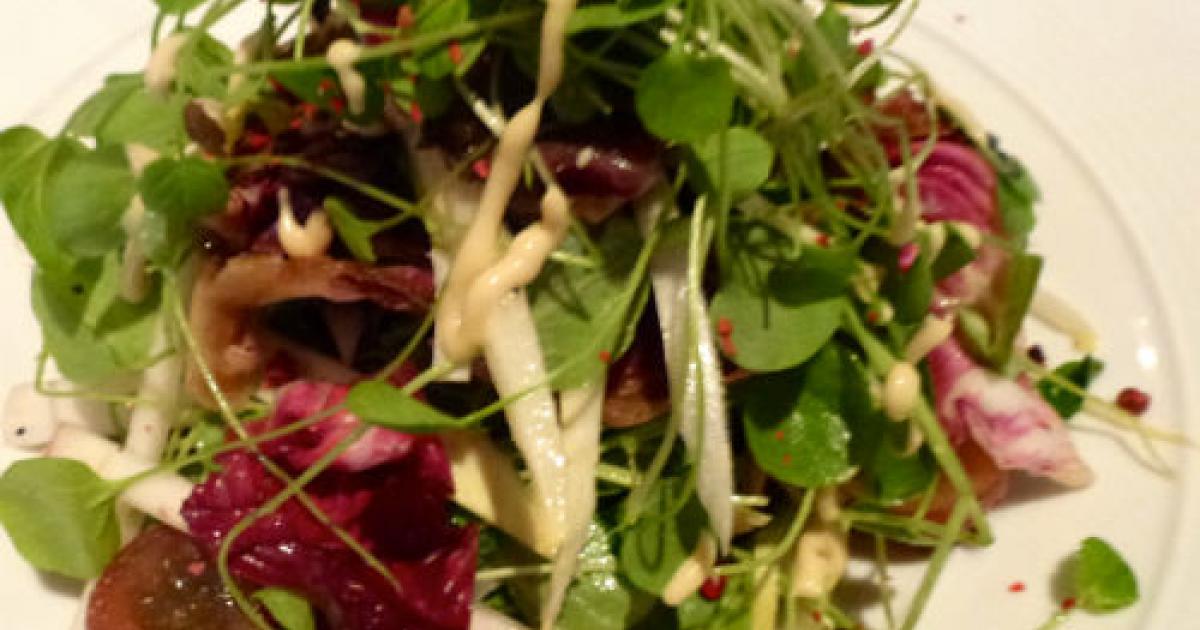 Supping Away: New York. Ça Va Brasserie by Todd English
Sunday, October 5th, 2014
Ça Va Brasserie by Todd English   
310 West 44th Street (Cross Street 8th Avenue)
Ph: (212) 803 4545  or reserve online
During my brief brief stopover in New York I had only two opportunities for evening dining before I was to once again board Cunard's majestic Queen Mary 2 ocean liner. The QM2  features a Todd English restaurant as their fine dining alternative. On previous trips I had dined several times at this restaurant and tried many of the menu items. I was curious to compare the Todd English  Brasserie in New York (which serves French cuisine) with the current menu items of the on-board restaurant.
So before heading off  to see Beautiful: The Carole King Musical we had dinner at Ça Va Brasserie. It was only a short distance away from the theatre so we could relax over an early dinner.
Both of us decided on salads to start our meal. I had the endive salad while my dinner companion picked the kale salad. My salad of watercress, charred radicchio and endive  with Sauterne soaked golden raisins,  red grapes, black walnuts, cracked pink peppercorns and foie gras vinaigrette was delicious. The salad of baby kale, fava beans, sugar  snaps, goat cheese mousse, crispy prosciutto was dessed with a  tarragon chardonnay vinaigrette and also rated highly.
For my main course I could not resist the duck breast, one of my tests of a great kitchen. This dish did not disappoint me - the cinnamon roasted duck breast with seared foie gras, lollipop kale was tender and succulent. Was it the araguani chocolate that brought out the intense flavour?  Very delicious.
The other main course selection was the lamb porterhouse, grilled and served with asparagus, maitake mushrooms, a ricotta mousse and meyer lemon; which also was excellent.
The dessert offering was a flourless chocolate cake, beautifully presented. I was too full to be tempted by more than a spoonful.
The Brasserie is open for breakfast, lunch and dinner seven days a week. I would definitely revisit when next in New York.