Review From The House
READ IT • SEE IT • TASTE IT • LIVE IT
Maenam Thai Restaurant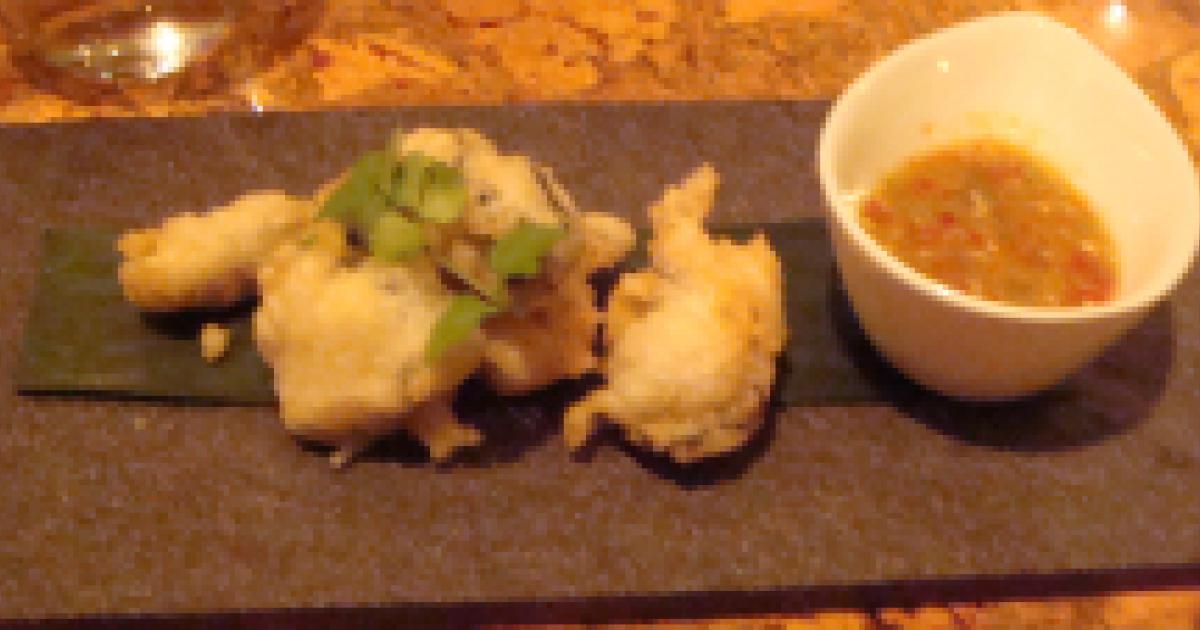 Maenam Thai Restaurant
Wednesday, February 17th, 2010
Maenam Thai Restaurant
1938 West 4th Avenue
Vancouver.
Ph: (604) 730-5579 or Reserve Online
The last time I visited this location  at its previous incarnation as Gastropod I enjoyed an excellent meal. Since chef Angus An renamed  it Maenam and changed the focus to Thai specialities  in May last year, I have not had an opportunity to revisit. But heading off to the Jericho Arts Centre to see The Vic, we decided to test our taste buds against some spicy Thai dishes.
We were seated at a nicely private table adjacent to the bar area, and Janice, our efficient server promptly brought water and took our wine order.  I could not resist a glass of Wild Goose Autumn Gold - an exquisite blend of Gewurtztraminer, Riesling and Pinot Blanc that I enjoyed (and brought home several bottles) during my "Taste of the South Okanagan" visit to the Wild Goose Winery in the Fall, 2008.  My companion ordered a Chilean Pinot Noir which seemed to go down equally smoothly.
We were tempted by the appetizer special of crispy oysters with nahm jim sauce, a hot sauce that is made of ingredients such as chilies, garlic, coriander (cilantro) and ginger. The oysters were delicious. I spooned sauce onto the first one and liked the burst of flavour but as one of those  people with a major aversion to cilantro, I enjoyed the rest without the sauce, and actually found I preferred the unadorned delicate flavour of the oyster bursting through the light crispy batter.
We decided  to share 2 of the main courses. We chose the crispy ling cod in a caramelized tamarind and palm sugar sauce, topped with 8 different fried herbs and spices, and the jungle curry of sablefish from the Northern Thailand city of Lampang seasoned with fried shallots. The side bowl of rice was huge. Both dishes were full of flavour but quite hot - spicewise. By the time we finished our mouths were on fire.
That provided us with the excuse to order a cooling ice cream dessert. We both had the yummy caramelized baby banana fritters. He choose to have it with a deliciously tart tamarind ice cream. I had mine with a nutty sesame ice cream. Both ice-creams are made in house. I forgot to ask if the flavours change from day to day.
As we ate our last spoonfuls I was surprised to find that an hour and a half had passed and we were at risk of being late for the play. Janice brought our bill and took care of our payment in record time and we were off.
The food was far superior to any meals that I ate in previous visits to Thailand, and especially during my most recent visit to Bangkok, although during the latter visit I can't say i did any "fine dining" in Bangkok this time.   But for the future I need to remember that as an anti-cilantro eater whose tastebuds have not been desensitized to chilies, spicy Thai food is probably not my best choice for dining out, no matter how excellent it may be.
Although I wonder if one could just make a meal of those crispy oysters - several helpings - and the caramelized banana fritters?