Review From The House
READ IT • SEE IT • TASTE IT • LIVE IT
Hub Restaurant and Lounge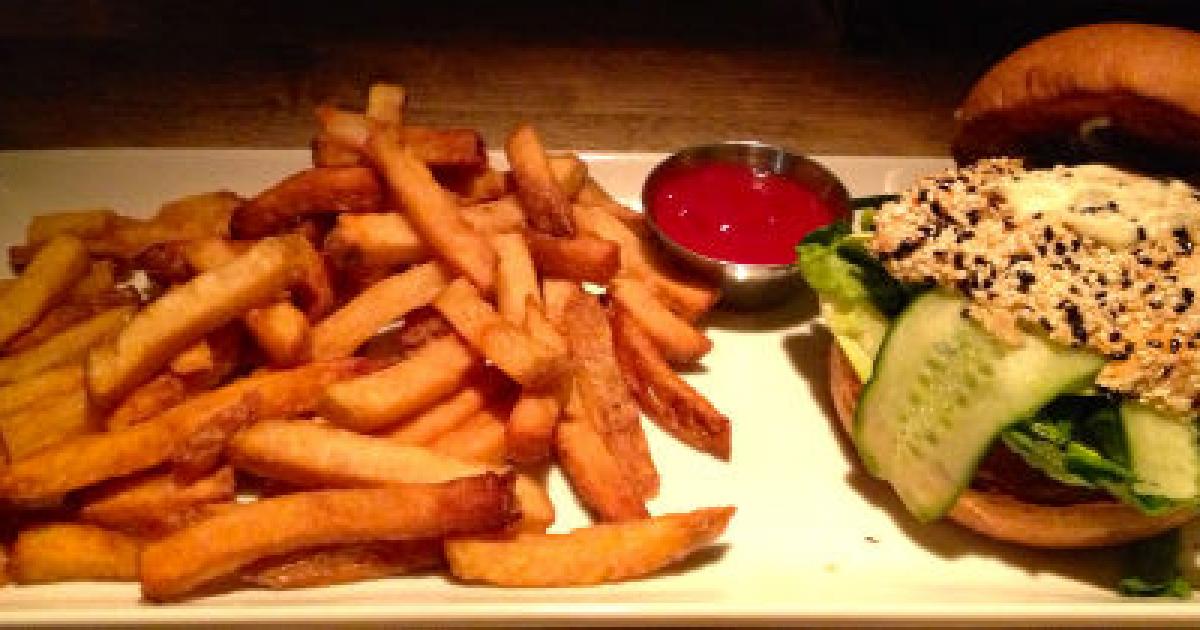 Hub Restaurant and Lounge
Wednesday, August 21st, 2013
Hub Restaurant and Lounge
1165 Mainland St, Vancouver, BC V6B 5P2
Ph: (604) 696-0400
Hungry after a couple of intense hours of boot camp, we walked up to Mainland Street's restaurant row for supper but did not get very far. My dinner companion confessed that since his last visit here he had been craving for a repeat meal of the sushi burger at Hub Restaurant. So that's where we went.  The Sushi burger consists of sesame crusted albacore tune loin with a wasabi soy mayonnaise, cucumber avocado, lettuce  and a soy chili dip. There is a choice of side house or Caesar salad or fries. As you can see he chose fries, which I was only too delighted to share because if you don't order the fries yourself the calories don't count.  They were crisp and good but I left some for him anyway!
My choice was a sirloin steak salad with balsamic glaze, with a huge portion of mixed greens, blue cheese, avocado, cucumber and a fresh blood orange vinaigrette. The salad was light and refreshing, and the large chunk of avocado was delicious. As always I asked for the steak medium-rare, and it was perfect. The service was good, and we enjoyed a quiet  relaxing meal.
I asked if the sushi burger was as good as he remembered it. Apparently it was. The name is a bit of a misnomer since there is not actually sushi rice in the dish but hey - if the taste is great, what's in a name?