Review From The House
READ IT • SEE IT • TASTE IT • LIVE IT
Goldfish Pacific Kitchen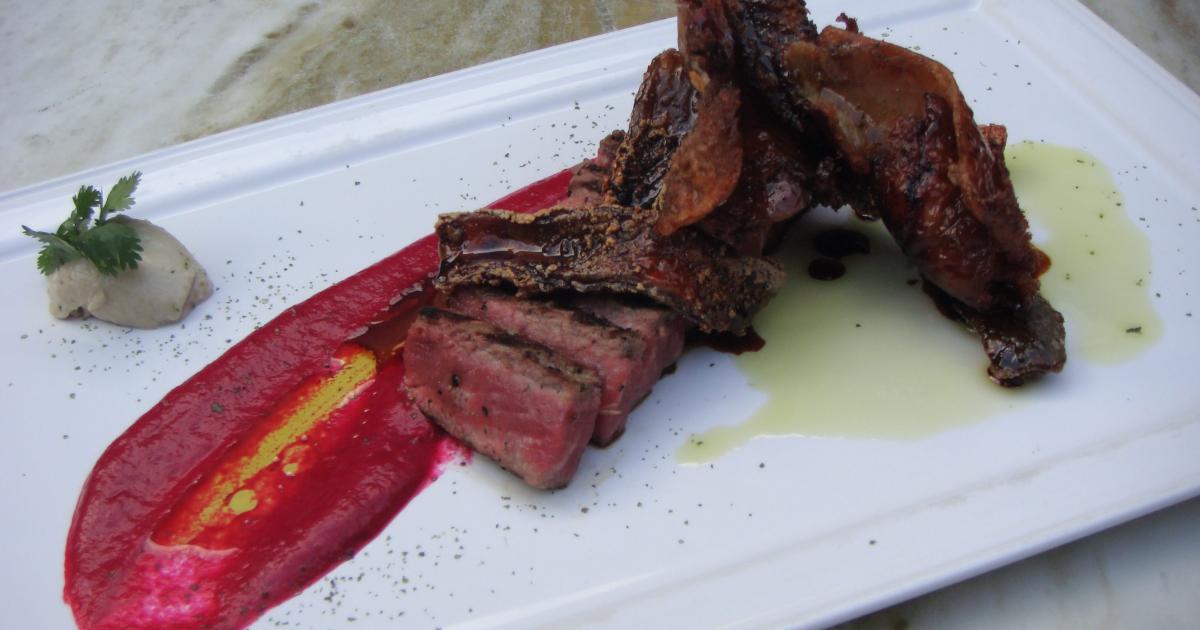 Goldfish Pacific Kitchen
Saturday, August 15th, 2009
Goldfish Pacific Kitchen
1188 Mainland Street,
Vancouver, BC
Ph: 604-689-8318 or Reserve online
Vancouver is a truly a foodie's paradise. Top quality ingredients daily are sought out by innovative chefs to produce a bounty of fresh taste sensations. So much so that I rarely have a restaurant meal that I don't enjoy. But every now and then along comes a dining experience that stands head and shoulders above even the many excellent meals  I have recently enjoyed. Completely unexpectedly, last night I had such an experience, thanks to the "Chef's Table" concept at Goldfish Pacific Kitchen and the magic touch of  new Food Development Chef, Ryan Mah.
Goldfish restaurant has been open at least as long as I have lived in Yaletown and I have previously enjoyed both  dinners  and lunches there.  But looking back on the restaurant reviews in my archives on ReviewFromTheHouse.com, I realized that  I had not dined there since I introduced the Sipping and Supping section of the website.  It was time to review this restaurant, I thought.  Planning a relatively early supper, I noted that Goldfish was once again offering a prix fixe meal between 5 pm and 6:30 pm.  With a choice of an appetizer, an entree and a dessert for $25.00, it seemed like really good value, so we thought we would check it out.
Arriving just after 6 pm, we were warmly greeted and led to a table on the patio by Maitre d'/partner, Albert Chee. Our waiter, Peter brought water, and while we were studying the wine list, he asked if we had experienced the Chef's Table meal here at the restaurant. On questioning him further, we learned that this was a newly introduced concept at Goldfish.
It goes like this. Working in a dedicated section of the kitchen, chef Ryan Mah, who joined the staff in May of this year, would first consult with us,  and then create a special tasting menu for the evening.  I was quite intrigued by this idea, sort of like the omakase meal we had at  Omi restaurant in Toronto where the chef makes spur of the moment dishes from whatever is freshly available. So after a brief discussion, we decided to forego the prix fixe menu and try the Chef's Table creations instead.  Very shortly,  Ryan came out to talk to us.  We learned that the idea was flexibility in ordering, so we could have family style or individual dishes, and as few or as many courses as we would like.  He also asked about any food allergies or major dislikes and then disappeared to the kitchen to work some magic.
I turned back to the wine list. It is very attractively presented on a large sheet with white wines on one side and red wines on the other. I liked the fact that as well as a general white wine category, they offered a nice selection of about ten or so wines in their varietals of  Rieslings, Gewürztraminer, Pinot Gris, Sauvignon Blanc and Chardonnay, with at least two wines in each category available by the glass. I also liked the way that they poured  a sample of the wine from the carafe to taste before filling the glass. Usually if one orders a glass of wine you don't get an option to taste it  beforehand. I selected a glass of Red Rooster Gewürztraminer 2008 while my companion sipped a 2008 Tantalus Riesling, both wines from the Okanagan Valley. On last year's weekend food and wine excursion, see A Taste of the South Okanagan, we had been scheduled to visit Tantalus Vineyards but never made it that far.
Onto the food! Each dish was brought out by the chef,  who described his creation in detail. If I have one quibble, it was that he spoke a little too rapidly for me to be sure I captured each description correctly. Maybe I need to learn shorthand - or bring a recorder  with me next time.  But here goes, and if I have  any details wrong, hopefully someone at Goldfish will comment and correct me.
Our first dish, salmon sashimi could have been an exhibit in art gallery, it was so exquisitely presented. My initial thought was that the taste could not possibly match up to the presentation but I was wrong. The wild sockeye salmon was topped with  shaved fennel, rested on a sweetpea  puree with a sweep of red pepper emulsion. 
When he brought out the second dish, lobster macaroni, I was a bit dubious. I seldom choose  pasta, or risotto for that matter, from a menu, due to my preference for low carb eating. But the first taste and the uhuhuhuh! Jiggle,jiggle, jiggle - uhuhuhuh response was back in full force. The creamy sauce had a touch of curry with Thai basil, salmon caviar and wasabi tobiko each contributing to the palette of flavours. I lingered over each mouthful and reluctantly surrendered the plate without lapping up the remainder of the sauce. We needed some bread to mop up the last drops. I mentioned that to Peter and a basket of bread appeared a few minutes later - but alas the dish was gone.
Next up was slices of strip loin, soft as butter and pink in the centre, served with roasted beet puree, salmon bacon  (which I believe was crisp fried salmon skin), Peking duck skin and a scoop of a mushroom bacon puree.
The fourth and final dish was pan roasted halibut served on a kung pao risotto with scallop, prawns and green beans. A touch of chili added a piquancy to the taste. We were offered the option of additional dishes but feeling pleasantly sated, and with a melange of flavours whirling around in my head,  we declined.
The final touch was a sorbet trio, to "clear the palate". I asked if these were also created by chef Mah but he informed us that they are made "in house". The flavours were mandarin, with a citrus flavour that was readily identifiable as mandarin rather than navel or other orange flavour; my personal favorite, a creamy pear sorbet which was to die for, and a tomato sorbet which I did not really care for - it was a bit icy and I did not much like the taste.
As I mentioned up front we had gone to Goldfish planning to dine on the $ 25.00 prix fixe menu. When we decided instead to opt for the Chef's table selection I sort of put the cost out of my mind. When the bill came I was pleasantly surprised by the excellent value we actually received. If this is the quality of dish Mah can conjure up every night, it is absolutely worth many more follow up visits.