Review From The House
READ IT • SEE IT • TASTE IT • LIVE IT
Cru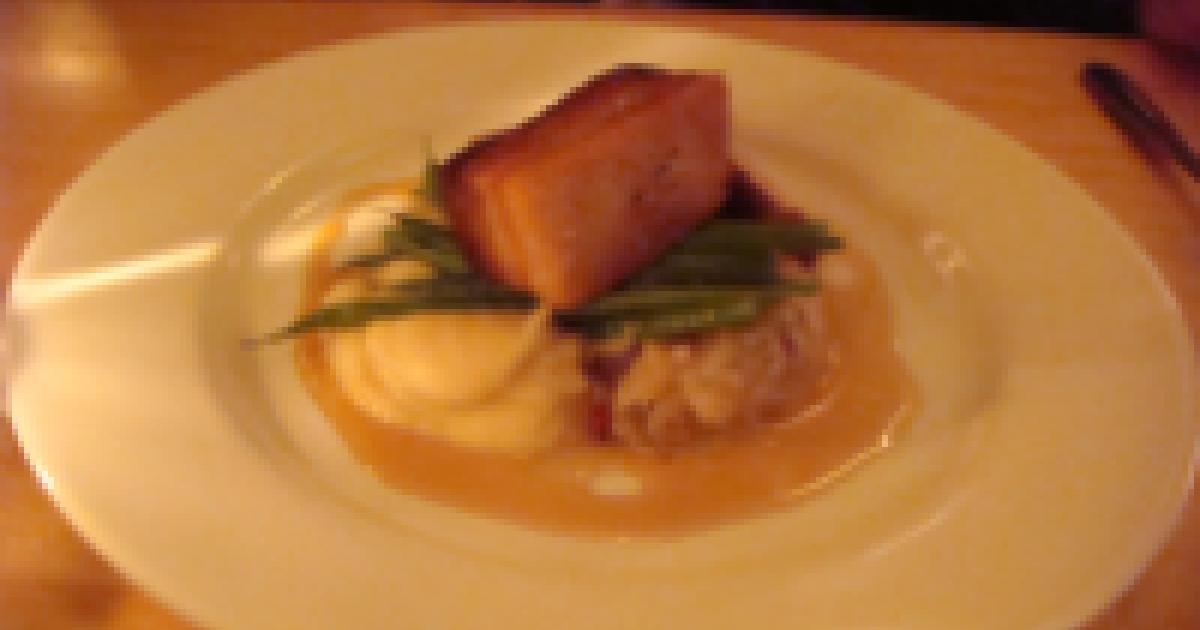 Cru
Friday, January 22nd, 2010
Cru Restaurant
1459 West Broadway
Vancouver, BC V6H 1H6
Ph: 604-677-4111 or Reserve Online
Prior to heading off to the Stanley Theatre to see Mrs. Dexter & her Daily my theatre buddy and I opted to have dinner at Cru. Surprisingly I have not been there before although it is really convenient for pre-show dining if you are going to the Stanley Theatre. And even though it is a slightly longer walk, it is also quite convenient if you are going to the Pacific Theatre at 12th and Hemlock.
We were seated in a comfortable booth and given the prix fixe menu. At 42 dollars for 3 courses I thought it was a little pricey, until I tasted the food.
I started with the Cellar Door Caesar salad which is absolutely the best Caesar salad I have ever had. The dressing covered with a generous amount of asiago cheese is layered over grilled Romaine lettuce and the croutons are soaked in garlic butter. I shudder to think of the calorie count but it was absolutely sinfully delicious.
My companion opted for the other salad, cutely named "beets, shoots and leaves." It was served with a dijon vinaigrette. I looked for similarly clever names for the other dishes but no luck. I don't think you should tantalize your wordsmithy customers with one clever name and then not carry through with other similarly smart  titles. But that's just my love of puns and wordgames coming through. Back to the food!
For the main course I had beef tenderloin cooked medium rare and served with caramelized shallots, blue cheese potato strudel and a mushroom-merlot jus. I ate every morsel.
My companion's smoked pork tenderloin dish was served with crsipy pork belly, an apple-parsnip puree and a maple gastrique. Having expanded my cooking vocabulary way back while reviewing the Twisted Fork restaurant, I now knew what a gastrique is - a reduction of wine or vineagr with sugar and sometimes added fruit. In this case I guess it would have been maple syrup or something similar.
The third course offered a choice of 4 great desserts but feeling both comfortably sated - and virtuously thinking of waistlines, or at least I was,  we opted to share the plate of homebaked cookies.
There were 4 different kinds; an orange-cranberry biscotti, a snickerdoodle, a coconut macaroon and chocolate-chip shortbread. All very good.
The food was great and I will definitely return for another go at that Caesar salad.