Review From The House
READ IT • SEE IT • TASTE IT • LIVE IT
ChefmeetsBCGrape at the Vancouver Convention Center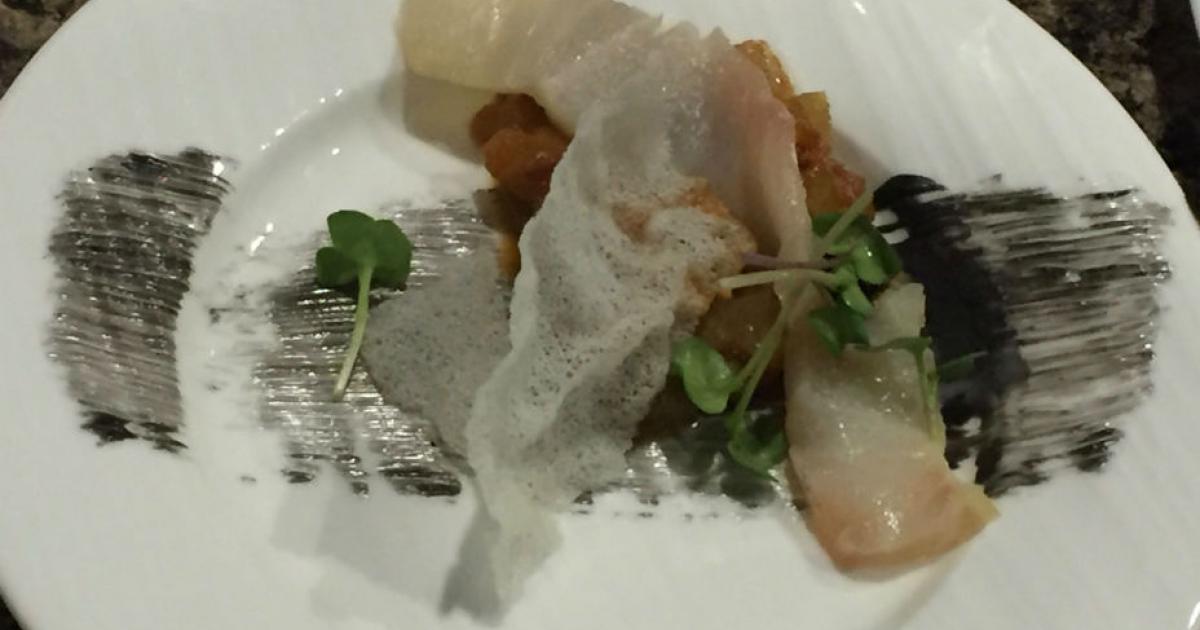 ChefmeetsBCGrape at the Vancouver Convention Center
Friday, September 16th, 2016
At the 12th Annual ChefmeetsBCGrape event, 9 of BC's top restaurant chefs created small plates, each paired with a BC wine for the sipping and supping pleasure of the very large crowd in attendance. As well there were 80 different wineries offering tastings. Jointly hosted by the British Columbia Wine Institute and the Arts Club Theatre Company this was a fund-raiser for the Arts Club.
The chefs were competing for the "Best Dish" and the "Best VQA Pairing" awards, as determined by a panel of local judges. This year saw the introduction of the "Consumer's Pour & Pair Contest" by which "the people's choice" for favorite plate and wine was revealed. Which award do you think the chefs and vintners would value more highly, the experts or the consumers?
I took two fellow foodies with me so we could share our likes and dislikes. On entering the hall we set off in an anti-clockwise direction to check out the pairing tables set out around the periphery  of the hall. We did not realize until late, when we were  searching for two of the featured restaurants, that they were located up the centre  aisle. A minor tragedy specially for me, as you will read later.
Chef Brendan Robinson served mushroom boar belly with chanterelle mushrooms, brioche and frissee. We all liked it and two of us placed it high in our ranking. I love charcuterie, and as this was paired with the 2013 Tantalus Vineyards Riesling, a favorite varietal of mine, it was win-win all around. 
Chef Soojin Park featured a delicately cut slice of smoked sturgeon with a dark soy and nori emulsion, putanesca jam and squid ink rice puff.
The presentation was quite exquisite as seen in above and after one taste I was plotting how quickly I could get round the room and sneak back for a second plate. The pairing was with Desert Hills Estate Wnery 2015 Gamay Noir.
Our next stop was at ChiCha where chef Sheloume Bouvette was serving tuna causa (a Peruvian layered tuna and potato salad) with a crisp passion fruit and ginger ponzu and a Peruvian rocoto chili aioli. I loved the initial taste of the Haida Gwaii albacore tuna in sesame and soy with the ponzu and aioli but sadly it was served with cilantro whipped and chilled potato and the soapy taste of the cilantro overwhelmed my taste buds.
Along with cooking luminaries like Julia Child, I belong to the approximately 15% or so of the population with a genetically based intense dislike of cilantro. (see Hate Cilantro? The reason is probably in your genes). Not even the delightful Lake Breeze Vineyards Spice Jar 2015 could overcome the cilantro taste for me.
Hart House Restaurant chef Michael Genest featured pancetta-wrapped pork terrine with a sourdough crisp,  peach and apricot mustard and Barnston Island micro arugula. The sweet and spicy mustard enhanced the flavour of the terrine. Another favorite.
This was paired with Moon  Cursor Vineyards 2014 Afraid of the Dark - an aromatic blend of Rousanne, Marsanne and Viognier that complemented the terrine really well. Intrigued by the name I checked out the vineyard website and love the names of the wines.
Westin Bayshore's chef Joe Campo plated an albacore tuna poke diced tuna)  with avocado and taro root. As much as I enjoy charcuterie some of  my favorite raw fish starters along with sashimi and ceviches are the tuna pokes, and this did not disappoint. Another one I could have snuck back for to get seconds but instead- on to the next table.
Torafuku Modern Asian Eatery was to be our next stop and we joined the end of a very long line. Chef Clement Chan designed an awesome plate - onion ash beef terrine wrapped with portobello and a foie gras potato pave with chimichurri and hunter sauce. The finished dish was indeed spectacular but whether there were too many last minute elements or insufficient assistants preparing the plates, the line got longer and longer and the wait was far too long. As a result we did not get to our last station until all the food was gone and they were already packing up. That knocked them off on my voting list although the food was great. The wine pairing was with Gold Hill WInery Cabernet Franc 2015.
Miradoro Restaurant is the restaurant at Tinhorn Creek Winery and chef Jeff Van Geest  paired his chanterelle, lobster, mushroom and pancetta risotto with the 2013 Tinhorn Creek Vineyards Pinot Noir.
After the Miradoro table we went on a hunt for the remaining two tables, Provence and the Pinnacle. Not realizing that they were located in the centre aisle, we explored the periphery until we were directed to Provence.
At the Provence Marinaside location chef Sheldon Maloff had prepared a searedscallop with a prosciutto crisp in an Okanagan peach broth with lemon thyme salt. Subtle very delicate falvour ... and fortunately the were still some servings left.
The wine pairing was with Misconduct Suspect Series 2014 Chardonnay Viognier.  Very nice.
Vancouver Pinnacle Harbourfront Hotel - here chef Jason Froelich's plate featured a duo of duck - spiced rubbed duck breast, duck confit goat cheese croquette, habanero jam and rajas  paired with Quails Gate Okanagan Valley Gewürtztraminer. Duck is my favorite poultry and Gewürtzraminer is one of my favorite varietals and I really like the Quail's Gate Gewürtztraminer. So imagine my disappointment on reaching the table to find no plates left. Seeing my immense disappointment the chef handed me a couple of slices of duck but alas none of the other components were left. Too bad. I suspect that the pairing of duck and Gewürtzraminer might have got my consumer vote.
Two other tables featured cheese and chocolates
From Daniel le Chocolat Belge there was a sampling of many different flavours. I allowed myself to try two - the chocolate ganache on a bed of passion fruit and the sea salt caramel. Nothing more needs to be said but yummy.
There were also three cheeses featured for this event.
The Jersey Blue was from Goldren Ears Cheesecrafters in Maple Ridge, the Red Wine Extra Old Cheddar from Manitoba, and the Amsterdammer from  the Natural pastures Cheese Company in Courtenay, BC.
And the Winner are.....
The Judges gave first place for Best Dish to Lift Bar and Grill's smoked sturgeon, and the Best VQA pairing to Lift Bar and Grill paired with Desert Hills Gamay Noir. Runner up was Torafuku's onion ash beef terrine paired with Gold Hill Winery Cabernet Franc.
Winners of the Consumer's Choice  Award were ChiCha Restaurant for their tuna causa paired with Lake Breeze Vineyards  Spice  Jar,  while the runners up were the Vancouver Pinnacle Harbourfront duck duo and Quail's Gate Gewürtztraminer
IMost interesting for me were the number of  BC Vineyards and Wineries that I have not encountered before.  Though this is not surprising since according to the British Columbia Wine Institute our BC wineries have increased in number from 17 in 1990 to 225 in 2016. That's a wow! Time for another BC winery tour.