Review From The House
READ IT • SEE IT • TASTE IT • LIVE IT
Food and Drink Artisans at GotCraft? Fair 2014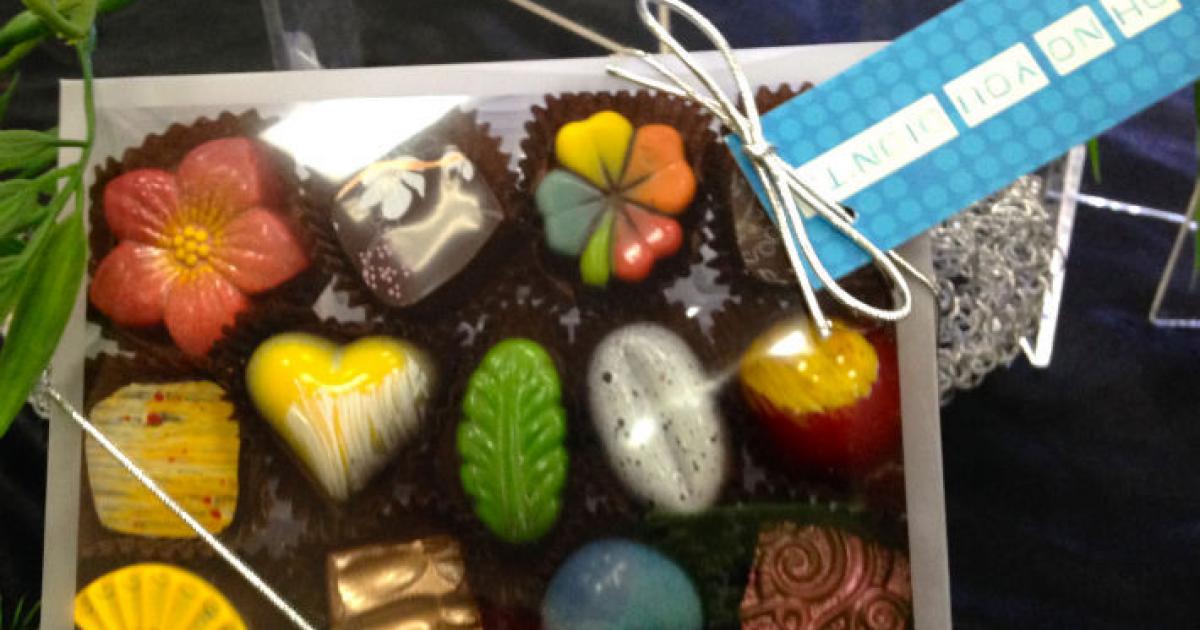 Food and Drink Artisans at GotCraft? Fair 2014
Wednesday, December 17th, 2014
The best thing about touring the booths at farmers' markets and craft fairs, is meeting the entrepreneurial artisans who are so passionate about their products. Here are some of the sweet treat goodies I found at the December Got Craft? holiday fair. They will be selling their treats at other markets and fairs so check them out.
The selection of finds shown here include Honey from Mellifera Bees, caramel popcorn from  Batch Sweet Kitchen, teas from Karla's SpecialTeas, exquisite chocolates from MyChocolateTree, brilliant coloured flavoured chocolate from Coconama Chocolate Company, and shortbread cookies from Half Baked Cookie Company.
Mellifera Bees produces uniquely flavoured handcrafted honey infusions. Founder and Beekeeper, Melissa Cartwright harvests her honey from back yard hives  in Vancouver and the Lower Mainland.
Melissa (whose names means "honey bee'') infuses her honeys with spices or fruits sourced from small independent local companies with Organic, Fair Trade certification. 
Sold in 4 oz or 8 oz jars, or gift boxes of 3 x 4 oz jars, the honey is a versatile accompaniment to a variety of meals.
Batch Sweet Kitchen is owned and run by pastry chef Sara Karby.
She makes wickedly delicious salted caramel popcorn by hand in small fresh batches...and as they say "feel good about being bad". I tasted a sample and felt great!
At Karla's SpecialTeas you can find high quality loose leaf teas, infused with "local, organic and wildcraft ingredients from all over the world."
SpecialTeas include black teas, green teas and rooibos. Herbal infusions range from mint and sangria flavours, to vanilla or fruit flavours such as pink grapefruit, lemon drop or tropical flowers.
As I weaved my way through the crowds in the narrow aisles my eye was caught by a stunning display of chocolates.
Nina Pousette of MyChocolateTree is a  French trained chocolatier who only makes her  exquisite and flavourful hand- made specialty chocolates in November and December  when she sells them at Craft Fairs. 
Originally from Vancouver she went to Paris to train at the Cordon Bleu Culinary School, and then worked at the renowned Ladureé Pastry Shop.
Deciding to specialize in chocolate, she worked in two artisan Chocolateries to gain more experience in handmade chocolates before coming back to Vancouver.
Nina makes beautiful filled truffles, caramel bars and solid chocolate "chips". Some of the chocolates shown in the box are raspberry dark ganache,  orange Grand Marnier dark ganache and  peanut butter.
Coconama Chocolate Company has been making uniquely flavoured brightly coloured chocolates locally since opening their La Chocolaterie in Richmond in 2010. They produce brilliantly coloured chocolates from the colour of the natural ingredients.
Some of the 27 current flavours include fruits such as mango, lemon basil or strawberry; traditional such as rich coffee or dark chocolate; or Japanese such as wasabi, green tea or black sesame. 
I chose mango, passion fruit and rich coffee to take home to try.
Last but not least was one of my specially favorite items. Don't let the name of the Half Baked Cookie Company mislead you. Their all natural handcrafted shortbread cookies are scrumptiously delicious.
They use organic local ingredients from the British Columbia vendors shown on their board.
As well as their Original Shortbread, they make hazelnut and coconut cookies.
Other shortbreads include candied ginger and rosemary-brown sugar, but the one that caused me to stop and pick up a couple of packets to take home was the Toffee Shortbread.
I thought I would just taste one before my guests arrive and 5 cookies later I realized if I did not put the rest away fast there would be none left for the guest.
So those were my pick of the sweet treats I found at this fair. My savoury finds, soaps and do-it-yourself product picks will appear in another post.
Here are links to the websites of these "sweet" entrepeneurs.