Review From The House
READ IT • SEE IT • TASTE IT • LIVE IT
Dresses, Dances, Dreamy: Snowball Classic 2009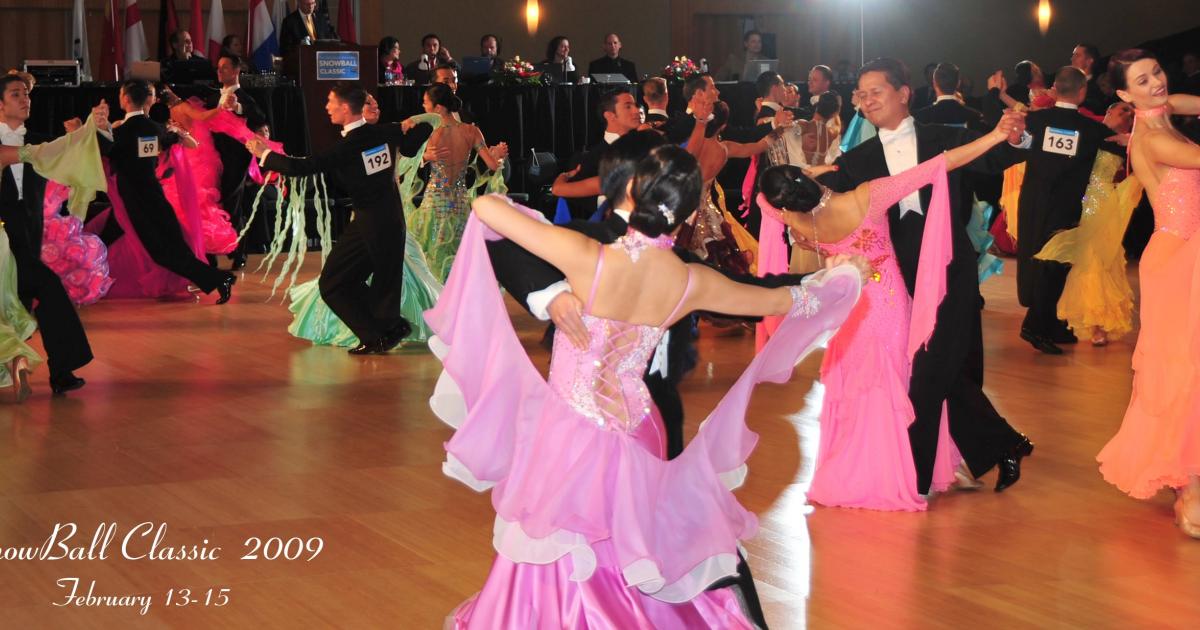 Dresses, Dances, Dreamy: Snowball Classic 2009
Sunday, February 22nd, 2009
I have come to my ballroom dancing addiction relatively late in life.  When I made a "mid-life" decision to change careers and redeploy myself from left brain physician/scientist to right brain entertainment /travel writer, one of my residual left brain activities was to make a list of the ten things I wanted to accomplish in the next ten years. Top of the  list was to get back to dance, especially the Latin dances, which I had loved in my late teens when my knees were still elastic and my hips could actually swivel. So having tried out a couple of dance styles and studios, I found myself at the Vancouver  Ballroom for a beginner bronze samba class - and after the first lesson I was hooked! Two years later, thanks to the endless patience of Bernice and Aegide, though neither my brain nor my body learns as easily  as a sixteen year old, I am working my way through the medal tests in Standard and Ballroom and rejuvenating myself in the process. Sort of like Benjamin Button.
This is by way of explanation as to why, though the Snowball Classic has been held annually for many years, this is the first time I got around to getting tickets. I was prompted  partially by curiosity to see the different levels of amateur dance performance and partially by wanting to see  international level competitors live rather than on television or DVD.  I also wanted to see how some of the dancers I had seen practising at Vancouver Ballroom performed. For others who have not attended this event before, here is my perspective. The day sessions are general admission but there is reserved seating for the Friday and Saturday night sessions. As we bought our seats rather late and were way back and off to one side, it was sometimes hard to see over the heads of the tall people in front of me. Now that I know what to expect I will be sure to get my tickets earlier next year.
Girls Twirl! The dance floor in the ballroom of the Sheraton Wall Centre  in downtown Vancouver was empty of dancesport competitors, awaiting the entry of the next set.   As I sat chatting with a friend about the dearth of male dance partners who are as addicted to dance as we are,  we watched two little girls, maybe 5 or 6, run onto the floor and with totally unselfconscious abandon, skip and twirl around the floor.  Thinking of my own little grand-daughter, who loves to dress in her ballet tutu and spin around till she falls over, a light bulb went on in my  head. "That's what happens" I said, " boys run, girls twirl."  I think it is fair to generalize that the urge to dance is present early in many little girls, who love to dream of being ballerinas or gliding over the floor in beautiful dresses, while more little boys think about bright red firetrucks with ladders and screeching sirens.  Anyway, I digress. Back to girls, now women, twirling.
On display on the Friday and Saturday that I attended this event, were enough exquisite flowing dresses and sexy Latin dance costumes to gladden the heart of any young girl. 
Not to mention the dancing! On Friday and Saturday during the day, I watched the  Senior and Adult competitors at Pre-Bronze, Bronze, Silver, Gold and Pre - Championship levels in both Standard and Latin.  I found the lower levels of competition quite encouraging to watch. I could follow the routines and differentiate the skills and the performances, and at least at the lower levels think "hey,  I can do that !"  Of course by the time the IDSF Rising Star and Open competitors hit the floor it was a different story. I could only sit back and admire the spectacle.  And it certainly was beautiful to watch.
DanceSport is being considered by the International Olympic Committee as a possible medal event in the Summer Olympics. The program quotes a statistic that for competitors who  reach the finals, dancing the ten dances -waltz, tango, slow foxtrot, Viennese waltz, quickstep, cha cha, rumba, jive, paso doble and samba  -equates to 60 minutes of the 800 metre dash! Hmmm.  Not sure how they calculated that but it sounds exhausting - though it certainly doesn't show on the floor. From a spectator point of view I would find it as exciting as gymnastics or diving, and a lot more so than rhythmic gymnastic and synchronised swimming. That's my bias.
But even though in this DanceSport competition I could not take my eyes off the top level dancers, I think that watching the Senior competitors (and no, senior in this context  does not mean over 65!) was a rewarding experience. it showed so clearly that even if you are not training 8 hours a day 7 days a week, ballroom dancing is a wonderful way to keep fit; it engages many of the senses and keeps the brain and body active.  That's how I justify my addiction, anyway.