Review From The House
READ IT • SEE IT • TASTE IT • LIVE IT
Dance Marathon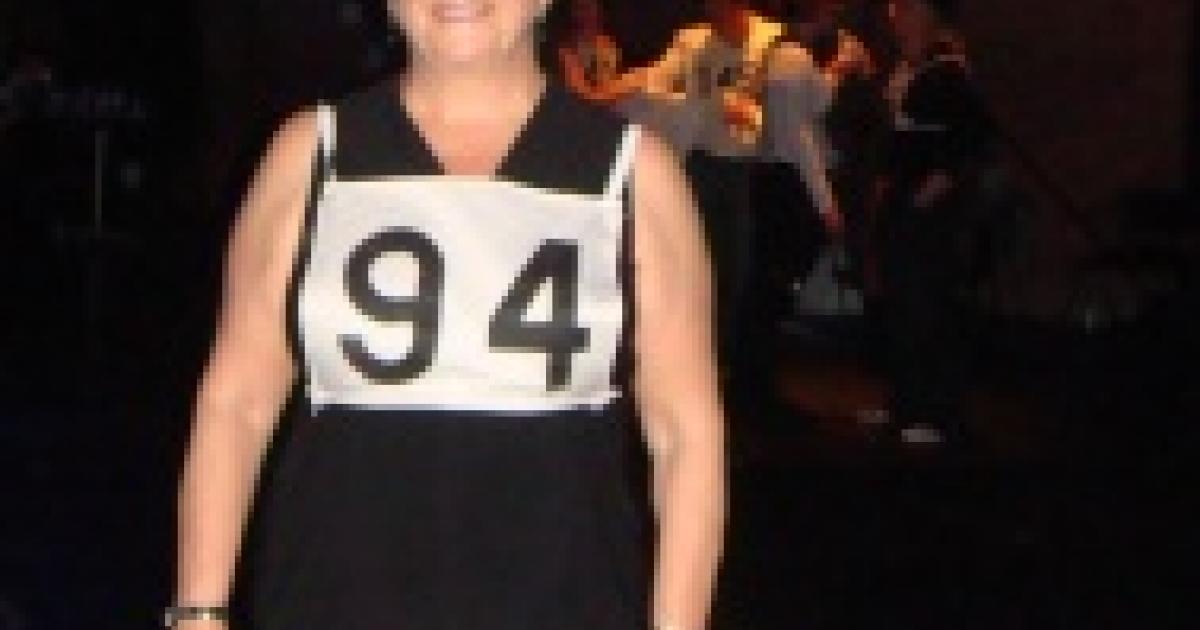 Dance Marathon
Saturday, February 13th, 2010
Dance Marathon at The Roundhouse Community Centre
bluemouth Inc. and Boca del Lupo
February 12 th, 2010
Vancouver, BC: I was having a blast at the Dance Marathon until I got eliminated in The Derby - how lame, so to speak! That was when I  realized that my competitive streak is as strong as it ever was - because I was not ready to  go and I was MAD.
The Dance Marathon is a greatly truncated version of the 1920s and 1930s endurance contests as depicted in the film They Shoot Horses, Don't They. Originally commissioned for Toronto's Harbourfront Centre,  Vancouver's Dance Marathon is part of the exciting Cultural Olympiad that has been entertaining us with an incredible variety of art, theatre, music and dance. 
As an Olympic volunteer I was able to to see the Opening Ceremonies dress rehearsal on Wednesday night and was really impressed but last night, watching the show on television, I realized what an amazing show Vanoc had put together. As the final speeches were taking place I made my way along Pacific Boulevard to the Roundhouse in time to see on the television there, the two cauldrons being lit.
The  ceremony being over, it was time to get the Dance Marathon under way. I signed my waiver form , picked up my number plus a bottle of water  and was ready to go. Several of the dancers from the opening ceremony wandered in and joined up. I recognised some of the folks who did the Celtic dancing with that amazingly fast footwork. Some competition!
First off I wandered around the room trying to find the numbered feet  on the floor that had my number. You can just make out what the numbered feet looked like in the picture above.  Finally i found my spot and was joined by a friendly young guy called Vince,  who told me he does swing dance at The Legion. I figured if he could keep up with my moves I could keep up with him. It was only about 5 dances later after a rousing version of The Madison - not something I was familiar with though I made a valiant  (I think) attempt to keep up - that I figured he was probably one of the "embedded" cast.
Since the dread referee on rollerskates with a red flag keeps whizzing around to make sure you are constantly moving, i kept my feet going at all times.  There were a couple of "eliminations" that i figured were cast members and then more rock music until it was time for a 5 minute break.   I was chatting to Vince , still keeping the feet moving, when someone passed by and handed him a black object. i was too polite to ask what it was - silly me.  The next thing i know I was being asked to put on a black blindfold.
What is it about these events i keep going to? That's the second blindfold in a week.
This time Vince danced me into the centre ring - i think and told me to keep in one spot. I had no idea how many others were  in the same state but it felt weird and uncomfortable.  Sort of objectified like a mannequin on display.  I thought "pendant" and head up (thanks Aegide), shoulders down and strong core (thanks Cale) and stretch tall (thanks Bernice).  But I really wanted to disappear and get lost among the crowd. I know I may seem like an extrovert but I really am very shy and retiring by nature.  Truthfully. So this was a stretch for me in more ways than I already mentioned.
Anyway I survived the sort of elimination question - wish I were quicker with the clever comeback - removed the blindfold and faded into the crowd. Then it was onto the next dance.
By the time we were well into the second hour they announced it was time for  a Derby. I found myself paired up with one of the nice guys from the opening ceremony. He was a lot taller than me but I figured he had that competitive streak too. Anyway the idea was for us to move in pairs round the room, stopping on red, slo-mo on orange and booting it on green. The last 12 pairs to get to the finish line would be eliminated so you had to time it right. As the 5 minutes was nearing an end, we made a tactical error by going in the outside lane  rather than running over the people in front of us. I tried to move in and run them over anyway but it was too late.
Well I told you I was competitive!
Anyway the ref stopped us short of the line and the numbers had to come off.  We were out of the game. Once you are eliminated you are allowed to stay and dance but by that time it was close to midnight - Pumpkin time!  and the air was getting a bit ripe. So here is my one rant coming up.
I do a lot of dancing so I am used to damp clothes and "glowing" faces but the one thing I cant get used to is the smell of sweat unmitigated by deodorant. It is like cigarette smoke. It just takes one person to foul up a significant area in their vicinity. Unfortunately there were a couple of those around and that was too much for me. Besides I confess I was getting weary. Its been a busy couple of weeks.
So I decided to leave the scene and wander back down Pacific Boulevard. I looked for Vince to say thanks  - he was a fun partner  - but couldn't see him so if you read this, Vince, thanks. And thanks to bluemouth Inc. and Boca del Lupo for the chance to dance.